Donald Trump's rivals go on the attack at US conservatives' conference
The billionaire pulls out of the key campaign stop and dodges its searching Q&A session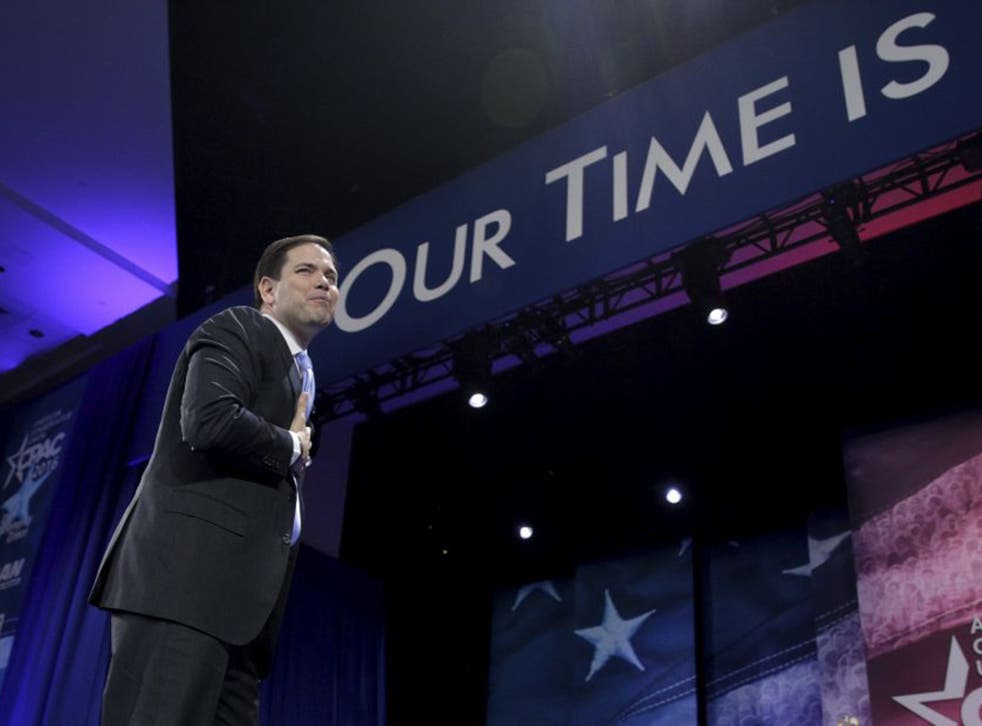 The annual Conservative Political Action Conference (CPAC) in National Harbour, Maryland, is traditionally considered a key campaign stop for Republican presidential candidates to court the party's conservative base. But Donald Trump is not, by any stretch, a traditional candidate. On 4 March, Mr Trump abruptly pulled out of his planned appearance, saying he would instead spend the morning of 5 March on the stump in Kansas and Florida.
In his absence, CPAC became an opportunity for the conservative elite to debate how to prevent the belligerent billionaire from becoming the Republican presidential nominee. Florida senator Marco Rubio, still believed by many to be the GOP establishment's last, best hope for a primary upset, said in his address to CPAC that the conservative movement was in danger of being "hijacked by someone who is not a conservative".
Mr Rubio made no secret of whom he was referring to when he said: "Being a conservative can never be about how long you're willing to scream ... or how many names you're willing to call people. Neither anger nor fear will begin to solve our problems."
Mr Trump's other closest challenger, Texas senator Ted Cruz, appeared at CPAC on 4 March, where he too suggested the mogul's conservatism was little more than a pose, saying: "It's easy to talk about making America great again – you can even put that on a baseball cap. But do you understand the principles that make America great in the first place?"
Mr Trump has spoken at CPAC on several previous occasions and donated a reported $150,000 (£105,400) to the American Conservative Union (ACU), which organises the event. ACU chairman Matt Schlapp said Mr Trump had chosen to skip the 2016 conference because he was reluctant to submit to a Q&A session. "If you come to CPAC, you're going to be treated like the other candidates, and you're going to have to answer conservatives' questions," Mr Schlapp told Bloomberg News.
It is possible that Mr Trump bowed out of the event to avoid an ambush; some conservatives had said that they planned to stage a mass walkout during his speech. CPAC has a history of being unkind to Republican frontrunners: John McCain was booed before securing the GOP nomination in 2008, while Mitt Romney was mocked for claiming, in his 2012 CPAC speech, that he had been a "severely" conservative governor of Massachusetts.
In pictures: US Elections 2016

Show all 15
Four years on, Mr Romney is leading the Republican establishment charge against Mr Trump, last week labelling him a "fraud" and laying out a strategy to block the billionaire. While it may be too late to consolidate primary voters behind a single non-Trump candidate, his remaining rivals may be able to deprive him of the majority of 1,237 delegates required to sew up the nomination.
Mr Trump's opponents were already looking ahead to the larger prizes of Florida and Ohio, which are set to vote on 15 March. Mr Rubio and Ohio governor John Kasich both ought to have home advantages.
Hillary Clinton also hoped to extend her lead over rival Bernie Sanders this weekend.
Join our new commenting forum
Join thought-provoking conversations, follow other Independent readers and see their replies