Donald Trump pleads with Saudi Arabia to sell shares in its Aramco national oil company on New York Stock Exchange
The President tweets from the first leg of his tour through Asia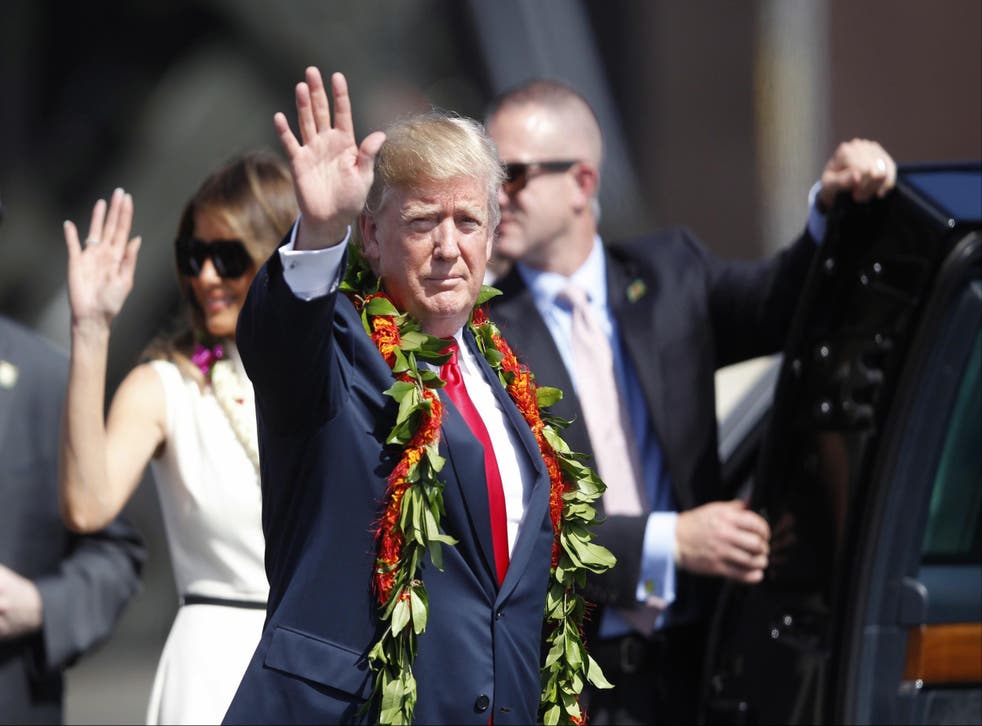 Donald Trump has publicly pleaded with Saudi Arabia to sell shares in its national oil company, Aramco, on the New York Stock Exchange.
"Would very much appreciate Saudi Arabia doing their IPO of Aramco with the New York Stock Exchange," the US President tweeted. "Important to the United States!"
The tweet comes as Saudi Arabia prepares to launch its state oil group, on the international stock market. Aramco is the largest energy company in the world, and experts say its equity sale could be the largest in stock market history.
Donald Trump tweets racist 'Pocahontas' slur about Senator Elizabeth Warren
Saudi leaders have considered selling five per cent of the company in an initial public offering (IPO) since early last year. Saudi Crown Prince Mohammed bin Salman is expected to make the final decision as to which foreign stock market – if any – will be able to list shares.
America's bid for the listing is likely helped by Mr Trump's friendly relationship with Saudi Arabian leaders.
Mr Trump travelled to Saudi Arabia in his first official foreign visit as President in May – a symbolic move that was criticised by both Democrats and Republicans at the time. He also welcomed the Crown Prince to the White House in March, in what the administration called a "historic turning point" in US-Saudi relations.
Donald Trump's international Presidential trips

Show all 22
Mr Trump tweeted from Hawaii, shortly before leaving for Japan. The President departed the day before for a 12-day diplomatic tour through Asia – the longest of any sitting president since George HW Bush in 1992.
The tour will take Mr Trump through Japan, South Korea, China, Vietnam, and the Philippines. The President will focus on reducing the nuclear threat from North Korea, advancing international trade, and promoting "a free and open Indo-Pacific region," according to national security adviser HR McMaster.
Michelle Obama launches veiled attack on Trump: "You don't tweet every thought"
Mr Trump indicated that he would prioritise the threat from North Korea on the trip, telling Fox News: "We have one problem. That's called North Korea."
"I must tell you North Korea's a thing that I think we will solve and if we don't solve it, it's not going to be very pleasant for them," he told Fox's Laura Ingraham the day before the trip. "It's not going to be very pleasant for anybody,"
The President appeared preoccupied with the stock market on Saturday, however. Minutes before the Saudi Arabia tweet, he wrote that the market was at its "highest ever," and added that unemployment was the lowest it had been in 17 years.
Join our new commenting forum
Join thought-provoking conversations, follow other Independent readers and see their replies