Donald Trump says America's generals 'reduced to rubble', offers fresh praise to Vladimir Putin
The Republican presidential nominee also says Vladimir Putin the "has been a leader far more than our president'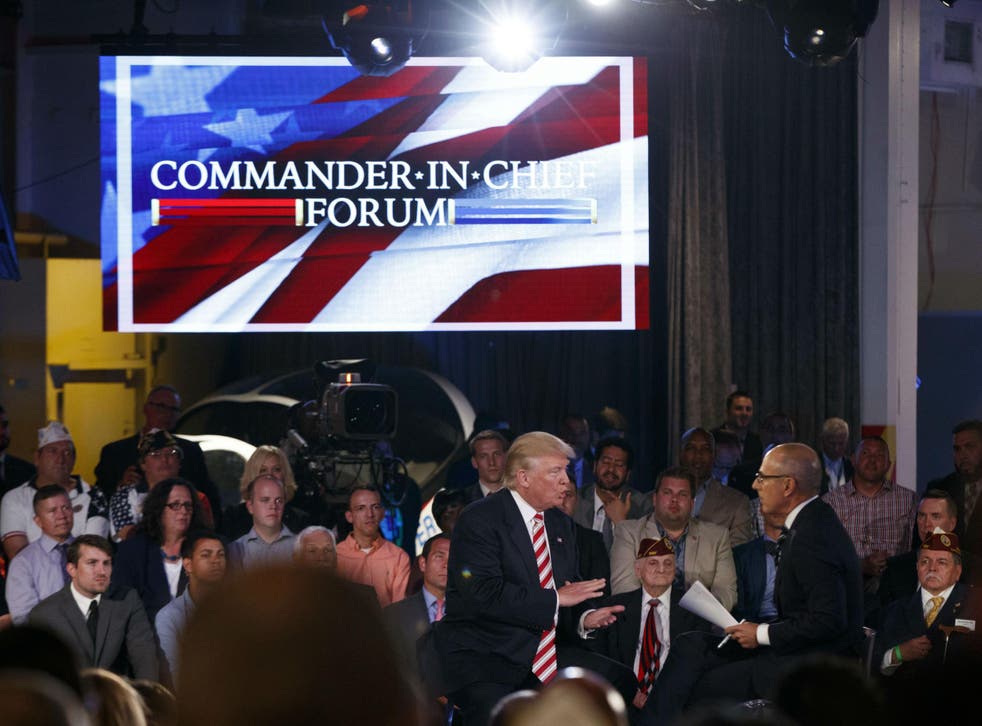 Donald Trump has told a televised town hall on national security that he believes America's top generals have been "reduced to rubble" under the leadership of President Barack Obama and insinuated that many of them would be fired if he takes the White House in November.
And in an exchange that surely raised eyebrows the Republican nominee suggested he was happy to accept flattery from Vladimir Putin and again offered the Russian leader his praise, regardless of his record of aggression in eastern Europe and assisting Iran and the Syrian regime.
He made the remarks to NBC anchor Matt Lauer during a special 'commander-in-chief' forum broadcast live from on board the retired USS Intrepid in New York where both he and Hillary Clinton were given nearly half an hour each to explain their foreign policy priorities.
In a breach of protocol, Mr Trump attempted to use the fact he had received two confidential intelligence briefings as the Republican nominee to suggest he had gleaned from them that President Obama and Ms Clinton, when she was Secretary of State, had routinely ignored the advice the intelligence experts had been giving them. He deduced, from the "body language" of those briefing him, that the leading Democrats "did exactly the opposite" of what experts recommended in several instances.
Ms Clinton came to the event, where the candidates appeared back-to-back but separately, only to find herself forced to defend her long record on the world stage, including her vote in support of the Iraq War, the nuclear deal with Iran and the invasion of Libya to topple Muammar Gaddafi.
She stood up for the decision to oust Gaddafi, suggesting that if it hadn't happened the situation in Libya may be even worse now than it is already. And she was adamant that the US and its partners had made the world safer by "putting the lid" on Iran's nuclear ambitions.
There was also a long segment devoted to her continuing problems over the use of a private email server when she was Secretary of State. She responded to sharp questioning from Mr Lauer and from audience members by insisting that nothing she received or sent on the system had been under a heading saying confidential or top secret.
When emails did have such headings, she used a secure system, she insisted. "I communicated about classified information on a wholly separate system. I took it very seriously."
Asked to describe what would make a good commander-in-chief, she replied: "Steadiness, an absolute rock steadiness, mixed with strength to make the hard decisions". She also quickly reminded the audience, on the floating museum and at home, that she had been in "that small situation room" with Mr Obama when the decision to take out Osama bin Laden was taken.
At the start of his turn on the stage, Mr Trump, who earlier on Wednesday vowed to spend billions of extra dollars to build up the US military, struggled when asked to explain what experience he had had in his own life to qualify him to lead America on the world stage. "I've built a great business, I've been all over the world, I have dealt with foreign countries," he attempted.
He later sought praise for the latest fall-out from his visit last week to the President of Mexico, Enrique Pena Nieto, which included on Wednesday the resignation of the country's Treasury Minister. "That's how well we did," Mr Trump said, apparently drawing strength from the ructions he has sowed in the government of America's neighbour.
He later insisted that he is "meeting constantly" with experts and he thinks he has "learned a lot" about world affairs. Of those advising him, he said: "We have admirals, we have generals, we have colonels, we have a lot of people I respect." He added he would "one hundred per cent prepared" to take on what ever world crisis might hit on day one in the Oval Office.
Yet, his disparagement of some of America's most senior officers will inevitably echo through the race for president where readiness to be commander-in-chief has become a top issue.
"Under the leadership of Barack Obama and Hillary Clinton the generals have been reduced to rubble," Mr Trump averred, adding that it has got to a point "where it is embarrassing for our country".
His praise for Mr Putin - he "has great control over his country", he said - may also create problems for him, at least from among those in the foreign policy community, including many senior Republicans, who have already voiced their alarm about his foreign policy credentials.
Far from attempting to downplay the notion that he admires the Russian leader, Mr Trump almost celebrated it, suggesting that if he "says great things about me, I'm going to say great things about him".
The suggestion that he may clear out much of America's top military brass came when he was pressed to explain why he had said this week that he would give US Army generals 30 days to come up with a plan to destroy Isis, while at the same time he is saying those same generals have been "reduced to rubble".
"They would probably be different generals to be honest with you," Mr Trump replied.
Register for free to continue reading
Registration is a free and easy way to support our truly independent journalism
By registering, you will also enjoy limited access to Premium articles, exclusive newsletters, commenting, and virtual events with our leading journalists
Already have an account? sign in
Register for free to continue reading
Registration is a free and easy way to support our truly independent journalism
By registering, you will also enjoy limited access to Premium articles, exclusive newsletters, commenting, and virtual events with our leading journalists
Already have an account? sign in
Join our new commenting forum
Join thought-provoking conversations, follow other Independent readers and see their replies