Donald Trump security adviser Sebastian Gorka to quit White House after reported Nazi group links
Report of former Breitbart editor's demise follows speculation US President was considering firing him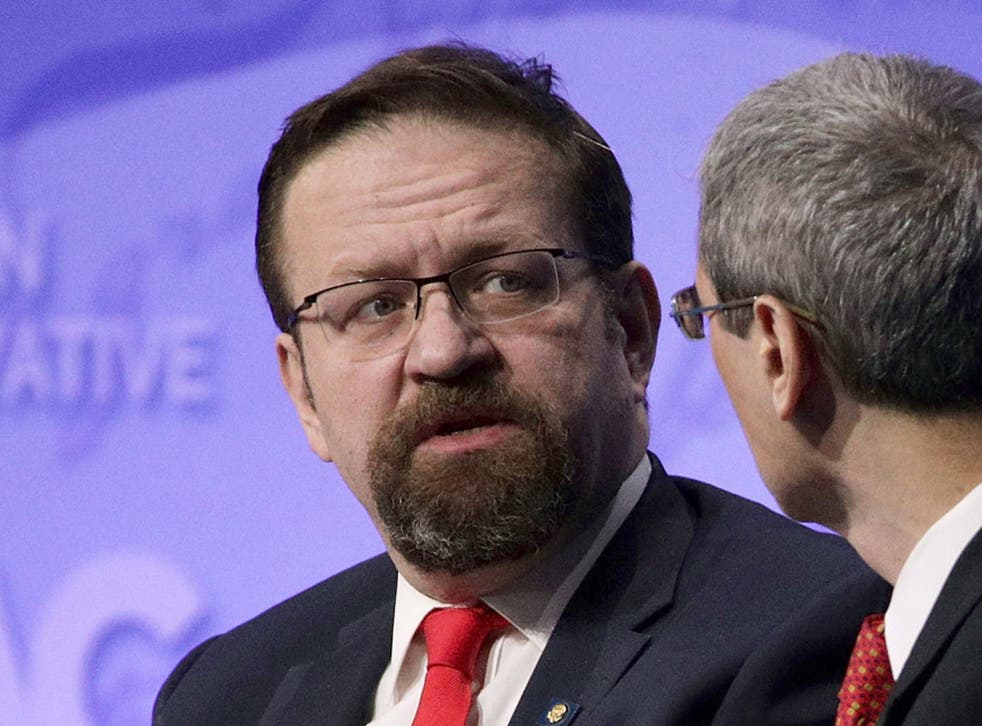 A senior national security adviser to Donald Trump is stepping down just months into the job, amid claims of links to far-right groups and weeks after he was forced to deny being anti-Semitic.
British-born Sebastian Gorka, a former Fox News pundit, will leave the role in the coming days, according to an official in the Trump team, speaking anonymously.
Mr Gorka, a former editor at the right-wing news outlet Breitbart, had initially been hired to play a key role on the Strategic Initiatives Group, an advisory panel set up by Mr Trump's chief strategist Steve Bannon to run alongside the National Security Council (NSC).
But that group fizzled out early on in the administration, and Mr Gorka was said to be unable to get clearance for the NSC after he was charged last year with carrying a weapon at Ronald Reagan Washington National Airport.
He has not commented on the reports.
Mr Gorka, who was forced to deny being anti-Semitic after he was spotted wearing a medal associated with Nazi sympathisers, is one of the best-known faces of the new administration.
The counter-terrorism analyst, whose official title is deputy assistant to Mr Trump, has maintained a hostile relationship with the media and his public critics, coming to blows with journalists and those who question his or the Trump administration's actions.
Sebastian Gorka defends wearing a medal linked to Hungarian Nazi sympathisers
Mr Gorka often appears as a mouthpiece for the President on television, including in a Newsnight interview in February when he clashed with presenter Evan Davies on whether the new President's behaviour was "unhinged".
Last week Mr Gorka reportedly stormed out of a cyber-security conference after allegedly yelling "fake news" at student protesters.
He walked off the stage during a panel discussion at Georgetown University after being questioned by students over his alleged links to a nationalist group in Hungary with wartime links to the Nazis.
That followed scrutiny of his decision to wear a military medal linked to Hungarian Nazi sympathisers.
Mr Gorka, who is of Hungarian descent but was born and raised in the UK, was pictured wearing the controversial badge at an inaugural ball for Mr Trump, and at several other events.
But he said he wore it in memory of his family and the suffering they endured, adding that his father had been tortured and imprisoned by Hungarian communists in the late 1940s after he founded "underground organisations of pro-democracy, anti-Communists to work about the Soviet dictatorship".
Join our new commenting forum
Join thought-provoking conversations, follow other Independent readers and see their replies