Donald Trump criticised for 'selling access to himself' for $200,000 in Mar-a-Lago resort dining room
US President under fire for holding sensitive national security discussions in club restaurant as diners look on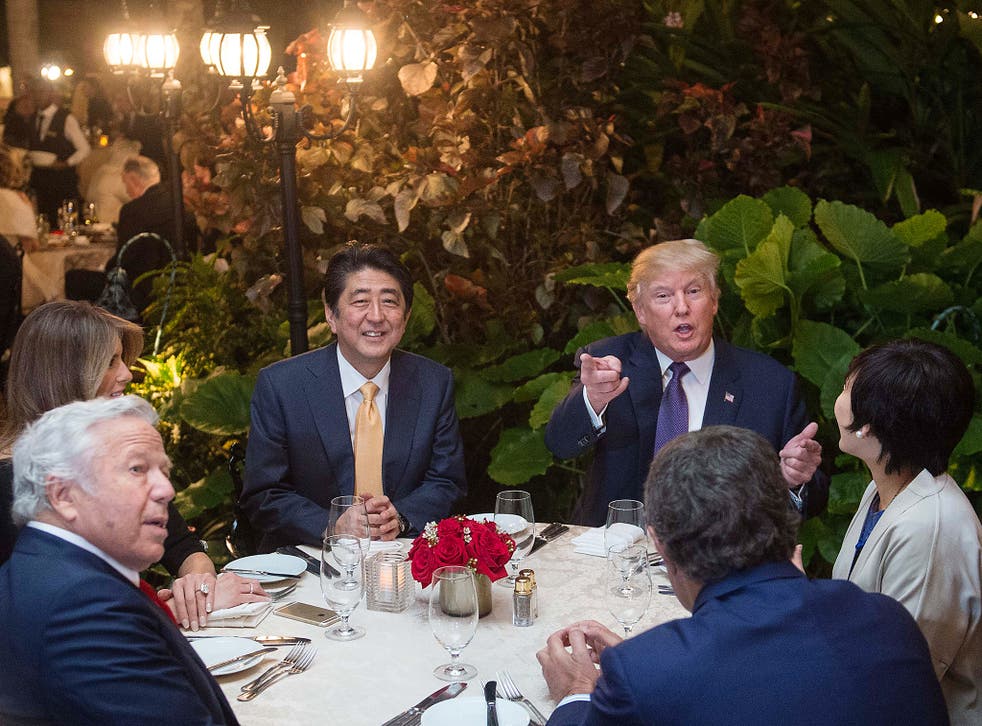 Donald Trump has been criticised for conducting sensitive national security discussions in the dining room of his Mar-a-Lago resort – where people can pay $200,000 for access to the US President.
The Republican was pictured discussing North Korea's latest missile test in full view of the club's members, prompting security experts and US senators to voice serious concerns.
Mr Trump has spent the last two weekends at the Florida club and will spend next weekend there too. He works and dines alongside hundreds of other members who are not security vetted.
Last weekend the US President was pictured holding discussions in the Mar-a-Largo patio restaurant with Shinzo Abe, the Japanese Prime Minister, minutes after news broke of a North Korean missile test.
As members looked on and waiters cleared the table, Mr Trump poured over classified documents and held discussions with Mr Abe and senior advisers in the middle of the crowded dining room. He also made phone calls to staff in Washington within earshot of other diners.
Traditionally presidents have discussed sensitive issues in a specially-designated room that has been the subject of security measures to prevent eavesdropping.
During his weekend at Mar-a-Lago, Mr Trump also took time to chat with club members and pose for selfies. One member was photographed with the US army officer who carries the "nuclear football" – the device from which a US President can launch nuclear weapons.
Other members posed next to the presidential limousine, called "The Beast", that is used to keep Mr Trump safe while he is travelling by road.
Many of the images were posted on social media websites by the Mar-a-Lago members.
In pictures: Protests, pomp and Donald Trump

Show all 30
The apparent security lapses led two Democrat senators, Sheldon Whitehouse and Tom Udall, to release a statement voicing their concern.
They said: "Now, we have unknown and unvetted Mar-a-Lago members looking over the President's shoulder as he conducts our foreign policy.
"This is America's foreign policy, not this week's episode of Saturday Night Live. We urge our Republican colleagues to start taking this Administration's rash and unprofessional conduct seriously before there are consequences we all regret."
The two senators have previously written to the White House demanding checks on the Mar-a-Lago membership list and visitor records and information on the security procedures at the club.
Other commentators criticised Mr Trump for effectively selling access to the President and his closest advisers via Mar-a-Lago's $200,000 membership fees.
"Plenty of presidents had places they go. George W. Bush spent a lot of time on his ranch in Texas, quite famously", Jordan Libowitz of Citizens for Responsibility and Ethics in Washington, told The Nation. "But he wasn't selling membership to his ranch."
"All the reporting, all the cameras, are serving as a free ad [for] his property. It raises some serious ethical concerns about whether he's using the presidency for his personal benefit."
Join our new commenting forum
Join thought-provoking conversations, follow other Independent readers and see their replies