Donald Trump calls for the appointment of a special prosecutor to 'investigate Hillary Clinton's crimes'
The Republican nominee also told supporters in Ohio that 'inner cities run by Democrats' were more dangerous than war zones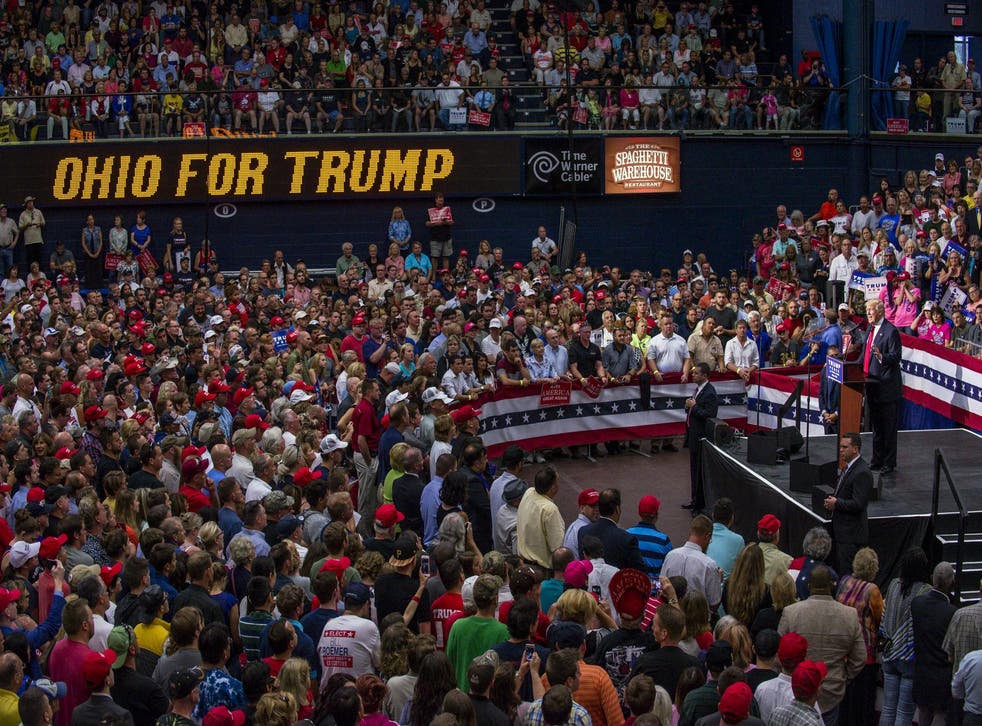 In an effort to reframe the presidential race not as a parade of his own controversies, but as a referendum on his opponent, Donald Trump on Monday night called for the appointment of a special prosecutor to "investigate Hillary Clinton's crimes".
Speaking on the stump in Akron, Ohio, the Republican nominee claimed a criminal probe was necessary regarding the issue of large foreign donations to the Clinton Foundation during Ms Clinton's tenure as US Secretary of State.
However, Mr Trump argued, the Justice Department "cannot be trusted to quickly or impartially investigate", having "proven itself to be a political arm of the White House" in failing to prosecute Ms Clinton over her use of a private email server while in office.
Questions have been raised over the years regarding the potential for a conflict of interest between Ms Clinton's work at the State Department and her family mega-charity's courtship of foreign donors. The Trump campaign is eager to turn it into an election issue.
Late last week, Bill Clinton announced that the Clinton Foundation would no longer accept foreign donations if Ms Clinton is elected. The former president also said he would stand down from the board of the global non-profit if he returns to the White House as First Gentleman.
Meanwhile, amid claims and denials that he has softened his stance on immigration, Mr Trump cancelled a policy speech on the issue that he had been set to deliver in Colorado on Thursday. In an email, the Trump campaign told supporters the speech was "still being modified."
On Monday night, continuing his attempted outreach to minority communities, Mr Trump departed as usual from his prepared remarks to suggest that American "inner cities run by Democrats" were comparable to war zones.
"You can go to war zones in countries that we are fighting and it is safer than living in some of our inner cities that are run by the Democrats," he said, promising that, were he to be elected, "You'll be able to walk down the street without getting shot."
Join our new commenting forum
Join thought-provoking conversations, follow other Independent readers and see their replies