Donald Trump says US 'representing the world' in Syria air strikes
President suggests military action was taken on behalf of all nations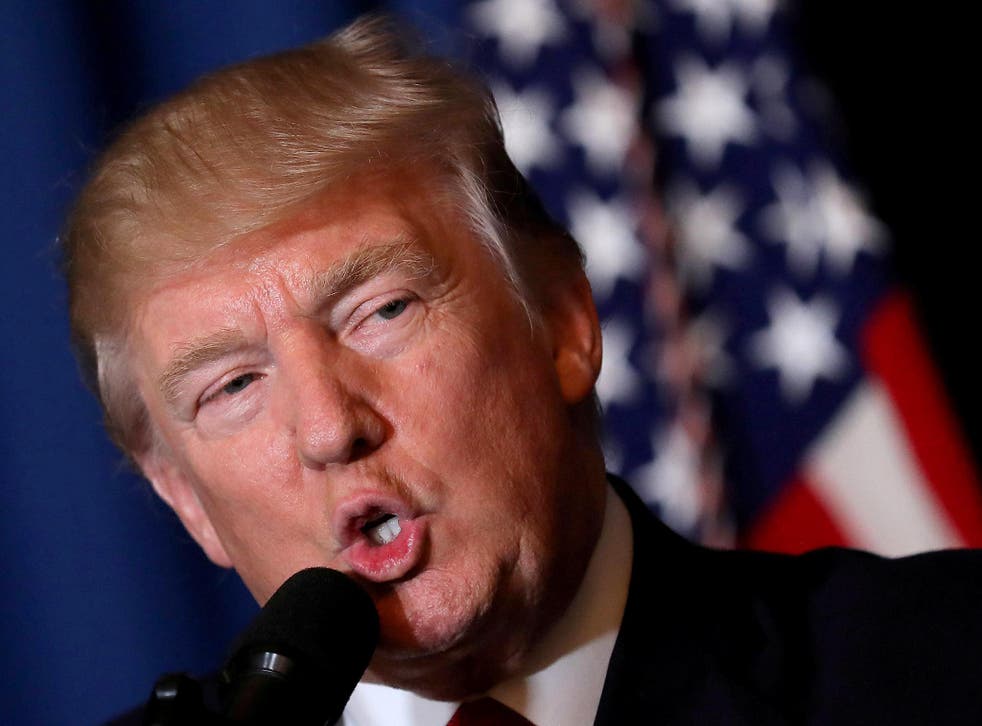 Donald Trump has said the US was "representing the world" when it conducted air strikes on a Syrian military base.
The President took to Twitter to say: "Congratulations to our great military men and women for representing the United States, and the world, so well in the Syria attack."
Some people took immediate exception to the idea that the US military is acting on behalf of the entire world in its air strikes against Syria.
Although the tweet was liked by thousands of people within a few minutes, many others replied to challenge the President.
Opponents made comments including: "This isn't a game. Human lives were lost and you're congratulating people for killing civilians?"
Another user simply suggested: "Consider rephrasing this."
Another tweet said: "You fired missiles from a ship and hardly did any damage. You wasted $100 million on a fruitless attack and inched closer to global war."
The White House said the air strikes were a retaliatory measure following the suspected use of chemical weapons by the Assad regime and were targeted at Syrian troops to avoid civilians.
But the Syrian state media claimed that seven civilians, including four children, were killed in the strikes.
Russian Prime Minister Dmitry Medvedev has said the air strike came "within an inch" of militarily clashing with their forces.
Mr Medvedev said the action taken by the Americans breached international law and their own internal procedures, and accused Washington of "barely avoiding combat clashes with Russia".
Many people welcomed the intervention from the US, including Syrians, on social media, some of whom changed their profile pictures to an image of Mr Trump to show their support.
Around 60 US Tomahawk cruise missiles hit al Shayrat airbase near Homs in central Syria in the early hours of Friday in retaliation to the chemical weapons attack, suspected to have been carried out by the regime, on a rebel-held village earlier this week.
At least 80 people died in the attack, after which the Turkish Health Ministry confirmed post mortems showed victims had been exposed to sarin and chlorine gas.
The White House put out statements blaming former President Barack Obama for allowing the situation in Syria to escalate without intervening – although Mr Trump previously urged his predecessor to stay out of the conflict.
In 2013, Mr Trump said on Twitter: "Stay out of Syria. We don't have the leadership to win wars or even strategise."
In an address to the US Congress in February this year, Mr Trump spoke of relations with NATO and indicated he did not want the US to act on behalf of the world's nations.
"My job is not to represent the world. My job is to represent America."
Nikki Hadley, the US ambassador to the UN, told an emergency meeting of the Security Council that Washington had taken "a very measured step" with the air strikes but it was ready to go further if President Bashar al Assad used chemical weapons again.
Join our new commenting forum
Join thought-provoking conversations, follow other Independent readers and see their replies