Donald Trump's tweets are just 'chatter' that do not interfere with my work, says US ambassador to UN Nikki Haley
President has threatened to cut US funding to the world body in the past
Mythili Sampathkumar
New York
Tuesday 04 April 2017 01:08 Comments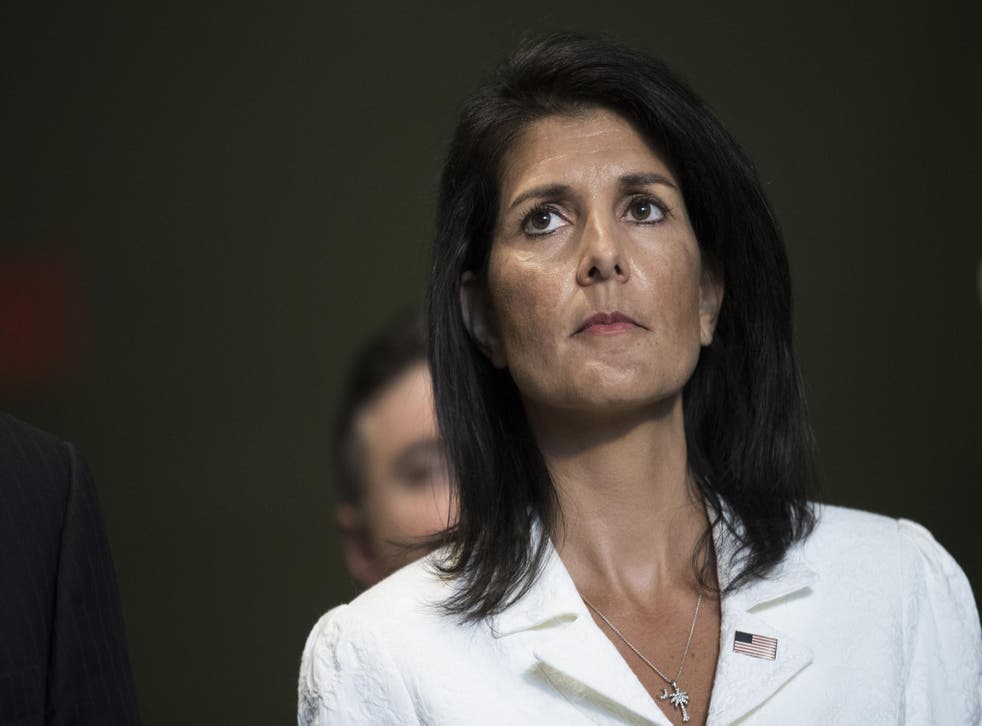 US ambassador to the United Nations Nikki Haley appeared to defend Donald Trump's use of Twitter, saying the President's social media outbursts were not interfering with her job.
Ms Haley told CBS News' Face the Nation programme that international leaders at the UN are calling her on the phone to discuss pressing global issues, but said of Mr Trump's tweets: "I don't talk about them. I don't have them interfere in everything that I'm doing."
The President's latest social media missive focused on the upcoming meeting he has with Chinese President Xi Jinping, saying the discussion would be "a very difficult one in that we can no longer have massive trade deficits" with the US' largest trading partner.
Mr Trump has said that he does not regret any of his nearly 35,000 tweets and told the Financial Times that his popularity depends on his ability to communicate through the platform, adding "without the tweets, I wouldn't be here".
Ms Haley may not pay attention to what she called "chatter" of Mr Trump's tweets but the effects are clear, especially after his tweets accusing former president Barack Obama of wiretapping Trump Tower in New York during the 2016 election.
Both the House of Representatives and Senate are investigating Russia's influence on the election and possible collusion between Russia and Mr Trump's campaign team.
FBI Director James Comey testified in front of Congress that there was no evidence to support Mr Trump's wild accusations on Twitter.
Mr Trump has also been a vocal critic of the UN, calling it a "good time club" and threatening to cut crucial US funding to peacekeeping and aid programmes. The administration's stance is also that the world body is biased against ally Israel.
"[H]e wants to see value in the United Nations. And he wants to make sure that no other countries are just taking us for granted," Ms Haley told Face the Nation.
Separately, she held a press conference to mark the beginning of her month-long rotation at the helm of the UN Security Council, saying: "I don't think the [Trump] administration is backing away from human rights because they support me talking about human rights."
Mr Trump recently eased restrictions on counter-terror air strikes in Somalia, proposed a budget of 28 per cent to the State Department, and is meeting with alleged human rights violator Egyptian President Abdel Fattah al-Sisi at the White House.
She also noted that Secretary of State Rex Tillerson, who is one of the few in the Trump administration without a Twitter account, is set to visit the UN on 28 April to discuss North Korea.
Register for free to continue reading
Registration is a free and easy way to support our truly independent journalism
By registering, you will also enjoy limited access to Premium articles, exclusive newsletters, commenting, and virtual events with our leading journalists
Already have an account? sign in
Join our new commenting forum
Join thought-provoking conversations, follow other Independent readers and see their replies