UN human rights chief attacks Trump over surge in 'discrimination, anti-Semitism and anti-minority violence'
Zeid Ra'ad al-Hussein says he is 'dismayed' at attacks on press and judiciary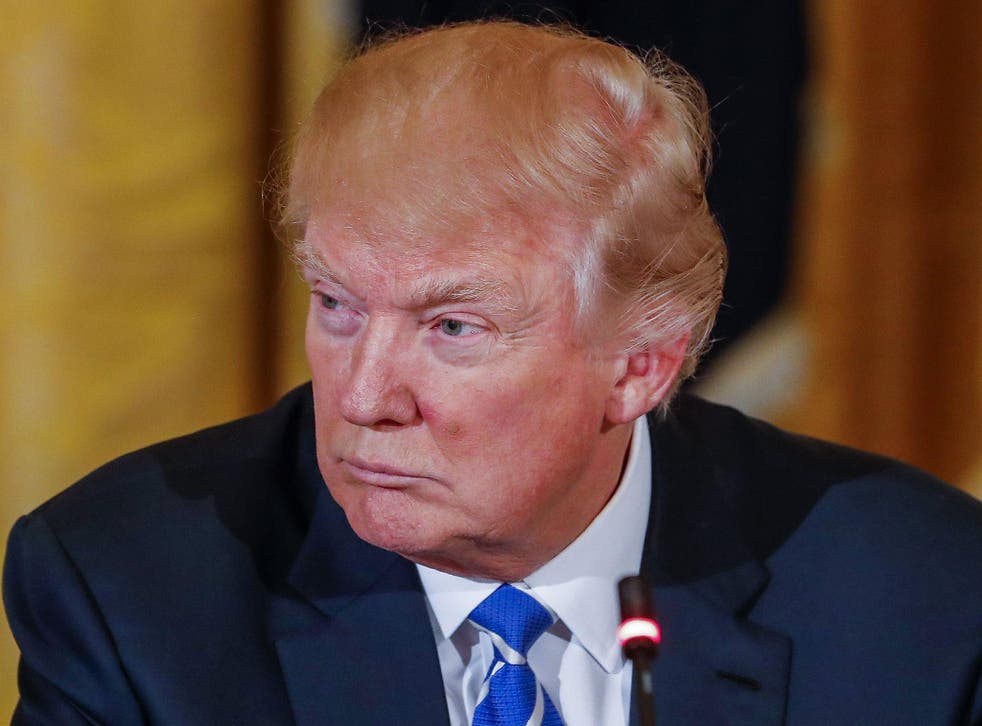 The UN's human rights chief has denounced Donald Trump's new immigration ban and attacks on journalists and the judiciary in an unprecedented assault on the US President.
Zeid Ra'ad al-Hussein, the High Commissioner for Human Rights, voiced his concern over the administration's handling of a series of human rights issues including the treatment of immigrants and Muslims.
"Greater and more consistent leadership is needed to address the recent surge in discrimination, anti-Semitism, and violence against ethnic and religious minorities," he told a meeting of the UN human rights council in Geneva.
Donald Trump signs revised travel ban
"Vilification of entire groups such as Mexicans and Muslims, and false claims that migrants commit more crimes than US citizens, are harmful and fuel xenophobic abuses."
Mr al-Hussein was speaking days after Mr Trump announced the creation of a new agency to deal specifically with crimes committed by "aliens" and pledged to publish a regular list of offences by non-US citizens.
The President has also unveiled his new immigration ban, cutting the number of targeting Muslim-majority countries from seven to six, lifting the indefinite ban on Syrian refugees, exempting green card holders and omitting the preference for "religious minorities".
Despite the changes, Mr al-Hussein said the executive order was part of a raft of policies that could see children detained and families ripped apart by deportations "without regard for years spent in the US or family roots".
"Expedited deportations could amount to collective expulsions and refoulement, in breach of international law, if undertaken without due process guarantees, including individual assessment," he added.
The controversial orders Donald Trump has already issued

Show all 9
The human rights commissioner also took aim at Mr Trump for his frequent attacks on the press, seeing critical outlets excluded from briefings or banned from asking questions, and unfavourable coverage dubbed "fake news".
"I am dismayed at attempts by the President to intimidate or undermine journalists and judges," Mr al-Hussein said, alluding to the assault on members of the judiciary that opposed Mr Trump's initial travel ban.
The US was among more than 40 countries examined in a wide-ranging speech on Wednesday, where the UN was warned that 2017 could prove to be a "pivotal year" for human rights amid terror attacks, security crackdowns, populism and the rise of "authoritarian-minded leaders".
Europe's response to the refugee crisis was targeted by Mr al-Hussein, who sounded a warning over plans to increase cooperation with the Libyan government in efforts to reduce boat crossings over the Mediterranean Sea.
"Many ordinary people in Europe have welcomed and supported migrants, but political leaders increasingly demonstrate a chilling indifference to their fate," he said.
"I am particularly disturbed by lurid public narratives which appear deliberately aimed at stirring up public fear and panic, by depicting these vulnerable people as criminal invading hordes."

Join our new commenting forum
Join thought-provoking conversations, follow other Independent readers and see their replies