Donald Trump may fail to fund US-Mexico border wall due to opposition from fellow Republicans
US President's fellow party members fear trying to get $1.5 billion for the wall will trigger a government shutdown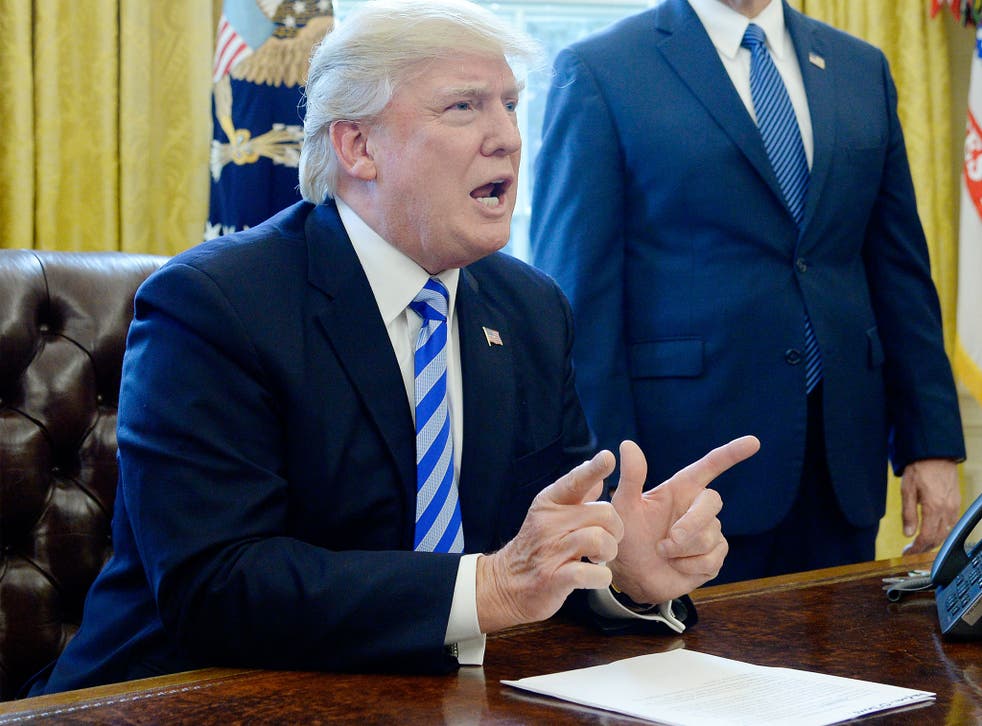 Donald Trump may fail to get the money for his border wall with Mexico because of opposition from fellow Republicans, it has emerged.
It had been thought the Trump administration would try to get $1.5 billion (£1.2 billion) for the wall through Congress as part of a spending bill for federal agencies that has to pass by April 28.
But Democrats have vowed that if money for the wall is included they would block the entire bill, depriving federal agencies of funding and triggering a government shutdown of the kind endured by the Obama administration in 2013, where routine administration ground to a halt.
Faced with such a prospect, some Republican leaders are now thought to favour leaving the wall money out of the spending bill, in the hope of getting it passed at a later date.
If this happened, it would be yet another setback for an administration still reeling from its failure to secure the repeal of Obamacare, which had formed another of Mr Trump's major campaign pledges.
No decision has yet been made on whether or not to omit the wall money from the spending bill, but Republican Senator Roy Blunt, a member of his party's leadership, has now stated publicly that a request for funding for the construction is likely to be left out.
Mr Blunt, a member of the Senate Committee on Appropriations, told a press conference that adding a supplemental measure to pay for the wall might complicate negotiations designed to get the spending bill passed.
"My guess is that comes together better without the supplemental," he said. Funding for the wall, he suggested, could be dealt with "at a later time".
Sevnica: Melania Trump's home town

Show all 18
Privately, some senior Republicans seem far blunter about their opposition to risking a government shutdown over the issue of money for the border wall.
One senior Republican source in the House of Representatives told Politico: "The Trump administration can't have another disaster on its hands. I think right now they have to show some level of competence and that they can govern."
Adding to Republican reluctance to risk a possible government shutdown over the issue is the fear that the border wall is not actually that popular with the American public.
One poll showed that 62 per cent of Americans oppose building the wall, and 70 per cent think it will be the US, not Mexican government that would end up paying for it - at a reported cost of $120 (£96) per US household.
The Republican hesitation is also another sign that despite Mr Trump launching his campaign with the boast that "nobody builds walls better than me," making the construction a reality is becoming increasingly problematic.
Even before Mr Trump took office, the Mexican government was making it clear that it would not go along with the property tycoon's suggestion that it pick up the bill for building the wall.
In January, as Mr Trump signed an executive order demanding the construction of the wall, the White House was saying it would be paid for out of "existing funds and resources" of the Department of Homeland Security (DHS).
This month, however, Reuters reported that a leaked document suggested the DHS had identified only $20 million of existing funds and resources that could be redirected to building the wall.
It was claimed that this would cover only a handful of contracts for wall prototypes, but not enough to start constructing the barrier itself.
Some reports have suggested that the full cost of a wall or fence along the entire US-Mexico border would be $21.6 billion (£17.3 billion) - $US9.3m (£7.5m) per mile of fence and $17.8m (£14.3m) per mile of wall.
Join our new commenting forum
Join thought-provoking conversations, follow other Independent readers and see their replies