US State Department staff 'left with literally nothing to do' under Trump
Claim fuels fears that president is sidelining the US equivalent of the Foreign Office, and may prefer military might to soft-power diplomacy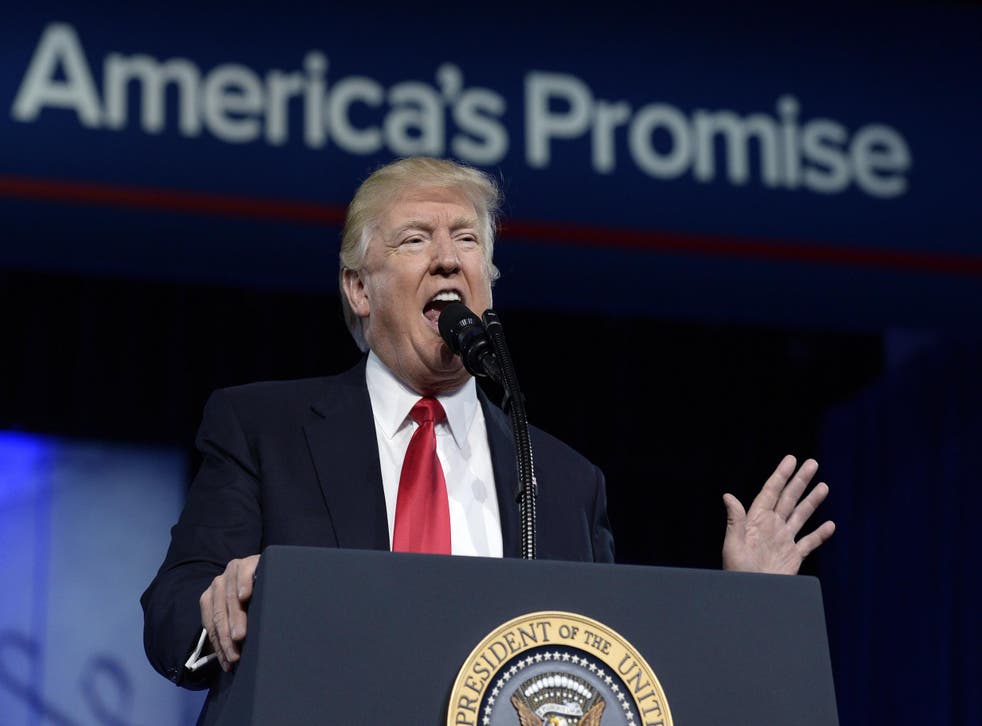 Senior staff at the US State Department have been left with "literally nothing to do" under Donald Trump, it has been claimed.
Micah Zenko, a senior fellow at the Council on Foreign Relations think tank, said after giving a talk to an "unusually large audience" at the State Department, a member of the department's senior executive service admitted the high attendance was because: "We've literally nothing else to do."
The claim has fuelled fears that Mr Trump is deliberately sidelining and running down the US equivalent of the Foreign Office, and may prefer increased defence spending and military might over soft power diplomacy.
Mr Zenko's observation was immediately disputed by one senior State Department Official, Conrad Tribble, Deputy Assistant Secretary at the Bureau of European and Eurasian Affairs, who said having nothing to do was "certainly not my experience today or any day."
But the claim was made on the same day that it emerged that the State Department's own spokesman had no idea that Mexico's foreign minister was visiting Washington. This is despite it being established convention for foreign secretaries to be received by their State Department counterpart when visiting the US capital.
But at a press conference on Thursday, acting State Department spokesman Mark Toner found out from a journalist that Luis Videgaray was meeting with Jared Kushner (Mr Trump's son-in-law and senior advisor), economic adviser Gary Cohn, and National Security Adviser General HR McMaster.
When asked "Is there no State Department meeting? And if not, why not?", Mr Toner replied: "Good Question. I was unaware that he was – the foreign minister was in town. And I'm not sure – I can't speak to whether there's going to be any meetings at the State Department at any level."
Mr Videgaray later explained he had spoken to Secretary of State Rex Tillerson, the head of the State Department, on Wednesday night to let him know he would be in Washington.
Some observers, however, took spokesman Toner's ignorance as reinforcing the impression given by one State Department official who earlier this month told The Atlantic: "I don't think this administration thinks the State Department needs to exist. They really want to blow this place up.
"They think Jared [Kushner, Trump's son-in-law] can do everything."
"It's reminiscent of the developing countries where I've served," added the State Department official. "The family rules everything, and the Ministry of Foreign Affairs knows nothing."
The same report painted a picture of a State Department that had been left "adrift and listless" by the Trump administration, with one staffer saying: "I used to love my job. Now, it feels like coming to the hospital to take care of a terminally ill family member. You come in every day, you bring flowers, you brush their hair, paint their nails, even though you know there's no point."
"The cafeteria is so crowded all day," said another State Department officer. "No one's doing anything."
The controversial orders Donald Trump has already issued

Show all 9
The allegations come amid reports of Mr Trump planning to cut State Department funding by more than a third, while promising "one of the greatest military build-ups in American history" – even though annual military spending already stands at $600 billion, compared to $50 billion for the State Department.
The spending plans prompted 121 retired generals and admirals to write an open letter to Congress and members of the Trump administration arguing against cuts to the State Department and expressing: "Our strong conviction that elevating and strengthening diplomacy and development alongside defence are critical to keeping America safe."
The 121 former senior military officers added: "We know from our service in uniform that many of the crises our nation faces do not have military solutions alone – from confronting violent extremist groups like ISIS in the Middle East and North Africa to preventing pandemics like Ebola and stabilizing weak and fragile states that can lead to greater instability.
"The State Department, USAID, Millennium Challenge Corporation, Peace Corps and other development agencies are critical to preventing conflict and reducing the need to put our men and women in uniform in harm's way.
"The military will lead the fight against terrorism on the battlefield, but it needs strong civilian partners in the battle against the drivers of extremism– lack of opportunity, insecurity, injustice, and hopelessness."
But key presidential aide Steve Bannon, former executive chair of far-right news site Breitbart, drew cheers at last month's Conservative Political Action Conference when he spoke of one of the Trump administration's goals being: "deconstruction of the administrative state".
Other Trump supporters have spoken of a desire to cut back State Department spending that they claimed was excessive under Barack Obama, due to the previous president's fondness for projects on things like climate change and biodiversity.
James Carafano, who was a member of the Trump transition team, has insisted: "If you look at the department's budget, it has significantly ballooned since 2008 and all of that growth, outside of diplomatic security, is in Obama's pet projects."
Mr Trump himself has seemed happy that senior government positions have been left unfilled since he took office, telling Fox News at the end of last month: "A lot of those jobs, I don't want to appoint, because they're unnecessary to have."
Join our new commenting forum
Join thought-provoking conversations, follow other Independent readers and see their replies