Donald Trump 'under pressure to eject nationalist advisers from the White House'
Some reports say Steve Bannon could be gone by the end of the week
Alexandra Wilts
Washington DC
Tuesday 15 August 2017 22:08 Comments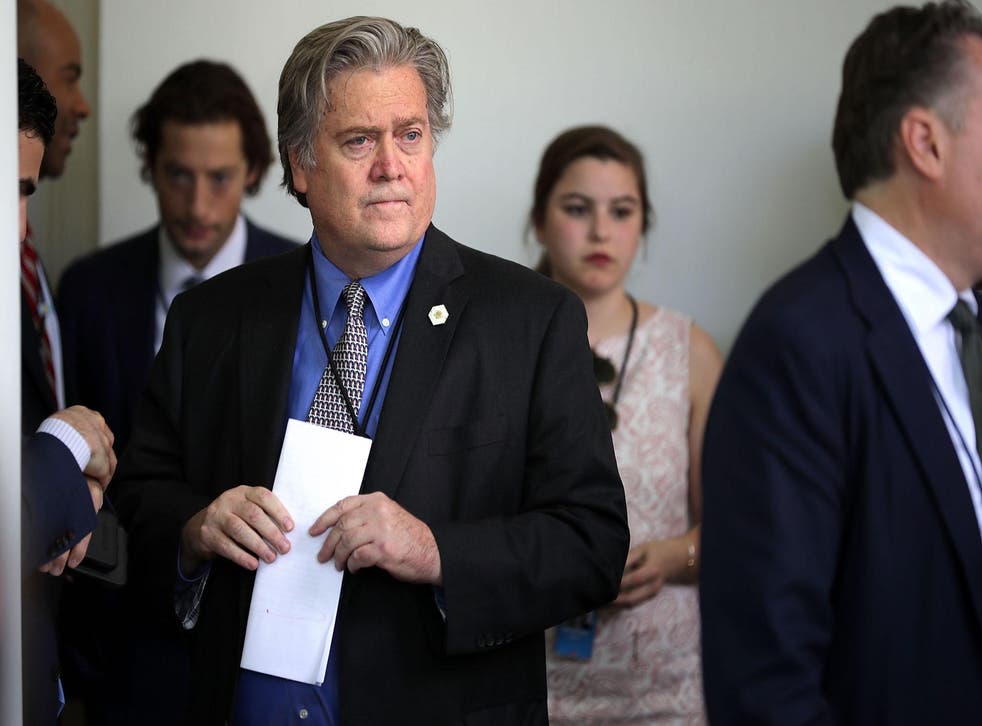 Donald Trump is facing increased pressure to get rid of the nationalist wing of his White House following a racial protest in Charlottesville that led to deadly violence.
Multiple former and current allies, reportedly including media mogul Rupert Murdoch, have called for the ousting of Chief Strategist Steve Bannon – a self-proclaimed "nationalist" who ran the Breitbart website and called it a "platform for the alt-right".
The alt-right – a name given to the group that has rejected mainstream conservatism in favour of white nationalism – drew considerable controversy during Mr Trump's bid for the White House.
Mr Bannon, who embodies the populist movement at the centre of the President's agenda, is credited as being one of the key players that helped Mr Trump win the 2016 election.
In a press conference on Tuesday, Mr Trump told reporters that Mr Bannon "is not a racist, I can tell you that."
"We'll see what happens to Mr Bannon," Mr Trump said. "But he's a very good person," adding that the press treats the strategist unfairly.
The real estate mogul was said to be reciting Mr Bannon's words – as well as those of senior policy advisor Stephen Miller – when he declared to a crowd during his inauguration ceremony that he is the protector of the country's "forgotten men and women" and described the nation as a landscape of "rusted-out factories scattered like tombstones".
Mr Miller – one of the main architects of the President's immigration policy – and advisor Sebastian Gorka, who once wrote for Breitbart, have also come under scrutiny.
"Bannon, Miller, Gorka must go. Probably more," tweeted John Weaver, an advisor to Ohio Governor John Kasich, who ran against Mr Trump in the Republican primaries.
"If the President is sincere about rejecting white supremacists, he should remove all doubt by firing Steve Bannon and the other alt-right white supremacist sympathisers in the White House," House Democratic Leader Nancy Pelosi said in a statement.
She added that the President's first response to the Charlottesville violence – in which he did not denounce white supremacist groups – was a "direct reflection of the fact" that Mr Bannon "is an alt-right white supremacist sympathizer and a shameless enforcer of those un-American beliefs."
Violence on the streets of Charlottesville

Show all 9
In an interview with the Hollywood Reporter in November, after Mr Trump was elected, Mr Bannon said he was "not a white nationalist, I'm a nationalist."
He also emphasised that his ideology runs counter to those of both the Democratic and Republicans parties, which he believes have sold out the country and effectively "created a middle class in Asia."
Former White House communications advisor Anthony Scaramucci, sacked by Mr Trump after just 10 days on the job, suggested to ABC that Mr Bannon's time at the White House could be cut short.
"I think the president knows what he's going to do with Steve Bannon," said Mr Scaramucci, who had railed against the senior strategist in a profanity-laced conversation with the New Yorker before being fired.
"[The President has] got to move more into the mainstream, he's got to be more into where the moderates are and the independents are," Mr. Scaramucci told ABC's "This Week". "And so if he does that, he'll have a very successful legislative agenda that he'll be able to execute. And if he doesn't do that, you're going to see inertia and you're going to see this resistance from more of the establishment senators that he needs to curry favor with."
But a decision by Mr Trump to purge the White House of Mr Bannon, Mr Gorka and Mr Miller would "be a slap in the face" to the President's base of supporters, longtime Tea Party activist Debbie Dooley told the Independent.
Ms Dooley said voters elected Mr Trump for his "America First" agenda. He was not elected as a moderate, she said.
In an interview with Breitbart News Daily three days before the violence in Charlottesville, Mr Gorka accused the media for focusing too much on white supremacists.
"It's this constant, 'Oh, it's the white man. It's the white supremacists. That's the problem.' No, it isn't, Maggie Haberman," Mr Gorka said, referring to the prominent New York Times reporter.
"Go to Sinjar. Go to the Middle East and tell me what the real problem is today. Go to Manchester," he added, suggesting that the real threat to the US is radical Islamic terror.
The White House did not respond to the Independent's request for comment regarding reports that the President is under pressure to get rid of some of his top advisors.
Register for free to continue reading
Registration is a free and easy way to support our truly independent journalism
By registering, you will also enjoy limited access to Premium articles, exclusive newsletters, commenting, and virtual events with our leading journalists
Already have an account? sign in
Join our new commenting forum
Join thought-provoking conversations, follow other Independent readers and see their replies