Elizabeth Warren and Jay Inslee team up to demand climate change debate in Democratic primary
'Climate change is the biggest challenge we face. Every candidate running for president should have a serious set of policies to address it'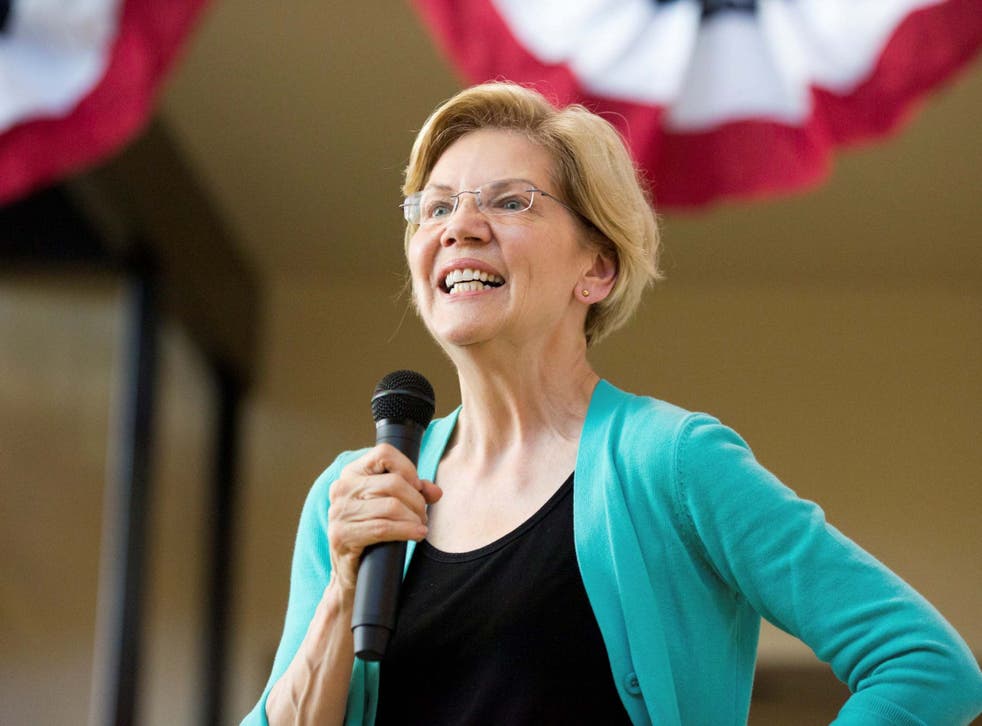 Elizabeth Warren and Washington governor Jay Inslee have found some common ground in their calls for an official Democratic debate on climate change heading into the 2020 election.
The moment of agreement came online after Mr Inslee tweeted that he had been informed by the Democratic National Committee (DNC) there would be no debate focusing on the topic.
"Today, my team received a call from the Democratic National Committee letting us know that they will not host a #ClimateDebate," Mr Inslee, a 2020 democratic presidential candidate who has focused heavily on climate change, wrote.
In further tweets, Mr Inslee said his team had been warned participating in other, non-DNC forums would disqualify him from future official debates. He continued to say Democratic voters list climate change as a top issue.
Ms Warren, a 2020 rival, then responded, saying that she agreed with the governor that a debate on the issue was of pressing importance.
Coral reefs: Trying to combat climate change damage

Show all 25
"Gov Inslee is exactly right. Climate change is the biggest challenge we face," wrote Ms Warren, who regularly polls in third or fourth place in the crowded Democratic field. "Every candidate running for president should have a serious set of policies to address it, and should be eager to defend those proposals in a debate."
Climate change has emerged as a marquee political issue in the Democratic primary, with candidates releasing detailed proposals on how they would address the threat that scientists say could threaten life all across the globe. Mr Inslee was among the first to release his detailed plan. Since then, candidates like Ms Warren have also released theirs — underscoring how important candidates believe the issue is from an electoral standpoint, and the urgency of the issue.
As it turns out, several presidential candidates in addition to Ms Warren and Mr Inslee have agreed that a climate change debate would be beneficial and important before voters cast their ballots starting next year.
Support free-thinking journalism and attend Independent events
Beto O'Rourke, who has released one of the most ambitious climate change proposals, has called for such a debate. Bernie Sanders, Kirsten Gillibrand, Michael Bennet, and Julian Castro have all also backed the idea in some form or another.
The issue has been pushed forward at least in part by the activist Sunrise Movement, a grassroots youth organising group.
Varshini Prakash, the co-founder and executive director of Sunrise demanded in a statement that the DNC reconsider the decision not to host a climate debate.
"Almost every major candidate has supported the call for a Climate Debate. It is an outrage not only to deny the American people an opportunity for a real debate on the greatest existential threat of our time, but to threaten candidates who want to participate in a climate debate," she told The Independent.
"We hope that all candidates, especially those who joined us in calling for a Climate Debate, will speak out against this disastrous decision and demand the DNC reconsider."
Ms Prakash continued, noting that her group plans on organising in Detroit during the second presidential debates next month.
"This is exactly why we're assembling in Detroit by the thousands this summer," she said. "The political and media establishment have spent our entire lives not taking this crisis seriously. This is just the latest example of that and it's not going to change unless we relentlessly demand they take this threat as seriously as young people do."
In response to a request sent via email, the DNC said the following: "The DNC has told media partners from the start the importance of climate change during the debates for the 2020 cycle, and frankly, it's an issue that should have been more prominent during the 2016 cycle. Our goal is to provide a platform for candidates to have a vigorous discussion on ideas and solutions on the many issues that voters care about, including the economy, climate change, and health care. While climate change is at the top of our list, the DNC will not be holding entire debates on a single issue area because we want to make sure voters have the ability to hear from candidates on dozens of issues of importance to American voters."
The Independent has reached out to other presidential candidates to ask their position on a climate change debate, and will update this story as necessary.
Join our new commenting forum
Join thought-provoking conversations, follow other Independent readers and see their replies