FBI Director tells staff to 'keep calm and tackle hard' in wake of Trump's critical tweet
Christopher Wray says he is 'inspired by example after example of professionalism and dedication' by his staff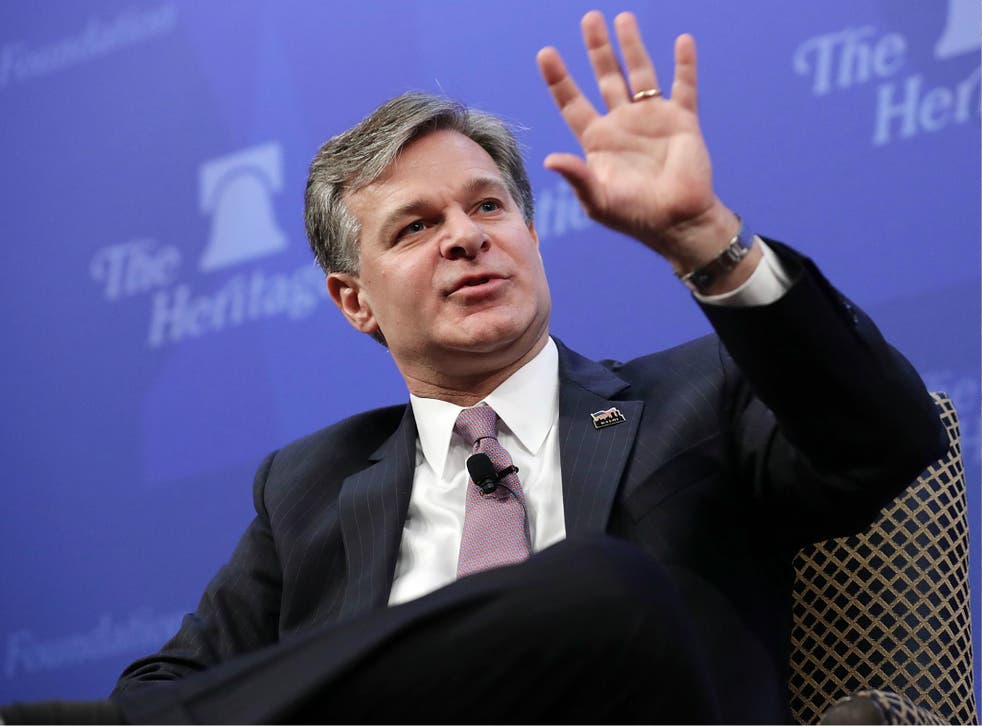 The FBI's director has told staff to "keep calm and tackle hard" in the wake of President Donald Trump's recent Twitter attacks on the bureau, in which he claimed the federal agency's reputation was "in tatters"
The President had used Twitter over the weekend to express his dissatisfaction with the FBI by saying it was "the worst in history."
The FBI, under the direction of special prosecutor Robert Mueller, is working an investigation into alleged collusion between Mr Trump's 2016 campaign team and Russian officials - with former Trump National Security Adviser Michael Flynn pleading guilty to a charge of lying to the bureau last week. Mr Trump has lamented that the FBI have "destroyed" Mr Flynn's life.
Director Christopher Wray sent an email, obtained by CBS News, to staff on Monday morning, but was careful did not address the President's public criticism directly.
He wrote: "We find ourselves under the microscope each and every day -- and rightfully so. We do hard work for a living. We are entrusted with protecting the American people and upholding the Constitution and laws of the United States. Because of the importance of our mission, we are also entrusted with great power, and we should expect -- and welcome -- people asking tough questions about how we use that power. That goes with this job and always has."
He added that he was "inspired by example after example of professionalism and dedication" by his staff.
Trump's FBI pick suggests Donald Trump Jr should have gone to agency over Russia meeting
The President's FBI tweet came just two days after Mr Flynn pleaded guilty to lying to the FBI about a 29 December conversation he had with the former Russian Ambassador to the US Sergey Kislyak regarding US sanctions against Moscow. That is as well as another conversation on 22 December about a UN vote against Israeli settlement building.
Mr Wray was appointed by Mr Trump to replace former Director James Comey, who was sacked on 9 May.
The biggest names involved in the Trump-Russia investigation

Show all 17
The former director testified in front of the Senate some months later that Mr Trump had asked him to stop the investigation into Mr Flynn, during a meet on 14 February. That was a day after Mr Flynn was pushed out of the administration for lying to Vice President Mike Pence about his conversations with Mr Kislyak.
The White House, and Mr Trump, have repeatedly denied that the president asked Mr Comey to drop any investigation into Flynn.
Mr Wray told staff he would be testifying in front of the Senate later this week about the "breadth and significance" of their work.
"Please continue to keep focused on our critical mission with fidelity, bravery, and integrity. The American people rightly expect this from us," he added.
Register for free to continue reading
Registration is a free and easy way to support our truly independent journalism
By registering, you will also enjoy limited access to Premium articles, exclusive newsletters, commenting, and virtual events with our leading journalists
Already have an account? sign in
Register for free to continue reading
Registration is a free and easy way to support our truly independent journalism
By registering, you will also enjoy limited access to Premium articles, exclusive newsletters, commenting, and virtual events with our leading journalists
Already have an account? sign in
Join our new commenting forum
Join thought-provoking conversations, follow other Independent readers and see their replies