Fast-food workers to strike in Fight For $15 as lawmakers battle over minimum wage hike
Bernie Sanders urging federal minimum wage increase to be included in Covid-19 relief legislation
Alex Woodward
New York
Monday 15 February 2021 22:06 Comments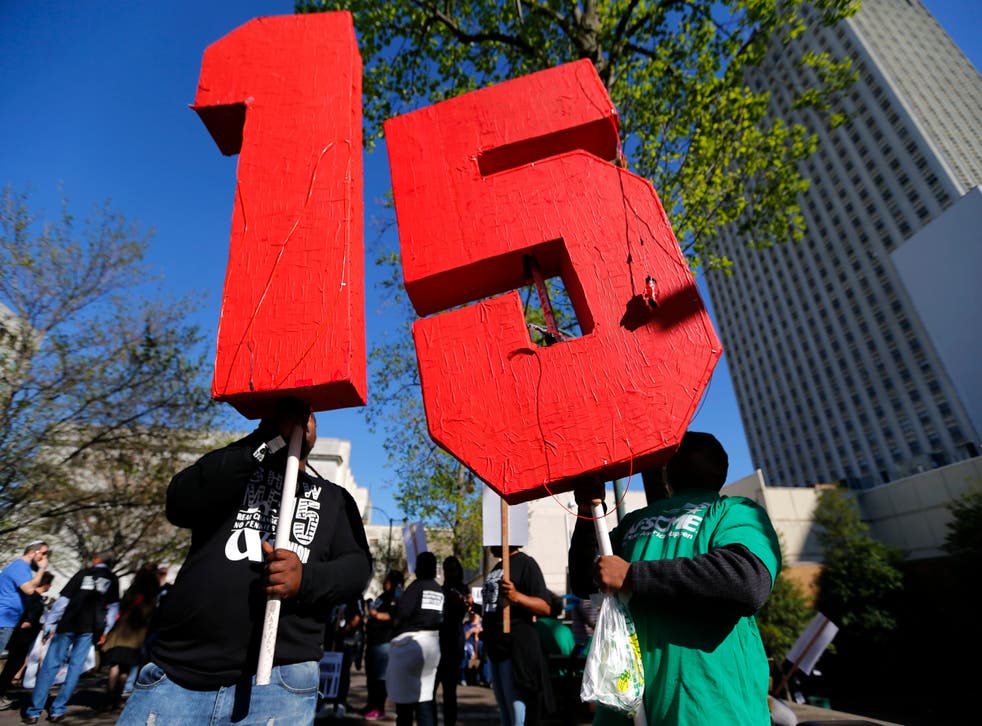 Fast-food workers across the US will renew demands for a nationwide $15 minimum wage and union rights as well as better protections from the coronavirus pandemic on 16 February, as lawmakers push for raising the federal hourly wage as part of a sweeping Covid-19 relief package.
Workers from Burger King, McDonald's and Wendy's in more than a dozen cities are expected to participate in the latest nationwide Fight for $15 strike, an eight-year effort among workers and union advocates to push companies as well as federal, state and local lawmakers to raise wages.
Raising the federally set minimum wage from $7.25 to $15 an hour would lift nearly 1 million people out of poverty and raise wages for millions of Americans, according to the latest assessment from the federal government's nonpartisan budget office.
The Congressional Budget Office also reported that the wage increase could raise the federal deficit by $54 billion over 10 years, a more dramatic increase than one predicted in a similar CBO report from just two years ago.
An analysis from the Economics Policy Institute called the report's predicted impacts to job losses "just wrong and inappropriately inflated relative to what cutting-edge economics literature would indicate".
The 2021 CBO report says a wage increase could lead to 1.4 million job cuts by 2025, but it also would lift 900,000 people out of poverty and raise incomes for 17 million people, or roughly 10 per cent of the US workforce. Another 10 million workers who earn slightly more than $15 per hour would also see pay raises.
President Joe Biden and Vice President Kamala Harris support raising the federal minimum wage to $15, but the president has raised doubts whether it would survive inclusion in a proposed $1.9 trillion coronavirus relief package that is critical to funding his administration's Covid-19 response plan.
Senator Bernie Sanders, who now chairs the senate's budget committee, has pledged to include language in the package to raise wages, part of a plan to pass the massive bill through a budget reconciliation process that essentially will bypass the need for Republican support to ensure its passage, provided that moderate Democrats also approve it.
"The only way to increase the minimum wage to $15 now is to pass it with 51 votes through budget reconciliation," he said in a statement last week. "I look forward to working with my colleagues in the House and the Senate to end the crisis of starvation wages in America."
The Raise The Wage Act, which has support from more than three dozen congressional lawmakers, proposes adding $2.25 to the federal minimum every year through 2025. After that, the wage would be indexed to median wage growth.
It also would phase out the current sub-minimum wage for tipped workers, who have earned a minimum hourly wage of $2.13 since 1991.
The measure "is a huge step forward in deciding to end poverty work in America," said Mary Kay Henry, president of Service Employees International Union International, which has helped organise the Fight For $15 campaign.
"The impact Covid-19 has had on working people has made it crystal clear that our economy is broken for the millions of people who can't afford to provide for their families," she said.
Strikes are planned in Atlanta, Chicago, Detroit, Houston, Miami, Milwaukee, St. Louis and seven other metropolitan areas across the US on 16 February.
Register for free to continue reading
Registration is a free and easy way to support our truly independent journalism
By registering, you will also enjoy limited access to Premium articles, exclusive newsletters, commenting, and virtual events with our leading journalists
Already have an account? sign in
Join our new commenting forum
Join thought-provoking conversations, follow other Independent readers and see their replies