Hillary Clinton attacks Bernie Sanders for damaging her campaign and enabling Trump's 'Crooked Hillary' line
Former First Lady says her Democractic nominee rival 'had to resort to innuendo and impugning my character' because they 'agreed on so much'  
Alexandra Wilts
Washington DC
Tuesday 05 September 2017 23:27 Comments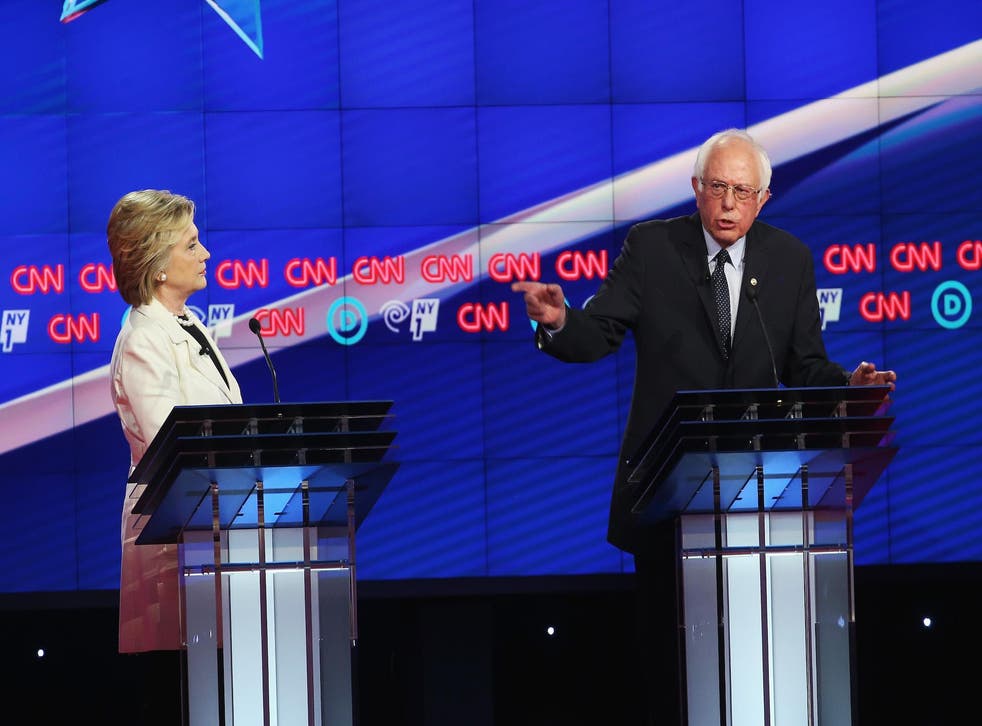 Hillary Clinton has said Bernie Sanders' attacks against her during the presidential campaign "caused lasting damage".
According to excerpts of her new book, What Happened, that have surfaced online, Ms Clinton accused Mr Sanders of paving the way for Donald Trump's "Crooked Hillary" campaign.
Mr Sanders, an independent senator, had challenged Ms Clinton for the Democratic nomination for president. Ms Clinton wrote that her opponent "had to resort to innuendo and impugning my character" because they "agreed on so much".
"When I finally challenged Bernie during a debate to name a single time I changed a position or a vote because of a financial contribution, he couldn't come up with anything," Ms Clinton said. "Nonetheless, his attacks caused lasting damage, making it harder to unify progressives in the general election and paving the way for Trump's 'Crooked Hillary' campaign."
While Mr Sanders eventually campaigned for Ms Clinton following his defeat in the primaries, Ms Clinton did not hold back in her book, comparing the senator to the "deranged hitchhiker" in the 1998 Ben Stiller movie There's Something About Mary.
"A deranged hitchhiker says he's come up with a brilliant plan," Ms Clinton wrote, describing a scene in the movie. "Instead of the famous 'eight-minute abs' exercise routine, he's going to market 'seven minute abs.' It's the same, just quicker. Then the driver, played by Ben Stiller, says, 'Well, why not six-minute abs?'"
Bernie Sanders praises 'courageous' Jeremy Corbyn for 'revitalising democracy'
She added: "That's what it was like in policy debates with Bernie. We would propose a bold infrastructure plan or an ambitious new apprenticeship program for young people, and then Bernie would announce basically the same thing, but bigger. On issue after issue, it was like he kept proposing four-minute abs, or even no-minute abs. Magic abs!"
Ms Clinton also wrote that some of Mr Sanders' supporters, "the so-called Bernie Bros, took to harassing my supporters online".
Bernie Sanders campaigns with Hillary Clinton

Show all 15
"It got ugly and more than a little sexist," she added.
Ms Clinton's book, which describes her latest experience running for president, is scheduled to be released on 12 September. However, several supporters who obtained the book early have published excerpts on social media.
Ms Clinton also talks in her book about how she was urged – including by then-President Barack Obama – to not "hit back against Bernie's attacks".
"My team kept reminding me that we didn't want to alienate Bernie's supporters," Ms Clinton wrote. "President Obama urged me to grit my teeth and lay off Bernie as much as I could. I felt I was in a straitjacket."
Register for free to continue reading
Registration is a free and easy way to support our truly independent journalism
By registering, you will also enjoy limited access to Premium articles, exclusive newsletters, commenting, and virtual events with our leading journalists
Already have an account? sign in
Join our new commenting forum
Join thought-provoking conversations, follow other Independent readers and see their replies