Hillary Clinton given 11-point lead over Donald Trump in latest nationwide poll
Latest survey follows a terrible week for the Republican candidate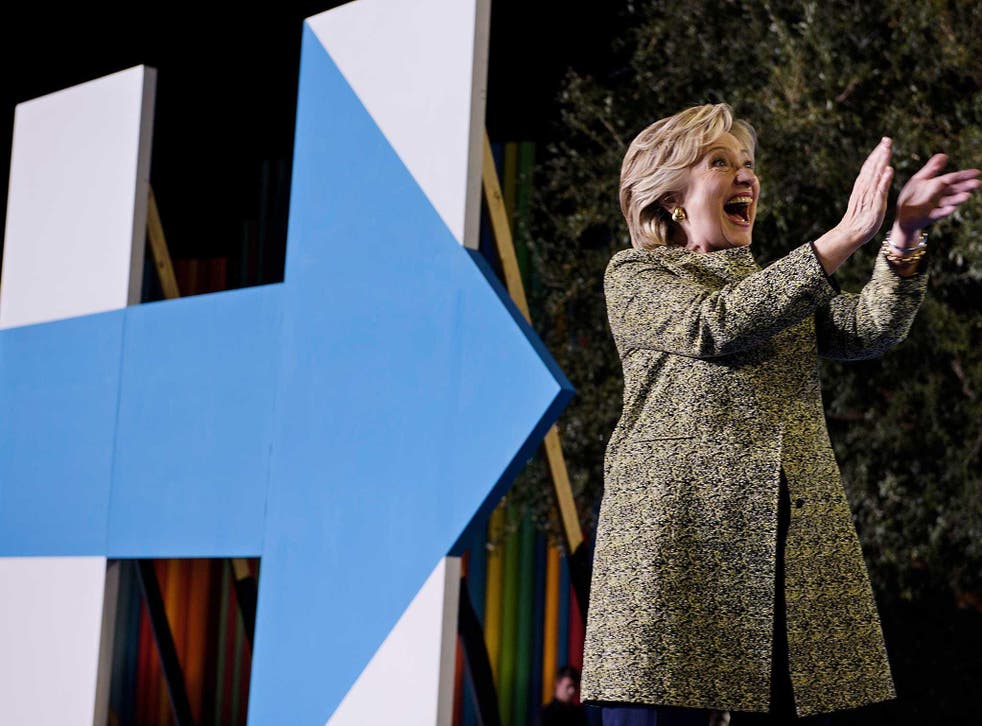 He has been accused by multiple women of sexual assault. He has boasted of not paying federal taxes, threatened to jail his opponent and claimed the system is rigged. And yet nothing seemed to stick
But now, a new nationwide poll published barely three weeks ahead of election day, suggests that Donald Trump has fallen a full 11 points behind Hillary Clinton. The poll by NBC News and The Wall Street Journal put Libertarian Gary Johnson at 7 per cent and the Green Party's Jill Stein at 2 percent.
The lead is even greater than the seven points Barack Obama beat John McCain nationally in 2008. Mr Obama's margin of victory over Mitt Romney in 2012 was just four points.
"Donald Trump's chances of winning this election have faded," Democratic pollster Fred Yang of Hart Research Associates told NBC. Mr Yang's company conducted the survey with Republican pollster Bill McInturff and his firm Public Opinion Strategies.
"This poll is showing the writing on the wall," said Mr Yang.
Donald Trump is reminded mid-interview that India is a nation of Muslims Christians and Hiindus
This poll gives Ms Clinton a greater lead than many others. A poll by The Washington Post scored Ms Clinton 47-43 ahead of Mr Trump, with Mr Johnson on 5 per cent and Ms Stein at 2 per cent. An average of polls collated by Real Clear Politics gives Ms Clinton a lead of 5.5 per cent.
Mr Trump has spent most of the last week seeking to dismiss allegations from a growing number of women that he sexually assaulted them. The accusations date back over a period of decades, and have underscored the problem Mr Trump has in the eyes of female voters.
The nationwide polls only tell part of the complex situation on the ground as the US prepares to vote. The election will be decided by a handful of swing states, that will permit a candidate to secure the 270 electoral votes required to win the race.
Ms Clinton is ahead of Mr Trump in most of these states. And more complex calculations by The New York Times and statistical websites such as FiveThirtyEight give her a very likely chance of winning. FiveThirtyEight currently gives Ms Clinton an 86 per cent chance of winning, and Mr Trump just 14.
In recent days, perhaps aware that the tide is against him, Mr Trump has sought to suggest the election is "rigged" and claimed that the media is conspiring against him.
"These claims are all fabricated. They're pure fiction and outright lies. These events never ever happened," Mr Trump said during a rally in West Palm Beach, Florida earlier in the week.
Speaking on Saturday in New Hampshire, he said: "Looks to me like a rigged election. The election is being rigged by the liberal media to push outright lies to rig the election."
Join our new commenting forum
Join thought-provoking conversations, follow other Independent readers and see their replies