Huma Abedin: The trusted aide cum baby-sitter Hillary Clinton once called her second daughter
Abedin's part in the email and Clinton foundation scandals have become a problem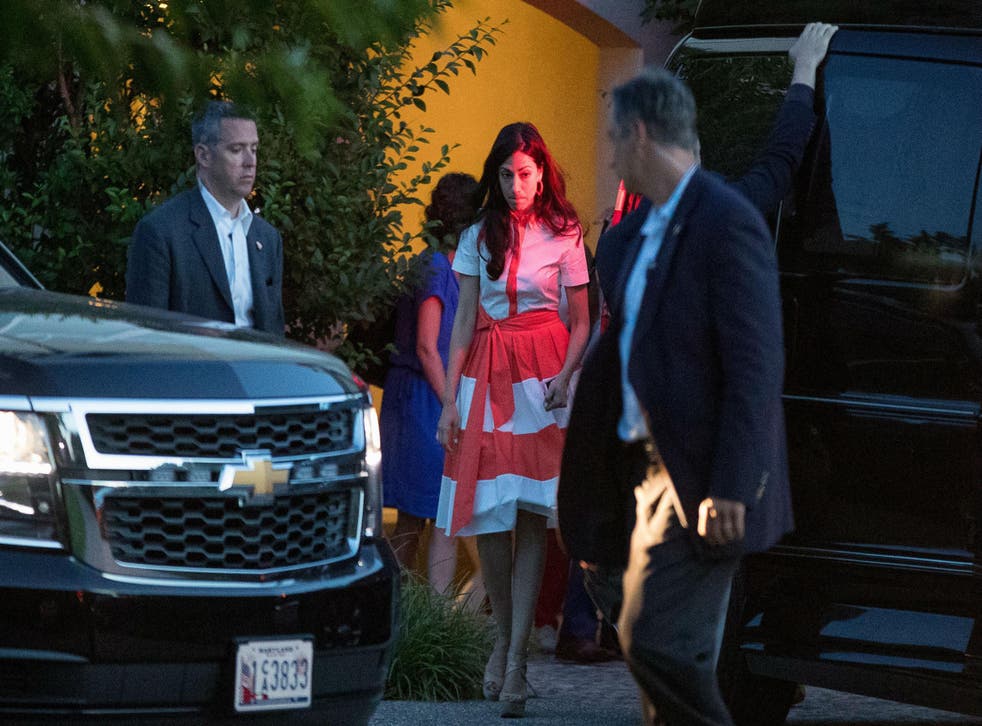 When Hillary Clinton visiting a Barnes & Noble in New York in early 2014 to sign copies of her new book, Hard Choices, hovering stage left was the one aide who never seems to leave her side. Huma Abedin was there, never mind that Ms Clinton had no government job at the time.
Ms Abedin, 40, has been a constant presence alongside the former first lady ever since she first ran for a US Senate seat for New York in 2000. She is body-man and baby-sitter, the person who bends to Ms Clinton's ear with messages that can't wait. The person who keep her calendar running smoothly and who, in theory, keeps her out of harm's way politically.
Of Indian and Pakistani decent, Ms Abedin, who has announced her separation from Anthony Weiner, made her connection to Ms Clinton even before 2000. While still a student at George Washington University in 1996, she landed a slot as an intern at the White House when Bill Clinton was president. She was assigned to the first lady.
So clear was the extent to which Ms Clinton came to depend on her expertise as well as her acute political antennae that a profile in Vogue magazine in 2007 - when Ms Clinton was beginning her first run for Democratic nomination - dubbed her 'Hillary's Secret Weapon'.
Ms Clinton was thwarted in that campaign, but when Barack Obama appointed her Secretary of State, it was of little surprise to anyone that she took Ms Abedin to Foggy Bottom, where the State Department sits, with her, appointing her as deputy chief of staff under a special dispensation to make her a government employee without having risen through the ranks.
And she was still there when Ms Clinton rejoined the ranks of private citizenry in 2013. Part of her job was helping her boss assume her role as a co-head of the Clinton Foundation, first set up by her husband, Bill Clinton, when he left the White House, and - though it could never be publicly said - beginning the transition for her to run for president again in 2016.
When Ms Abedin married Mr Weiner, then a rising-star congressman who seemed destined at the time to become New York mayor, Ms Clinton was of course in attendance. "I have one daughter. But if I had a second daughter, it would (be) Huma."
Ms Abedin's presence has not been without its problems. Not least among them, the furore that broke out when Mr Weiner was first accused of engaging in inappropriate text messaging in May 2011. She had to endure a repeat episode of the humiliation when her husband was again discovered returning to his old habits just as he was making an official run for the mayor's office two years later.
She had come under political attack in June 2012, when five Republicans in Congress, included former congresswoman Michele Bachmann, submitted a formal complaint to the State Department that she had "three family members – her late father, her mother and her brother – connected to Muslim Brotherhood operatives and/or organisations."
Just this summer she has also come under attack for the role she played as assistant editor at the Journal of Muslim Minority Affairs up until 2008. The journal was run by her mother who once wrote an article apparently inferring that the US was responsible for the 9/11 attacks.
None of these things weakened the tie between her and her boss. But there is a reason why Vanity Fair earlier this year offered a more troublesome headline about their relationship. It read: "Is Human Abedin Hillary Clinton's Secret Weapon or her Next Big Problem".
If Ms Clinton is elected president, her immediate instinct would be to take her most loyal aide into the Oval Office with her, perhaps even as chief of staff.
That, however, may become politically impossible because of the email scandal and questions about the role Ms Abedin played both in the back and forth of emails to Ms Clinton when she was Secretary of State and in the claims that donors to the Clinton Foundation were given privileged access to her at the time in a pay-for-play arrangement.
As the guardian of Ms Clinton's schedule, it was through Abedin that such favours were asked.
Join our new commenting forum
Join thought-provoking conversations, follow other Independent readers and see their replies