Iran launches missiles at US sites in Iraq
Iran crisis: Trump claims 'all is well!' after missile strike on US Iraq bases
'We have the most powerful and well equipped military anywhere in the world, by far!' president says
"All is well!" is the message from Donald Trump, after Iran launched missile strikes against two US-Iraqi airbases.
Tehran fired more than a dozen ballistic missiles at US targets inside Iraq in retaliation for the death of Qassem Soleimani, its top general, in an American drone strike last week.
The rockets were aimed mainly at the Ain al-Asad airbase west of Baghdad, though another base in Erbil, in Kurdistan, was also struck.
Mr Trump tweeted: "All is well! Missiles launched from Iran at two military bases located in Iraq. Assessment of casualties & damages taking place now. So far, so good!
"We have the most powerful and well equipped military anywhere in the world, by far! I will be making a statement tomorrow morning."
Qassem Soleimani: Mourners fill Iran streets for funeral

Show all 24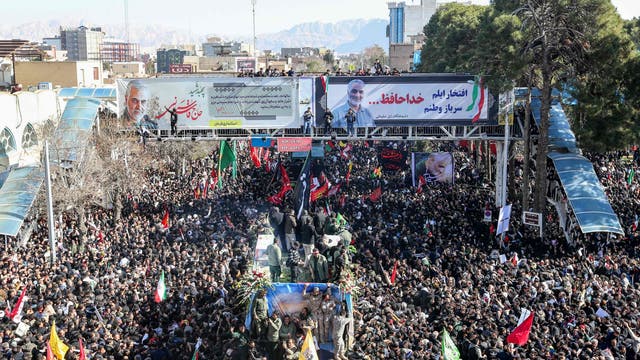 Iran and its proxies had vowed revenge for the killing of Soleimani, who led the elite Quds Force within the Islamic Revolutionary Guards Corps (IRGC) and coordinated Tehran's ties throughout the region.
Mr Trump warned on Tuesday that the US would respond if Iran acted against it – but following the missile strikes the IRGC told him not to, and further put other Middle East countries on notice. Any military action launched from the territory of US allies would incur reprisals, it said.
On Twitter, Iran's foreign minister said the country did not want an all-out war.
"Iran took & concluded proportionate measures in self-defense under Article 51 of UN Charter targeting base from which cowardly armed attack against our citizens & senior officials were launched," Javad Zarif tweeted.
"We do not seek escalation or war, but will defend ourselves against any aggression."
Join our new commenting forum
Join thought-provoking conversations, follow other Independent readers and see their replies