Republican says Trump should fire Ivanka and Jared Kushner from White House roles
Members of the Trump family continue to get caught up in scandals related to the Russian government 
Alexandra Wilts
Washington DC
Friday 14 July 2017 16:38 Comments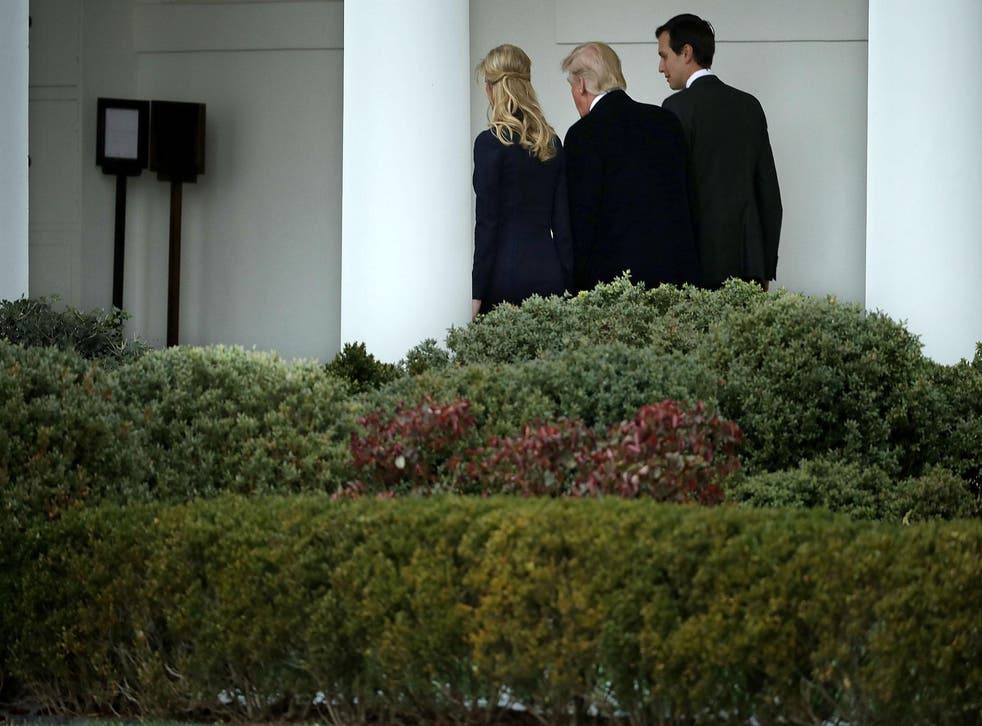 A Republican congressman from Texas has suggested that Donald Trump should fire his daughter Ivanka and her husband Jared Kushner from their White House roles, potentially demonstrating growing discontent with the influence that members of the President's family continue to wield despite recent scandals.
Before he was president, Mr Trump was known to give his children prominent positions in his real estate company and other undertakings in an almost Godfather-esque fashion. But this practice has seemed to have created problems during his presidential campaign and subsequent move to the White House.
The President's eldest son, Donald Trump Jr, recently came under fire for a meeting he had during the presidential campaign with a lawyer connected to the Russian government. Emails released this week by Mr Trump Jr revealed that he had met with the lawyer after being told that she would provide official documents and information that would "incriminate" his father's campaign opponent Hillary Clinton.
The President has praised his son for demonstrating transparency by releasing the emails, but members of Mr Trump's own political party have been less forgiving.
"I'm going out on a limb here, but I would say that I think it would be in the president's best interest if he removed all of his children from the White House," said Republican US Representative Bill Flores to a local affiliate of broadcaster CBS. "Not only Donald Trump, but Ivanka and Jared Kushner."
Mr Flores was also critical of Mr Trump Jr's meeting, which has only furthered allegations that Trump campaign advisers colluded with the Russian government. Federal investigators and congressional committees are currently probing the matter.
"I do find issues with the meeting. It's a meeting that should not have taken place," said Mr Flores. "I think he thought he was looking out for his father's best interest."
Mr Trump Jr, along with his younger brother, Eric, are not part of the administration and are instead co-running the Trump Organization.
Donald Trump's international Presidential trips

Show all 22
Meanwhile, Ms Trump and Mr Kushner have both taken on adviser roles in the White House, leading to accusations that the President is engaging in nepotism since neither has daughter nor son-in-law have any prior political experience.
But a President appointing family members to fill prominent government posts is not new to Washington, even if the practice has appeared less common in recent decades. After being elected in 1960, President John F Kennedy nominated his 35-year-old brother Bobby to be attorney general.
Ms Trump has recently been criticised for briefly taking her father's seat at the G20 summit in Germany after the President had to step out of the room. While Mr Trump was away from the table, his daughter sat between President Xi Jinping of China and Prime Minister Theresa May of Britain.
Mr Kushner also appears to be getting his fair share of prominent tasks. Last month, the former real estate developer with little experience in international diplomacy met with Israeli and Palestinian leaders with the aim of reviving a US effort for a peace agreement. He also helped to negotiate a $100bn arms deal with Saudi Arabia before Mr Trump's first trip abroad as President in May.
Mr Kushner is also caught up in the Russia scandal: He attended Mr Trump Jr's meeting with the Russian lawyer and is currently being scrutinised for his own contacts with the Russian government.
Eric Trump, who took the reigns of the family business with Mr Trump Jr after the presidential election, said in April that nepotism is "a beautiful thing".
"You trust the people who are closest to you. Who is [my father] going to trust most to run a company? He is going to trust somebody who he trusts implicitly," he said in an interview with The Telegraph.
Mr Trump said his father "knows I deeply care about the properties, our amazing teams. And he knows I'm going to do everything I can humanly possible to take care of that."
"Is that nepotism? Absolutely. Is that also a beautiful thing? Absolutely," he continued. "Family business is a beautiful thing. The same applies for Ivanka. Ivanka is by his side in Washington."
Register for free to continue reading
Registration is a free and easy way to support our truly independent journalism
By registering, you will also enjoy limited access to Premium articles, exclusive newsletters, commenting, and virtual events with our leading journalists
Already have an account? sign in
Join our new commenting forum
Join thought-provoking conversations, follow other Independent readers and see their replies