Comey fired: America is witnessing a Constitutional crisis, says leading Democrat
Democrats call for the appointment of an independent special prosecutor
Alexandra Wilts
Washington DC
Wednesday 10 May 2017 03:57 Comments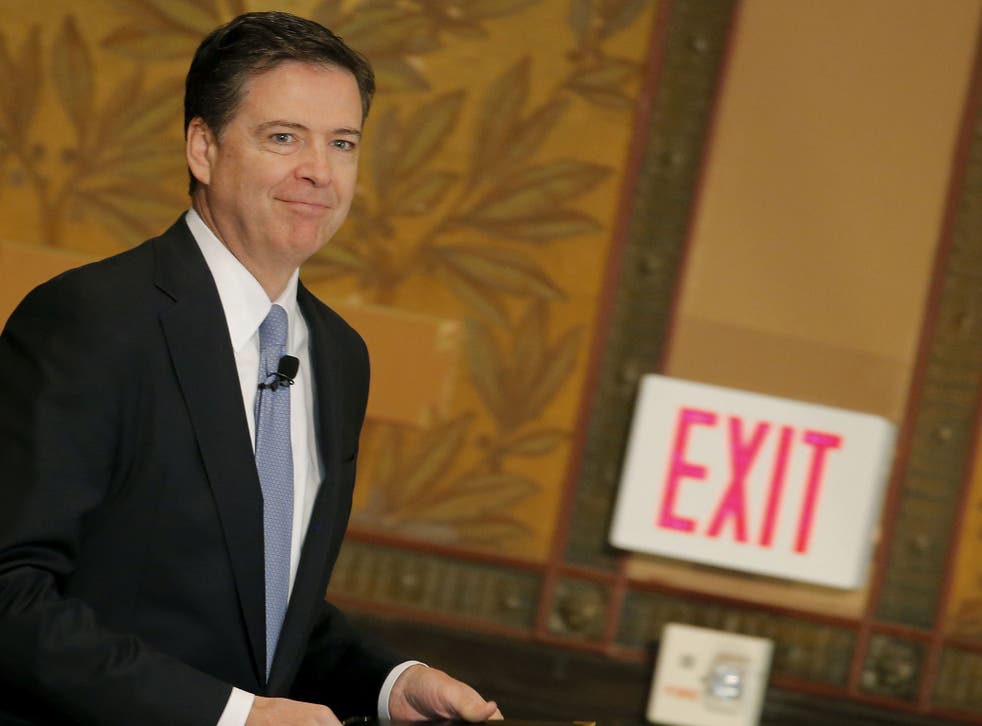 President Donald Trump has caused a "constitutional crisis" by firing FBI Director James Comey, a leading Democrat has warned, with Mr Comey having also been the head of an investigation into alleged ties between Moscow and the Trump campaign.
"We are witnessing a constitutional crisis unfold before our very eyes," said Representative Keith Ellison, the Vice Chairman of the Democratic National Committee (DNC).
In terms of the Russia probe, the next head of the FBI appointed by Mr Trump "will not have the independence or confidence of the American people to continue this investigation," Mr Ellison said.
"In order to preserve the integrity of the investigation and the government, we need a special prosecutor to probe the possible collusion between Donald Trump's campaign and Russian government officials," he added.
Tom Perez, the DNC Chairman said that Mr Trump's firing of Mr Comey is a "brazen and disgraceful abuse of power."
Shortly after the White House announced that Mr Comey had been dismissed, Senator Dick Durbin said on the Senate floor that the firing of Mr Comey raises questions "as to whether the Russian interference in the last presidential election... will also be investigated by the FBI."
Mr Durbin called on the White House to clarify whether the investigation will continue, adding that any attempt to stop or undermine the FBI probe would "raise grave constitutional issues".
The controversial orders Donald Trump has already issued

Show all 9
Representative John Conyers, senior Democrat on the House Judiciary Committee, said that "today's action by President Trump completely obliterates any semblance of an independent investigation into Russian efforts to influence our election, and places our nation on the verge of a constitutional crisis."
Creating a constitutional crisis would mean that the president has disregarded checks on the executive branch.
While the president appoints the head of the FBI, the bureau is meant to be an independent and non-political agency under the Justice Department.
Democratic senator Ed Markey said the episode is startlingly reminiscent of the Saturday Night Massacre, when former President Richard Nixon dismissed Archibald Cox, the special prosecutor in the Watergate scandal. That night, the attorney general and deputy attorney general resigned in protest to Nixon firing Cox. Other Democrats have also called the situation "Nixonian".
"We are careening ever closer to a constitutional crisis, and this development only underscores why we must appoint a special prosecutor to fully investigate any dealings the Trump campaign or administration had with Russia," Mr Markey said.
According to documents released by the White House, Mr Trump fired Mr Comey over his handling of a separate probe into Hillary Clinton's use of a private email server. The White House said the president had made his decision based on recommendations from Attorney General Jeff Sessions and Deputy Attorney General Rod Rosenstein.
Mr Sessions has recused himself from the Russia investigation.
Register for free to continue reading
Registration is a free and easy way to support our truly independent journalism
By registering, you will also enjoy limited access to Premium articles, exclusive newsletters, commenting, and virtual events with our leading journalists
Already have an account? sign in
Join our new commenting forum
Join thought-provoking conversations, follow other Independent readers and see their replies