John McCain diagnosed with brain cancer
'Treatment options may include a combination of chemotherapy and radiation'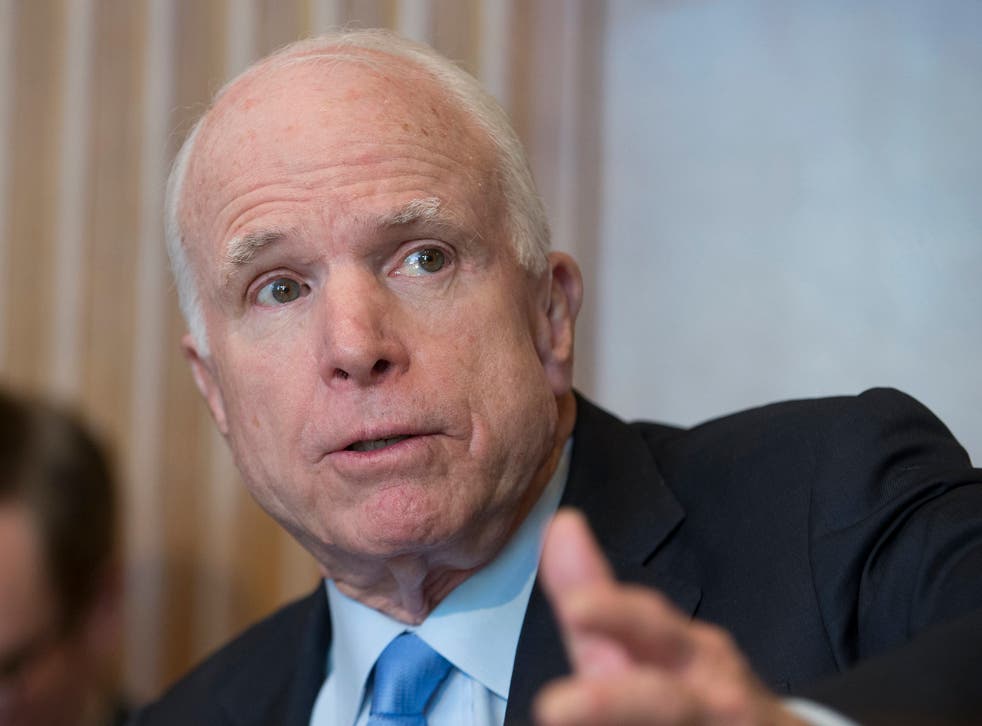 US Senator John McCain has been diagnosed with brain cancer, his office has confirmed.
The tumour was discovered after the former presidential candidate underwent a minor procedure last week to remove a blood clot from above his left eye, the Mayo Clinic Hospital in Phoenix said in a statement.
"Subsequent tissue pathology revealed that a primary brain tumor known as a glioblastoma was associated with the blood clot," it added.
"The Senator and his family are reviewing further treatment options with his Mayo Clinic care team. Treatment options may include a combination of chemotherapy and radiation."
About 20,000 people in the U.S. each year are diagnosed with a glioblastoma, a particularly aggressive type of brain tumor. The American Cancer Society puts the five-year survival rate for patients over 55 at about four per cent.
Mr McCain, the Republican nominee for president in 2008, who has served six terms as Arizona senator since 1987, had surgery last week to remove a blood clot from above his eye.
Doctors described the surgery as a "minimally invasive" procedure that removed the nearly 2-inch (5-centimeter) clot. Pathology reports on the clot were expected in several days.
In a statement on Twitter, his daughter, Meghan McCain, said: "My love for my father is boundless and like any daughter I cannot and do not wish to be in a world without him. I have faith that those days remain far away."
Calling him "my rock, my hero, my dad," she added that her whole family "have all endured the shock of the news".
President Donald Trump said: "Senator John McCain has always been a fighter. Melania and I send our thoughts and prayers to Senator McCain, Cindy, and their entire family. Get well soon."
Senate Majority Leader Mitch McConnell called McCain, the chairman of the Armed Services Committee, and a prisoner of war during the Vietnam War, a hero and said he looked forward to having him back in Washington.
"We all look forward to seeing this American hero again soon," McConnell said in a statement.
A political maverick, Mr McCain has repeatedly criticised Donald Trump since he entered the White House, on a number of issues, calling for a probe into the firing of former FBI director James Comey and questioning Russian meddling in the presidential election.
He was particularly vocal in his condemnation of Mr Trump for remarks about the family of Captain Humayun Khan, a US Muslim soldier killed in Iraq.
Mr McCain said Mr Trump did not have an "unfettered licence to defame those who are the best among us".
More recently he criticised Mr Trump's meeting with Russian leader Vladmir Putin at the G20 Summit in Hamburg.
A Vietnam veteran who survived five years as a prisoner of war, he rose through America's political ranks to become a vocal force on foreign policy and military affairs.
But the self styled common-sense-conservative has never been afraid to adopt a controversial position.
A foreign policy hawk, he was one of the Iraq war's strongest supporters and backed the troop increase there known as the "surge".
World news in pictures

Show all 50
But he described former Bush administration stalwart Donald Rumsfeld as "one of the worst secretaries of defence in history" and he repeatedly criticised his government's handling of the conflict.
He also opposed the use of torture and extraordinary rendition - the transporting of terror suspects to secret prisons in countries with less stringent interrogation rules.
Unlike some of his Republican Party colleagues, he is also known to hold relatively moderate views on civil unions, abortion and immigration reform
In 2008, he beat off much younger rivals to secure the Republican party's nomination for president in early 2008, choosing Sarah Palin as his running mate.
But he eventually lost out to Barack Obama.
Since then he has served as senator and sat on a number of committees in the US senate.
Register for free to continue reading
Registration is a free and easy way to support our truly independent journalism
By registering, you will also enjoy limited access to Premium articles, exclusive newsletters, commenting, and virtual events with our leading journalists
Already have an account? sign in
Register for free to continue reading
Registration is a free and easy way to support our truly independent journalism
By registering, you will also enjoy limited access to Premium articles, exclusive newsletters, commenting, and virtual events with our leading journalists
Already have an account? sign in
Join our new commenting forum
Join thought-provoking conversations, follow other Independent readers and see their replies