Justice Department will monitor polls in 28 states to prevent voter intimidation on Election Day
The civil rights division aims to prevent voter intimidation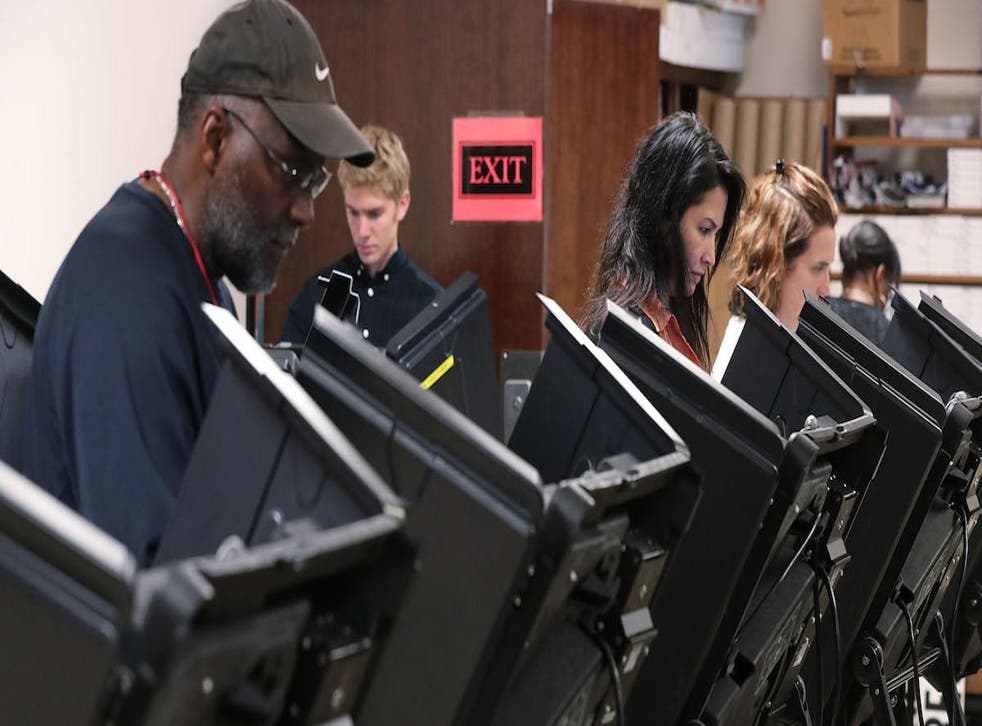 Following Donald Trump's announcement encouraging supporters to monitor polling stations across the country, the Department of Justice will send more than 700 workers from its civil rights division to 28 states to make sure voters—especially minorities—are not discriminated against.
"The bedrock of our democracy is the right to vote, and the Department of Justice works tirelessly to uphold that right not only on Election Day, but every day," Attorney General Loretta E Lynch said in a statement.
"As always, our personnel will perform these duties impartially, with one goal in mind: to see to it that every eligible voter can participate in our elections to the full extent that federal law provides. The department is deeply committed to the fair and unbiased application of our voting rights laws and we will work tirelessly to ensure that every eligible person that wants to do so is able to cast a ballot."
A number of Trump campaign supporters have interpreted the Republican's claims as an excuse to racially profile voters.
"Trump said to watch your precincts. I'm going to go, for sure," Steve Webb, a 61-year-old voter from Fairfield, Ohio, told the Boston Globe last month. "I'll look for... well, it's called racial profiling. Mexicans. Syrians. People who can't speak American. I'm going to go right up behind them."
"I'll do everything legally. I want to see if they are accountable. I'm not going to do anything illegal. I'm going to make them a little bit nervous."
According to the announcement, federal observers will now monitor activities in 17 jurisdictions.
Russell County, Alaska;

Maricopa County, Arizona;

Alameda County, California;

Riverside County, California;

Randolph County , Georgia;

East Carroll Parish, Louisiana;

Panola County, Mississippi;

Colfax County, Nebraska;

Sandoval County, New Mexico;

Orange County, New York;

Cuyahoga County, Ohio;

Lorain County, Ohio;

Williamsburg County, South Carolina;

Shannon County ; San Diego.;

Dallas County, Texas;

Fort Bend County, Texas; and

Jefferson County, Texas.
And the Justice Department will monitor 34 jurisdictions.
Mobile County, Alabama ;

Pima County, Arizona;

Arapahoe County, Colorado;

Denver;

Duval County, Florida;

Hendry County , Florida.;

Hillsborough County, Florida;

Lee County, Florida;

Miami-Dade County, Florida;

Orange County, Florida;

Osceola County, Florida;

Chicago & Cook County, Illinois;

LaPorte County, Indiana;

Finney County, Kansas;

Detroit & Hamtramck, Michigan;

Alamance County, North Carolina;

Wake County, North Carolina;

Bernalillo County, New Mexico;

Cibola County, New Mexico;

Queens County, New York;

Franklin County, Ohio;

Hamilton County, Ohio;

Allegheny County, Pennsylvania;

Chester County, Pennsylvania;

Delaware County, Pennsylvania;

Lehigh County, Pennsylvania;

Philadelphia ;

Richland County, South Carolina;

Davidson County, Tennessee;

Shelby County , Tennessee ;

Harris County, Texas; and

Milwaukee