Kellyanne Conway defends Donald Trump Jr's meeting with Russian lawyer
The White House aide said reports of the meeting attempted to 'convert wishful thinking into hard evidence'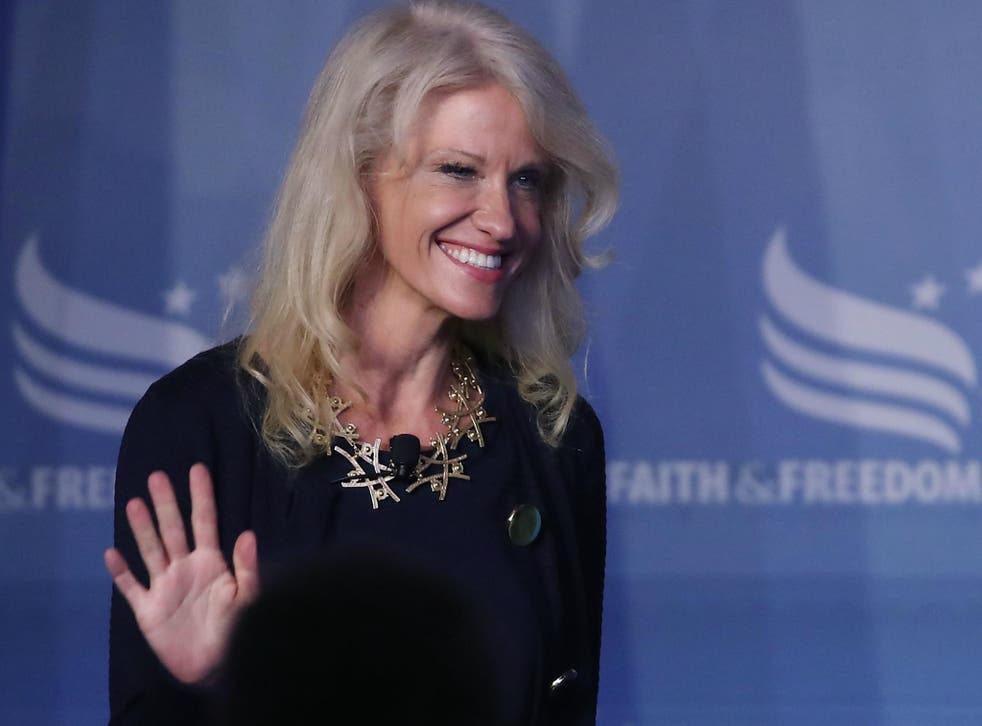 A top White House aide has defended Donald Trump Jr's previously undisclosed meeting with a Russian lawyer in summer 2016, whom he claims had said she had incriminating evidence on Hillary Clinton that he "had to listen" to.
Making her rounds on the morning news programmes, Kellyanne Conway said "people's disclosure statements have been amended to reflect meetings such as this. And Don Jr. came forth this weekend and gave more information about the meeting. He also made very clear that no information that was meaningful and helpful was gained from this."
Mr Trump Jr met with Russian lawyer Natalia Veselnitskaya, who is connected with the Kremlin, in June of last year just a few weeks ahead of his father clinching the Republican nomination for President.
At first, the President's eldest son said the 9 June meeting with her was about the Magnitsky Act, a US law that blacklists suspected Russian human rights abusers, according to the New York Times. President Vladimir Putin retaliated by halting adoptions of Russian children by Americans.
Mr Trump Jr said initially in a statement that it was "primarily" about Russian adoptions, which was not a campaign issue at the time and there was no follow up."
It was also reported that White House adviser Jared Kushner and Trump campaign manager Paul Manafort were also at the meeting, but Mr Trump Jr said he did not tell them anything about "the substance" of it beforehand.
However, he followed up on 9 July with another statement that he took the meeting at the request of a contact from the 2013 Miss Universe pageant that took place in Moscow.
Mr Trump Jr said "the woman stated that she had information that individuals connected to Russia were funding the Democratic National Committee and supporting Ms Clinton."
He noted that her statements were "vague...and made no sense...it was clear she had no meaningful information".
On Twitter, the President's son said he is not the first person to ever take a meeting hoping to get information about the opposition candidate in a presidential election.
The new information for the reason of the meeting sparked criticism amid ongoing investigations being conducted by the FBI, Senate, House, and special prosecutor Robert Mueller about alleged ties between Russia and the Trump campaign team.
Mr Kushner is also a person of interest in the FBI investigation because he had been advised to revise a disclosure form detailing interactions with foreign nationals.
Ms Conway said all these reports were just attempts to ""convert wishful thinking into hard evidence" and played into an anti-Trump bias in the mainstream media.
She has repeatedly denied that individuals from the Trump campaign had meetings with Russian officials.
On CNN, Ms Conway argued with anchor Chris Cuomo for over 30 minutes and said "let's focus on what did not happen in that meeting," stressing that no "meaningful" information was shared by Ms Veselnitskaya in the meeting.
She also said Mr Trump Jr "explicitly stated he didn't even know the name of the person with whom he was meeting".
Join our new commenting forum
Join thought-provoking conversations, follow other Independent readers and see their replies