Latino politicians 'barred from taking part in immigration meeting with US border control chief'
'We're the ones who were asking for this meeting, I want to know what they're doing,' says Illinois Congressman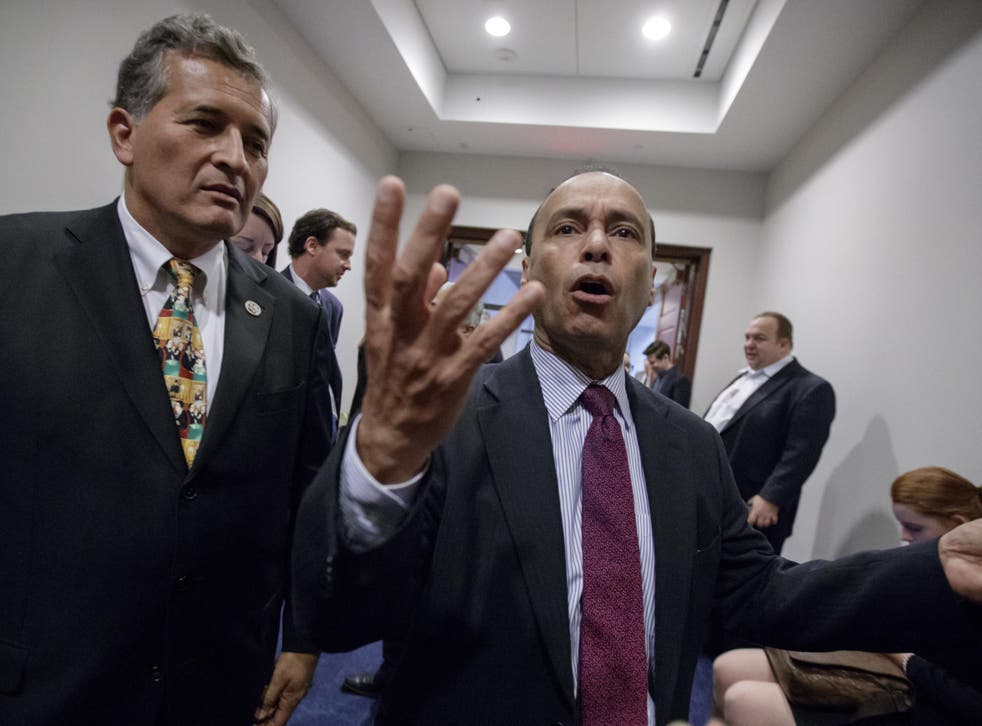 Several Democrats from a Latino advocacy group in Congress have been barred from entering a meeting with immigration officials, according to reports.
Two more members of the Congressional Hispanic Caucus (CHC) were asked to leave the conference with Immigrations and Customs Enforcement (ICE) acting director Tom Homan.
Representative Luis Gutiérrez and Norma Torres said Republican leaders told them to leave the meeting, which included a discussion about deportation raids.
They said they were not invited, despite CHP members reportedly requesting the meeting in the first place.
The agency had previously cancelled a summit with Latino members scheduled for earlier in the week in favour of a smaller meeting that excluded many of them.
ICE said the initial meeting was cancelled because the Hispanic caucus had attempted to invite too many people.
One Democrat described the excuse as "b******t".
Several other Democrats did attend the meeting.
"I was expecting to get let in," Juan Vargas, who was rejected from the meeting told The Hill. "We're the ones who were asking for this meeting, now we've been barred.
"I want to know what they're doing."
"I'm pretty shaken," Mr Gutierrez told Politico. "I've been here 25 years and I've never been told by the Speaker of the House that I can't attend a meeting I've requested."
Mr Trump campaigned on building a wall along the US-Mexico border, and has blamed high unemployment on immigration.
Since becoming president, he has called for a ban on people from seven Muslim-majority countries from coming into the US.
The controversial orders Donald Trump has already issued

Show all 9
He has also expanded the powers of immigration agents, with some analysts estimating that up to eight million illegal immigrants now face deportation.
Recent reports of an "enforcement surge" in four US states have sparked further concern among immigration special interest groups and families.
A mass-protest dubbed "A Day Without Immigrants" shut down restaurants in New York, San Francisco and Washington on Thursday, along with grocery stores, food trucks, coffee shops, and diners in Chicago, Los Angeles and Boston.
It emerged on Friday the Trump administration was considering mobilising as many as 100,000 National Guard troops to round up unauthorised immigrants, according to a leaked draft memo.
Join our new commenting forum
Join thought-provoking conversations, follow other Independent readers and see their replies