US officer in charge of Trump's nuclear football 'poses for photo with Mar-a-Lago guest'
The image was taken as the president hosted the Japanese premier at his Florida club
Andrew Buncombe
New York
Monday 13 February 2017 17:55 Comments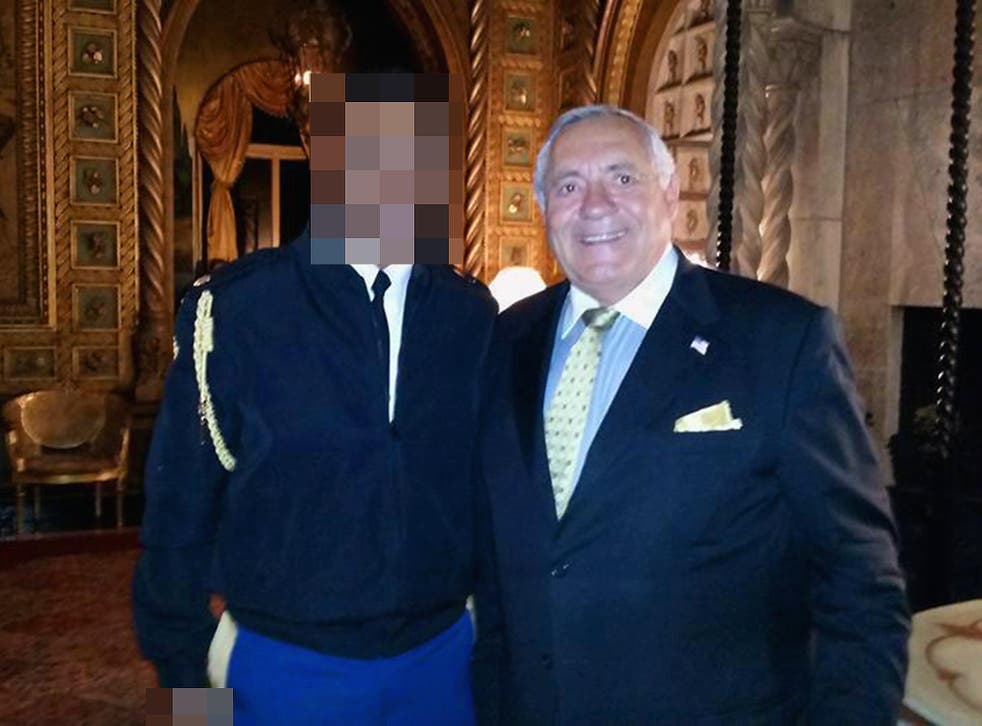 A member of Donald Trump's private Florida club has posted an image of himself posing with a man he claimed carries the president's nuclear football.
Reports from Mr Trump's meeting with Japanese Prime Minister Shinzo Abe over the weekend, said the two leaders had been briefed about a missile launch in North Korea, while they were eating. CNN said that the two leaders began to discuss how to respond in full public view, and images of the two men and their staffs were snapped by club members.
Now, it has emerged that one of the members, Richard DeAgazio, posted an image with a member of Mr Trump's entourage, he claimed was responsible for carrying the nuclear football - the briefcase that never leaves the president's side and which allows him to authorise a nuclear strike. The Independent has blanked out the person's face and left out his name.
'This is []. He carries the "football". The nuclear football, also known as the atomic football, the president's emergency satchel the presidential emergency satchel," wrote Mr DeAgazio.
"The contents of which are to be used by the president of the United States to authorise a nuclear attack while away from fixed command centres….It is held by an aide-to-camp, and [] is the man."
Mr DeAgazio was a former president of Boston Capital Securities, Inc, one of the largest owners of apartment complexes in the United States, where he was responsible for the sales and marketing of its Real Estate Investment Trust and public fund investments.
At one point, he served on the National Board of Governors of the National Association of Securities Dealers, Inc (NASD) and its 12-person National Adjudicatory Council.
Mr DeAgazio did not immediately respond to inquiries. However, he had removed access to his Facebook page.
Register for free to continue reading
Registration is a free and easy way to support our truly independent journalism
By registering, you will also enjoy limited access to Premium articles, exclusive newsletters, commenting, and virtual events with our leading journalists
Already have an account? sign in
Register for free to continue reading
Registration is a free and easy way to support our truly independent journalism
By registering, you will also enjoy limited access to Premium articles, exclusive newsletters, commenting, and virtual events with our leading journalists
Already have an account? sign in
Join our new commenting forum
Join thought-provoking conversations, follow other Independent readers and see their replies