Melania Trump revisits immigrant detention centres at US border – this time without her jacket
First lady left behind controversial garment which sparked backlash during last trip to border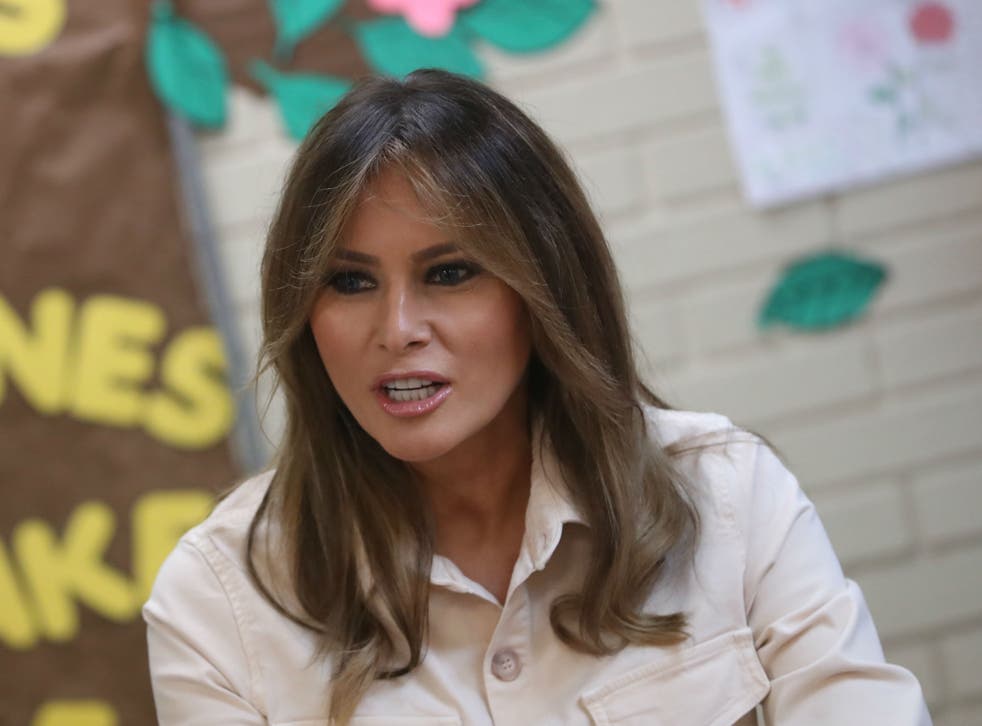 Melania Trump visited the US-Mexico border once again to meet with migrants held at detention centres in Arizona, this time leaving behind the jacket which caused such controversy during her previous trip to the region.
The first lady embarked on her trip in white slacks and a plain black shirt, seemingly bearing no words or hidden meaning in her attire. Missing from the ensemble was a jacket with the words "I Really Don't Care, Do U?" which she wore last week on her way to meet with families who had been separated by Donald Trump's "zero tolerance" immigration policy.
The light green jacket — a $39 piece from Zara — caused backlash from many conservative and liberal political analysts alike, who derided Ms Trump and her aides for not being aware of the potential issues it would cause.
Ms Trump's spokesperson, Stephanie Grisham, provided a rare statement on the matter.
"It was a jacket," Ms Grisham said. "There was no hidden message. After today's important visit to Texas, I hope this isn't what the media is going to choose to focus on."
Mr Trump also defended his wife's jacket, saying the phrase referred to "the Fake News Media" in a tweet.
"Melania has learned how dishonest they are," the president said, "and she truly no longer cares!"
The first lady's second trip to detention centres arrived a day after Congress failed to pass a wide-ranging immigration reform bill. Legislators must now focus on creating a bill focusing on family separations at the border in order to comply with a recent federal court ruling which orders the reunification of migrant parents and children within 30 days.
The president was forced to sign an executive order ending the systematic separation of families at the border after a backlash from both sides of the political spectrum.
Nearly 2,000 migrant children who arrived with their parent or guardian remain detained in separate facilities, as analysts say they are concerned reunification may not be entirely possible in each case.
Undocumented immigration across the US-Mexico border

Show all 14
"It's just very difficult to find somebody, especially after the parent's been deported," immigration policy expert Wendy Young told CNN. "The other thing to remember is that these people are going back to the same dangerous circumstances they fled... and they are targeted once they're back."
A spokesperson for Ms Trump declined to provide specifics on which facilities the first lady will visit during her latest trip.
Register for free to continue reading
Registration is a free and easy way to support our truly independent journalism
By registering, you will also enjoy limited access to Premium articles, exclusive newsletters, commenting, and virtual events with our leading journalists
Already have an account? sign in
Register for free to continue reading
Registration is a free and easy way to support our truly independent journalism
By registering, you will also enjoy limited access to Premium articles, exclusive newsletters, commenting, and virtual events with our leading journalists
Already have an account? sign in
Join our new commenting forum
Join thought-provoking conversations, follow other Independent readers and see their replies