Michael Flynn resigned because he called Russia: But who told him to?
A former senior counter-terrorism official has called for a 9/11 Commission-style probe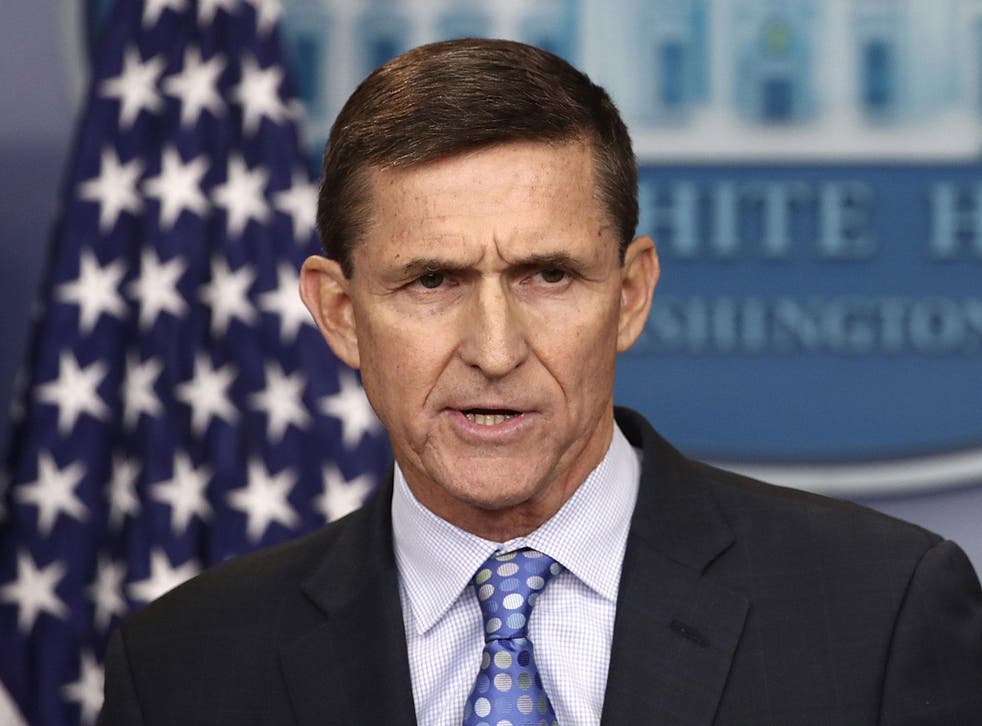 A former senior counter-terrorism official has called for an independent investigation - something akin to the 9/11 Commission - into Donald Trump's possible links to Russia.
Ambassador Daniel Benjamin, who served as coordinator for counter-terrorism at the State Department between 2009-2012, said he believed much of the focus of the coverage of Michael Flynn's resignation had missed a key part - namely who told him to make the call to Russia.
Mr Flynn resigned late on Monday, shortly after the Washington Post revealed that officials at the US Department of Justice may have left himself vulnerable to blackmail by misleading Trump officials about the nature of his conversation with a senior Russian diplomat.
Kellyanne Conway tried to explain Flynn's resignation was told on national TV she 'made no sense'
Other reports said Mr Flynn, who at the time was talking before Mr Trump assumed office, had talked about the sanctions the Obama administration had imposed for alleged interference in the US election, and suggested the relationship between the two countries would get better once Mr Trump entered the White House.
The New Yorker reported that Mr Flynn's call with Russia's Ambassador to Washington was on the day after the US sanctions were announced. Russian leader Vladimir Putin surprised observers by not responding in tat-for-tat measures - something that Mr Trump praised on Twitter. The magazine suggested the conversation between Mr Flynn and Sergey Kislyak, and what was said that day, may have been a factor in Mr Putin's decision.
Now, Mr Benjamin has called for a full investigation into what links Mr Trump may or may not have to Russia.
Writing in Politico, he said. "To this day, we have no idea of Trump's business dealings with Russia- a gap in public understanding that is simply staggering for a US president."
He added: "The real story is not Flynn. But it isn't government leaks, either. No, the "real story here" is Trump himself- and the continuing mystery of his ties to Russia."
"The key question is getting lost in the shuffle: Who told Flynn to call Sergey Kislyak, the Russian ambassador to the United States? Because I'm convinced Flynn didn't do it of his own accord. Flynn is a bit player in a much larger story regarding the president's relationship with the Kremlin, and it's this story the press needs to focus on."
On Tuesday, Sean Spicer, the White House press secretary said that Mr Trump had known for several weeks that Mr Flynn had not been truthful about the nature of his conversation with Russia. He said that the decision to fire Mr Flynn - or accept his resignation - came after Mr Trump decided that trust between the men had irrevocably eroded.
Mr Benjamin, Director for at the Centre for International Understanding at Dartmouth College, added: "It's time to have a true, bipartisan investigation, outside of Congress and insulated from White House pressure.
"The 9/11 Commission provides a good model. Getting that set up will be a lot healthier for our democracy than getting lost in the minutiae of the Flynn affair."
Join our new commenting forum
Join thought-provoking conversations, follow other Independent readers and see their replies