Did Hillary Clinton just fire the starting gun on Michelle Obama's 2020 presidential bid?
Democrat offers glimmer of hope that a woman could shatter the glass ceiling 'sooner than we might think right now'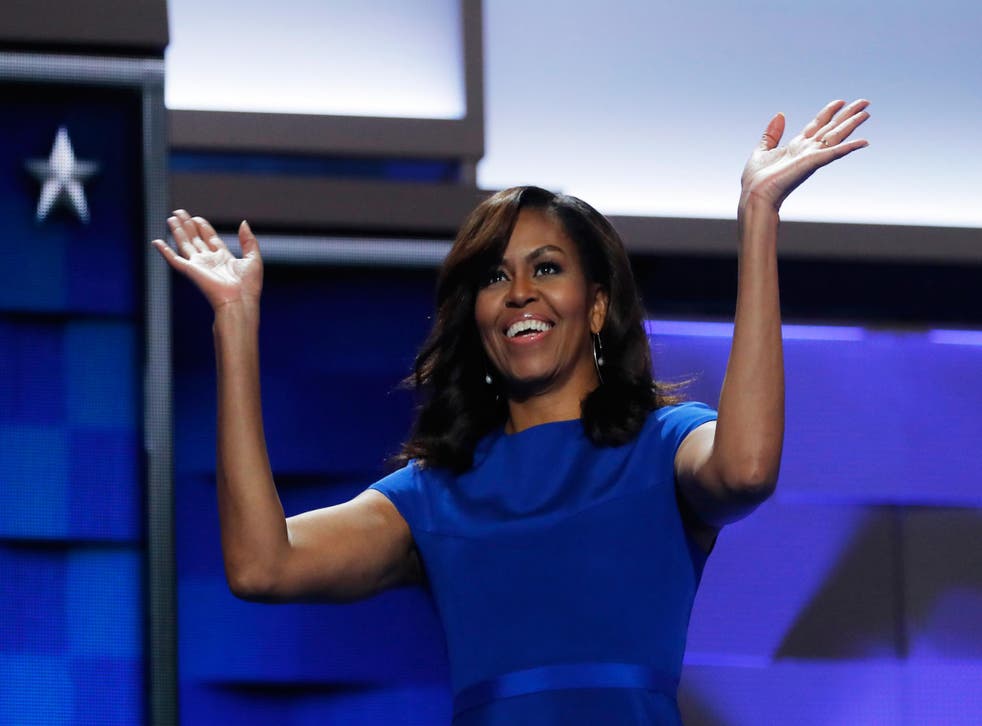 For millions of Americans left truly dispirited not to see the country's first woman president in history, Hillary Clinton has given voters a glimmer of hope that the "highest and hardest glass ceiling" will still be broken in the near future.
Could Michelle Obama step up to the task?
In Ms Clinton's concession speech hours after she lost to Donald Trump, she thanked both Barack and Michelle Obama for their support and for what they had achieved during their eight years in the White House.
Michelle Obama's inspiring speech at Clinton rally
"To Barack and Michelle Obama, our country owes you an enormous debt of gratitude," she said.
"We thank you for your graceful, determined leadership that has meant so much to so many Americans and people across the world."
Despite Ms Obama's assertions that she had no plans to run for the White House, it is not inconceivable that her reaction to a looming Trump presidency - and all that could bring - may prompt her to reconsider.
A visibly emotional Ms Clinton went on to urge girls and women not to lose hope, and to never stop fighting for what they believed was right.
"Now, I know we have still not shattered that highest and hardest glass ceiling, but someday someone will — and hopefully sooner than we might think right now," she said, to loud applause.
Ms Obama was a fierce advocate for Ms Clinton on the campaign trail and spoke strongly against Mr Trump, saying his bragging about sexual assault in a leaked 2005 video "shook her to the core".
The current Flotus, who has been applauded for her powerful speeches and significant charity work as first lady, has received higher popularity ratings than her husband and any of the 2016 presidential candidates.
Michelle Obama as the First Lady

Show all 11
She has said, however, that she did not like the world of politics and would not be running 2020.
Speaking at the South by Southwest festival in Texas, she said: "I will not run for president. No, nope, not going to do it."
She has four years to change her mind though and there will be no shortage of people urging her to do so during that time.
Register for free to continue reading
Registration is a free and easy way to support our truly independent journalism
By registering, you will also enjoy limited access to Premium articles, exclusive newsletters, commenting, and virtual events with our leading journalists
Already have an account? sign in
Register for free to continue reading
Registration is a free and easy way to support our truly independent journalism
By registering, you will also enjoy limited access to Premium articles, exclusive newsletters, commenting, and virtual events with our leading journalists
Already have an account? sign in
Join our new commenting forum
Join thought-provoking conversations, follow other Independent readers and see their replies