Many Americans shuddering at the thought of either President Trump or Clinton
Even some of their own supporters will hold their noses voting for Trump and Clinton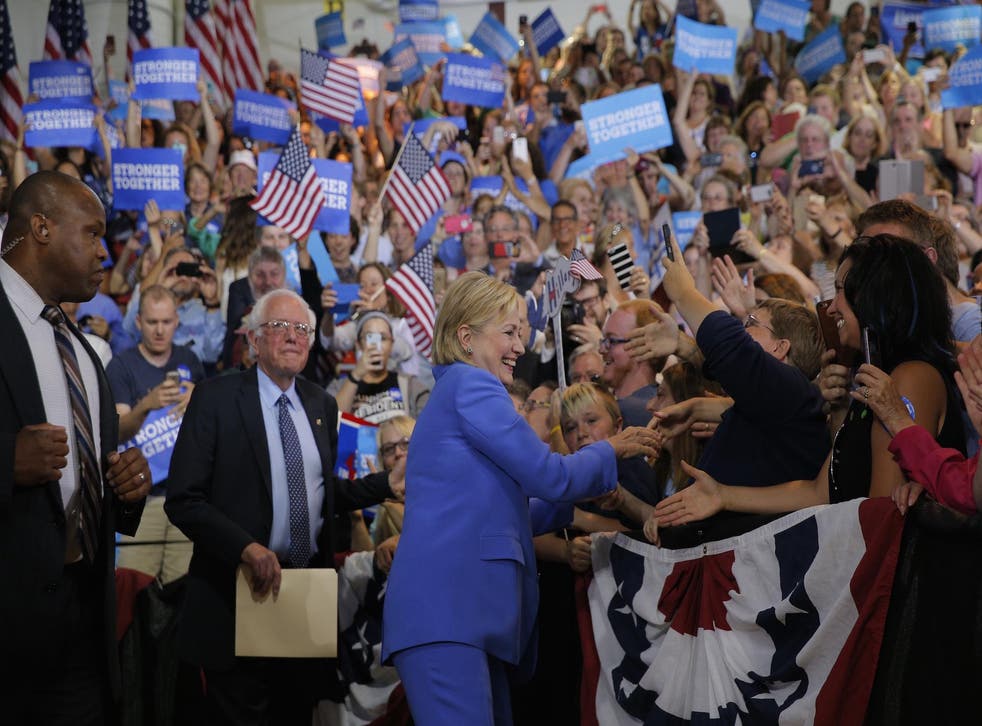 More than four fifths of American voters say that the prospect of one or the other of the two main candidates for president – Hillary Clinton or Donald Trump – actually winning makes them afraid.
The uncommonly negative mood of the electorate is highlighted in a new Associated Press poll, which also found that roughly three quarters of those planning to vote will do so only to stop the candidate they like the least from winning – not because they actually like one of them.
In the meantime, evidence is accumulating that the sharp criticism voiced last week by the head of the FBI, James Comey, of Ms Clinton and her failure to follow proper procedures to keep her emails secure while Secretary of State has gravely impaired her standing amongst voters.
A New York Times/CBS survey released on Thursday found Ms Clinton tied with Mr Trump, the presumptive Republican nominee, nationally with 40 per cent support each. Last month, before the FBI concluded its email investigation, Ms Clinton had a six-point lead over the billionaire.
The same poll found that 67 per cent of Americans do not consider Ms Clinton to be honest or trustworthy, up five points since the last poll was taken. That is a dismal score that could weigh heavily on her as the campaign for the White House gathers pace. Mr Trump barely does better, however, with 62 per cent also labelling him as untrustworthy.
The AP-GfK survey stands out as the strongest indictment of both candidates and their failure to instill confidence in large swathes of the electorate. It found that 81 per cent of Americans would feel afraid following the election of one of the two politicians. A full quarter of those surveyed said they would be afraid regardless of whether it is Mr Trump or Ms Clinton who finally prevails.
Suggesting that most Americans are anything but excited about their choices in November, the AP poll found that 57 per cent have an unfavourable view of Ms Clinton, compared to 37 per cent who have a favourable view. Sixty-three percent have a negative view of Mr Trump, compared to the 31 per cent who think well of him.
The survey found that 14 per cent of those planning to vote for Ms Clinton will do so even though they don't like her. The same proportion of Mr Trump supporters indicated they also would be holding their noses while voting for him.
The latest drizzle of depressing numbers are coming out just as both major parties are preparing to shower their presumptive nominees with glitter, love and confetti at their respective conventions, beginning with the Republicans in Cleveland next week.
Both campaigns meanwhile are stirring frenzied speculation about their possible running-mate picks, with Mr Trump expected to unveil his vice-presidential choice on Friday morning, with Indiana Governor Mike Pence seen by some as the favourite. Other candidates for the number two slot include former House speaker Newt Gingrich and New Jersey Governor Chris Christie.
For Ms Clinton, the new data is the clearest sign yet that her campaign had little to celebrate when the FBI announced that it would not recommend the filing of charges against her because of the email lapses. While that would indeed have been a disaster – possibly even fatal to her campaign – the remarks that Mr Comey made about the candidate have clearly taken a toll.
A new Rasmussen Reports survey out on Thursday showed Mr Trump surging past Ms Clinton with a wide 44-37 per cent lead. A Quinnipiac University survey also released this week showed the New Yorker taking a slight 42-39 per cent lead in the critical swing state of Florida. The same survey showed the candidates tied in Ohio and virtually tied in Pennsylvania.
In public statements, Mr Comey branded Ms Clinton's actions in using a private email server as "extremely careless" and then directly contradicted some of the assertions she had made about how her unusual email arrangements had come about.
The remarks were damaging because they touched precisely on Ms Clinton's most glaring perceived weakness – the sense that she considers herself somehow above the law and that she can't help but massage the truth whenever something politically inconvenient arises.
Half of Ms Clinton's own supporters consider her only slightly or not at all honest, while more than a third say she's only slightly or not at all likable. Overall, only a quarter of Americans think Ms Clinton is at least somewhat honest.
Join our new commenting forum
Join thought-provoking conversations, follow other Independent readers and see their replies