North Korea: Rex Tillerson walks back from suggestion US is ready for talks with regime
Comments suggest Trump administration is undecided on its approach to North Korea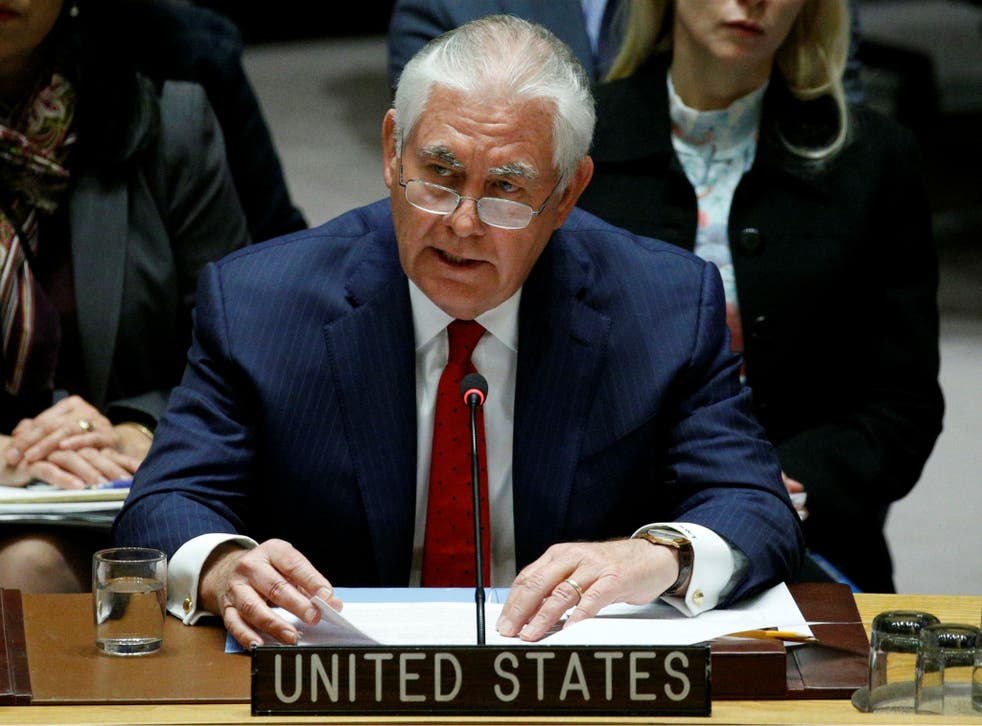 Rex Tillerson has edged away from an earlier offer to negotiate with North Korea, saying talks cannot commence until Pyongyang dials back its belligerence.
A "sustained cessation of North Korea's threatening behaviour" must precede negotiations, the US Secretary of State told the United Nations Security Council, adding that "North Korea must earn its way back to the table".
The Trump administration faced a barrage of questions about its North Korea policy after Mr Tillerson said earlier this week that America was ready to talk with the isolated state "without preconditions".
Officials quickly rebuffed that idea. A National Security Council official told Reuters that "now is not the time" for talks, and State Department spokeswoman Heather Nauert told reporters that North Korea would need to commit to de-nuclearisation as a precondition to talks.
Pyongyang has shown no sign of doing so, touting its military advances as a safeguard against the world.
"We are not seeing any evidence that they are ready to sit down and have those kinds of conversations," Ms Nauert said, adding that Mr Tillerson "was not creating any new policy" and was "on the same page" as the White House.
North Korea announces intercontinental missile launch

Show all 13
"When somebody is shooting off ballistic missiles, when someone is conducting advanced nuclear tests, they're not showing any kind of interest or seriousness about wanting to sit down too talk," she added.
Diplomatic penalties have so far failed to deter North Korea's military ambitions.
The country has continued to test ballistic missiles and menace Western allies, saying after its most recent launch that it has the capability to strike the continental United States, even as the UN has imposed multiple rounds of sanctions.
Join our new commenting forum
Join thought-provoking conversations, follow other Independent readers and see their replies