Barack Obama shares stories to counter the 'bad news that seemed to dominate our collective consciousness' in 2017
'As we count down to the new year, we get to reflect and prepare for what's ahead'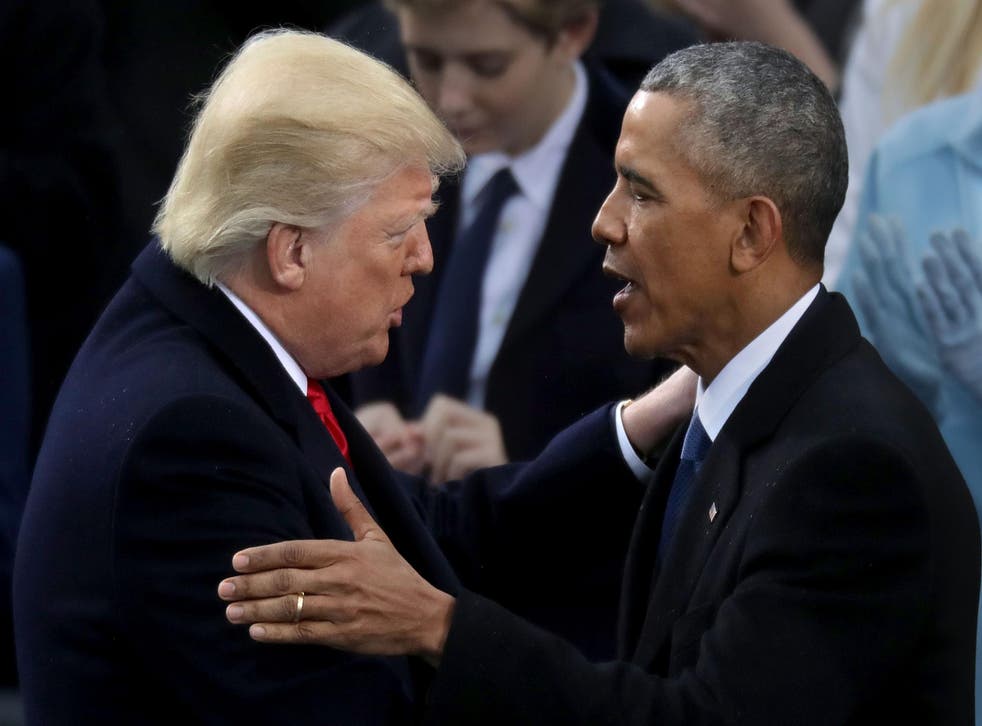 About fires, famine and political anxiety within the US, former president Barack Obama has delivered a New Year's message, reminding people what he believes is best about America and urging them to "keep changing the world in 2018".
In a tweet thread, Mr Obama said he was in a reflective mood and preparing to look ahead. Without mentioning the man who has replaced him in the White House, he then added: "For all the bad news that seemed to dominate our collective consciousness, there are countless stories from this year that remind us what's best about America."
He then linked to a series of stories in which people had overcome the odds or else acted to put others first.
Among the people he referred to was Kat Creech, a wedding planner in Houston, who "turned a postponed wedding into a volunteer opportunity for Hurricane Harvey victims". "Thirty wedding guests became an organisation of hundreds of volunteers. That's a story from 2017," he wrote.
He then focussed on Chris Long, an American Football player who plays for the Philadelphia Eagles and who has been donating his entire salary for the year to charitable causes.
Barack Obama says we must set example with social media use, in Prince Harry interview
Those causes include providing clean water in a third-world country, the welfare of military veterans and enhancing educational opportunities in the US. The children he is trying to help live in and around the city of Charlottesville, Virginia, where he played college football and which was rocked by neo-Nazi-led violence this summer that resulted in the death of a young female anti-fascist activist.
Barack Obama's best moments in the White House

Show all 11
"Chris Long gave his paycheques from the first six games of the NFL season to fund scholarships in Charlottesville, VA. He wanted to do more, so he decided to give away an entire season's salary," wrote Mr Obama. "That's a story from 2017."
He also highlighted the work of 10-year-old Jahkil Jackson who is trying to help homeless people in Chicago. "He created kits full of socks, toiletries, and food for those in need. Just this week, Jahkil reached his goal to give away 5,000 "blessing bags". That's a story from 2017," he said.
Mr Obama recorded an interview with Prince Harry which was recently broadcast by the BBC and in which the 56-year-old former president urged everyone in leadership roles to prevent the corrosion of public discourse.
He finished the post, by adding: "All across America people chose to get involved, get engaged and stand up. Each of us can make a difference, and all of us ought to try. So go keep changing the world in 2018."
Register for free to continue reading
Registration is a free and easy way to support our truly independent journalism
By registering, you will also enjoy limited access to Premium articles, exclusive newsletters, commenting, and virtual events with our leading journalists
Already have an account? sign in
Register for free to continue reading
Registration is a free and easy way to support our truly independent journalism
By registering, you will also enjoy limited access to Premium articles, exclusive newsletters, commenting, and virtual events with our leading journalists
Already have an account? sign in
Join our new commenting forum
Join thought-provoking conversations, follow other Independent readers and see their replies