Vladimir Putin refuses to condemn Trump for pulling out of Paris climate deal, tells world: 'Don't worry, be happy'
America now joins Syria and Nicaragua as the only countries in the world to not be in the deal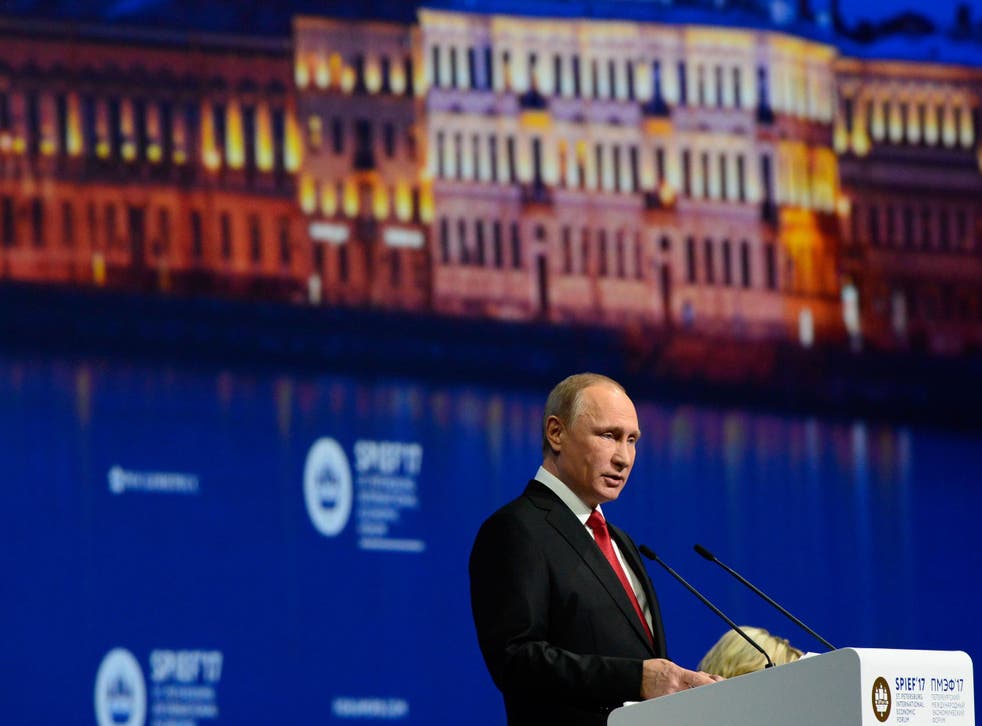 Russian President Vladimir Putin has said that he does not judge Donald Trump's decision to quit the landmark Paris climate change deal, and that he thinks there is still time to reach an agreement to suit all nations
"Don't worry, be happy," Mr Putin told an economic forum in St Petersburg. However, he added that America would have had a better bargaining position to change the accord if the country had stayed in the deal.
Mr Putin said that the best course of action is to create circumstances where world leaders can work together to redefine the accord, and that the world needs to take the Paris agreement as a starting point and work from there.
Mr Trump sparked international outrage when he announced that the US would withdraw from the deal, which his predecessor's administration had made a priority and played a lead role in creating. World leaders on six continents condemned the decision, as did several US governors and mayors. The US President, saying that the deal hurts American workers and jobs, announced that he would work to tailor a better deal with the world.
But many foreign leaders involved said that wasn't an option.
"We deem the momentum generated in Paris in December 2015 irreversible and we firmly believe that the Paris Agreement cannot be renegotiated, since it is a vital instrument for our planet, societies and economies," the leaders of France, Italy, and Germany said in a rare joint statement.
10 photographs to show to anyone who doesn't believe in climate change

Show all 10
The Paris climate agreement, reached in December 2015, is an international agreement that seeks to keep the global average temperature no more than 2C above pre-industrial levels, and below 1.5C if possible. In order to help developing countries that would be hit hardest by a switch from cheaper fossil fuels, advanced nations such as the United States agreed to create a $100bn fund to provide financial aid. Originally, 196 countries committed to the climate deal.
The United States now joins Syria and Nicaragua as the only three countries in the world to not be in the deal. Those two countries, both of which emit a fraction of the greenhouse gases the US does, didn't opt out of the deal simply because they don't believe in the dangers of climate change, either. Nicaragua refused to sign because of the voluntary nature of the agreement, with Nicaragua's climate negotiator at the time saying, "We're not going to submit because voluntary responsibility is a path to failure. We don't want to be an accomplice to taking the world to 3 to 4 degrees and the death and destruction that represents." Syria faced a myriad of challenges: The deal reached consensus at a time when fighting in the civil war there had reached a fever pitch, and many Syrian officials were under sanctions from western nations that limited their ability to travel to negotiations unless they were held in friendly countries like Russia.
During the wide ranging press conference in St Petersburg, Mr Putin also discussed allegations of Russian interference in the 2016 US election, and his view that Russia and the Nato military alliance need to cooperate to fight terrorism.
As for allegations that the Russian government meddled in the 2016 election to damage Democrat Hillary Clinton and help Mr Trump, Mr Putin said the allegations contain only assumptions, nothing concrete.
"It's an attempt to solve internal political problems using foreign policy instruments," he said. "It's harmful, hurting international relations, the global economy, security and the fight against terror. It's time to stop that useless and harmful chatter."
Mr Putin said he had personally reviewed the US intelligence reports which made the hacking allegations against Russia, and that they contained no meaningful evidence.
"I have read these reports," said Mr Putin. "Even in these reports there is nothing specific but only assumptions and conclusions based on assumptions."
The idea that the hacking had reportedly been carried out from Russian IP addresses which constituted meaningful evidence of anything was absurd, he said.
"Where are the finger prints? IP addresses can be faked. Do you know how many specialists there are who can make it look as if your children sent something from your home IP address? They can fake anything and then accuse anyone. It's not evidence."
Continuing his forthright views, he said the Democrats were merely blaming their defeat on Russia, invoking comparisons to anti-Semitism.

"The other (Clinton) team miscalculated. They don't want to admit their mistake. It's easier for them to say that they are not guilty, that the Russians are the guilty ones for interfering in our election. It reminds me of anti-Semitism."
Visibly irritated by having to discuss the matter, Mr Putin also denied separate accusations that there had been some kind of secret deal between Moscow and the Trump team before his inauguration.
"There was nothing concrete, zero. It's just hysteria. Should I give you a pill?" Mr Putin said to a moderator who asked him about the matter.
Both sides of Congress and the FBI are investigating the extent to which the Russian government may have worked to influence the US election through cyber attacks, and have already placed sanctions on the Kremlin for that role. Investigators are also reportedly looking into alleged ties between the Trump campaign and Russian officials, and whether any campaign officials were complicit in colluding with the 2016 election meddling.
Mr Putin scoffed at the US focus on meetings between his ambassador to the US Sergei Kislyak's contacts with Trump campaign officials, insisting that it was perfectly normal for Mr Kislyak to try to establish contacts and discuss future ties, and adding that he hadn't even started to discuss specifics.
"What else is the ambassador supposed to do?" Mr Putin said. "He's paid for holding meetings, discussing current affairs. Are you nuts?"
Mr Putin said he thought that Mr Trump ran the more "efficient" election campaign – but did not leave him free of criticism. Mr Trump said he views Nato as an instrument of American foreign policy, and that he has been concerned by Nato military infrastructure edging closer to Russian borders. Nato, which was established as a check on the Soviet Union, has been moving military assets into Baltic states and Poland following Russia's annexation of Crimea from Ukraine, which many countries in Europe viewed as an act of aggression.
Mr Trump recently – although vaguely – reaffirmed the US's commitment to the military alliance during his first foreign trip abroad as president after once saying the organisation was "obsolete". The US President told Nato allies that they need to start paying a fairer share of the costs of the alliance, but that he no longer thinks Nato is obsolete.
However, while describing Nato as a Cold War relic, Mr Putin made clear that Russia and the group should co-operate to fight terrorism. He also called on US businessmen to help restore normal dialogue with the US, and said that he would continue to talk to Mr Trump and his administration.
Join our new commenting forum
Join thought-provoking conversations, follow other Independent readers and see their replies