Mueller files new charges against former Trump campaign chairman Paul Manafort and associate
A business associate with ties to Russian intelligence services was also charged alongside Mr Manafort
Clark Mindock
New York
Friday 08 June 2018 20:27 Comments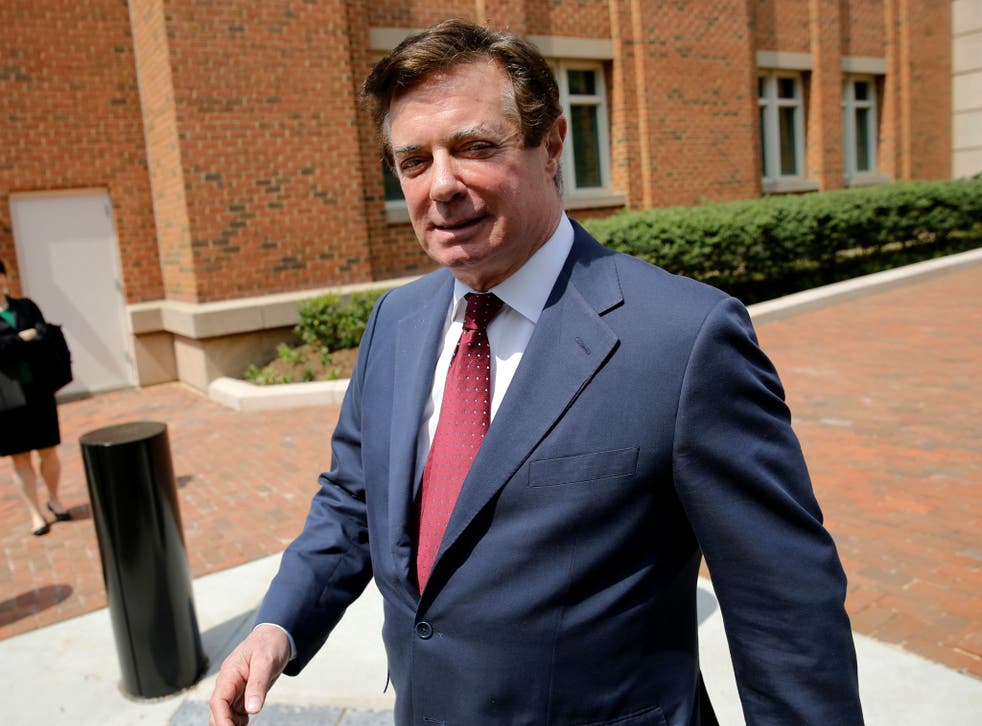 Special counsel Robert Mueller's office has filed two new charges against former Trump campaign chairman Paul Manafort.
The charges also name as a fellow defendant Konsantin Kilimnik, a close associate of Mr Manafort's who prosecutors say has deep ties to Russian intelligence services.
The pair both face obstruction of justice and conspiracy to obstruct justice charges, which means that they would have allegedly worked together to tamper with potential witnesses to try and influence their accounts of Mr Manafort's lobbying efforts on behalf of political parties in Ukraine.
A spokesman said that Mr Manafort and his lawyers were reviewing the newest charges to determine how to plea, according to the Associated Press. A request for comment sent to Mr Manafort's team was not immediately returned to The Independent.
Mr Kilmnik is the 20th person to have been indicted by Mr Mueller's team, which is investigating Russia's meddling in the 2016 election and whether the Trump campaign was involved in that effort.
The new charges represent the first time that Mr Kilmnik has been named in court filings, and has previously been referred to as "person A" in court documents. He has previously denied similar claims.
Mr Manafort has pleaded not guilty to previous charges brought by the special counsel, which included money laundering as well as tax and bank fraud charges.
The biggest names involved in the Trump-Russia investigation

Show all 17
The political operative is expected to be in court on those charges next month, where prosecutors will make their case that he is guilty of the crimes that could effectively give him a sentence of life in prison.
Mr Mueller's probe has been investigating Russia's meddling in the 2016 election for over a year now, and has worked at a quick pace since the team was brought together following the firing of former FBI Director James Comey.
President Donald Trump has repeatedly decried the Mueller probe as a "witch hunt", and has sought to tell his supporters that the investigation is nothing more than a political ploy conducted by Democrats to divert blame for a spectacularly failed presidential election. Mr Mueller has described himself as a conservative in the past.
While the investigation has led to indictments for at least 20 people, accusations that Mr Trump himself attempted to collude with Russia's tampering of the 2016 election have not been made. It may be unlikely that those sorts of accusations would be made, too, as it is generally thought that a sitting president cannot be indicted on federal charges.
Register for free to continue reading
Registration is a free and easy way to support our truly independent journalism
By registering, you will also enjoy limited access to Premium articles, exclusive newsletters, commenting, and virtual events with our leading journalists
Already have an account? sign in
Join our new commenting forum
Join thought-provoking conversations, follow other Independent readers and see their replies