Former Trump campaign manager Paul Manafort subpoenaed by Senate committee
Mr Manafort is expected to testify about his controversial meeting with a Russian lawyer last summer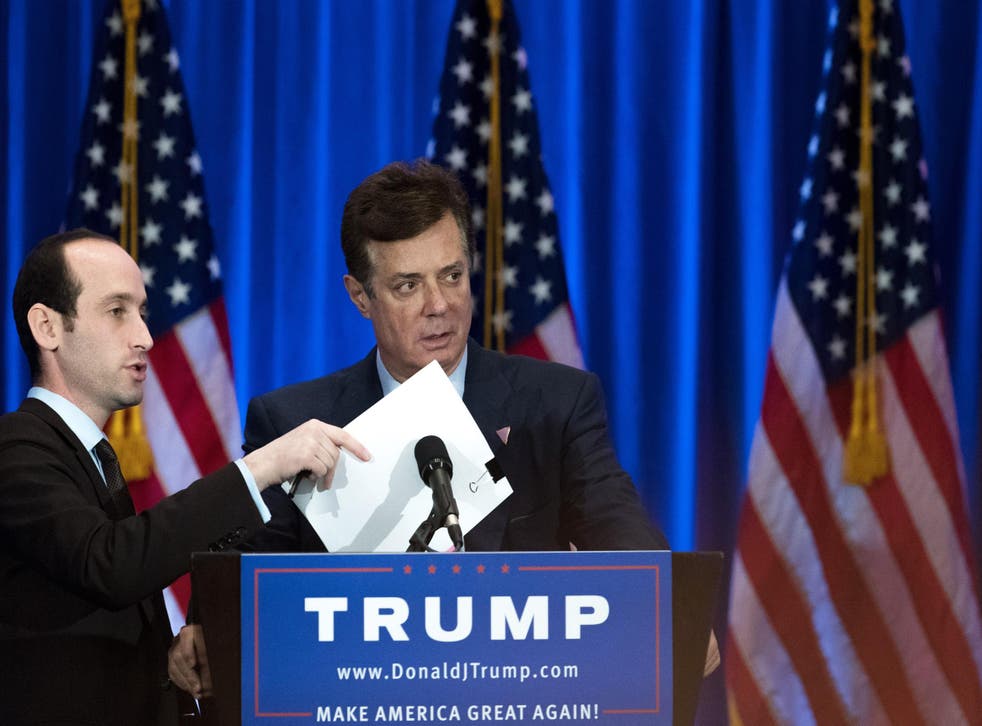 Former Trump campaign manager Paul Manafort will be forced to testify in front of the Senate Judiciary Committee, after negotiations to avoid the closed-door hearing broke down.
In a statement, committee leaders Chuck Grassley and Dianne Feinstein said they had been willing to accommodate Mr Manafort's desire not to appear, but were unable to reach agreement on a separate, transcribed interview with their committee.
They issued their subpoena on Monday night.
"We need answers. That's why the Judiciary Committee issued a subpoena for Paul Manafort," Ms Feinstein tweeted on Tuesday.
Mr Manafort is expected to provide information at the hearing about last summer's controversial meeting with a Russian lawyer.
The Judiciary Committee initially said it would not subpoena Mr Manafort, as he had agreed to negotiate on an interview by committee members and their staff. But negotiations broke down when Mr Manafort agreed to only a single, transcribed interview to Congress, which would not be made available to the Judiciary Committee.
"While the Judiciary Committee was willing to cooperate on equal terms with any other committee to accommodate Mr Manafort's request, ultimately that was not possible," Mr Grassley and Ms Feinstein said.
If the committee holds firm, Mr Manafort will be expected to testify at a hearing on Wednesday. He may still be able to avoid the hearing, however, if he agrees to turn over certain documents in addition to a transcribed interview.
It is not clear what exactly the committee will ask Mr Manafort, but the subpoena comes on the heels of revelations about a Trump campaign meeting with a Russian lawyer and lobbyist last June.
The meeting – also attended by Mr Trump's son, Donald Trump Jr, and his son-in-law, Jared Kushner – was first reported by The New York Times this month. Emails released by Mr Trump Jr show the campaign team was promised incriminating information on Hillary Clinton in exchange for taking the meeting.
The revelations have renewed allegations of Trump campaign collusion with Russia, and compelled various Congressional committees to call on Mr Manafort, Mr Trump Jr, and Mr Kushner to testify.
Mr Kushner appeared before the Senate Intelligence Committee on Monday. In remarks released before his testimony, Mr Kushner said he "did not collude, nor know of anyone else in the campaign who colluded" with any foreign government during the campaign.
"No part of the meeting I attended included anything about the campaign, there was no follow up to the meeting that I am aware of; I do not recall how many people were there [or their names], and I have no knowledge of any documents being offered or accepted," he said.
The biggest names involved in the Trump-Russia investigation

Show all 17
Mr Manafort stepped down from the Trump campaign in August, amid questions about his past lobbying work for pro-Russian Ukrainian oligarchs.
Reuters reports the former political operative is currently under investigation for allegations of money laundering. Sources say Special Counsel Robert Mueller – the attorney charged with leading the Justice Department's Russia probe – is examining Mr Manafort's financial and real estate records and his involvement in Ukrainian politics.
"If Mueller's team can threaten criminal charges against Manafort, they could use that as leverage to convince him to cooperate [with the Russia investigation]," one source told Reuters.
Register for free to continue reading
Registration is a free and easy way to support our truly independent journalism
By registering, you will also enjoy limited access to Premium articles, exclusive newsletters, commenting, and virtual events with our leading journalists
Already have an account? sign in
Register for free to continue reading
Registration is a free and easy way to support our truly independent journalism
By registering, you will also enjoy limited access to Premium articles, exclusive newsletters, commenting, and virtual events with our leading journalists
Already have an account? sign in
Join our new commenting forum
Join thought-provoking conversations, follow other Independent readers and see their replies