What Hillary Clinton's White House could look like: A nursery in the East Wing and plenty of skeletons in the closets
First family skeletons would range wide, from Lewinsky to shady business deals and one Ponzi scheme
David Usborne
New York
Tuesday 01 November 2016 15:50 Comments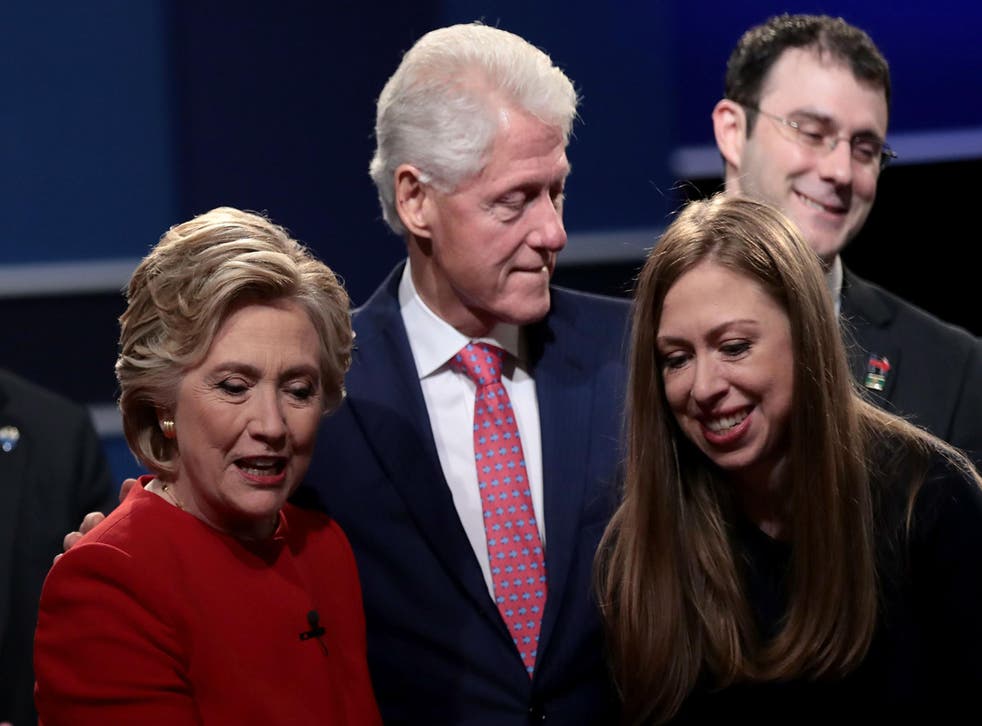 It will be quite the entourage at the White House if Hillary Clinton becomes the 45th President. She has lost her beloved mother, Dorothy, who died five years ago, but she has since then gained a son-in-law, Marc Mezvinsky, and two grandchildren, Charlotte and Aidan.
Indeed, one of her first priorities, in terms of accommodating the expanding first family at 1600 Pennsylvania Avenue, will be the building of a nursery in the mansion's East Wing in hopes that her daughter, Chelsea, will spend as much time there as possible with her babes allowing her to spend as much quality-time as possible with the clan's youngest generation.
"There's just nothing better," she recently declared. "I'm experiencing sort of what my mother experienced with Chelsea, because you're so focused on just enjoying and marveling and loving to the Nth degree but you also have this perspective like, 'Oh my gosh, I want to make sure that the world is okay and that, you know, things are right, and we have to save the planet."
The East Wing - aficionados of the eponymous TV series will know the West Wing is where the real business of being the world's most powerful person is done - will also be where a certain former president will have his quarters. Bill Clinton might have to be fitted with an electronic tracker to make sure he doesn't get confused and make wrong turns to the Oval Office.
That is assuming, of course, the newest President Clinton wouldn't choose to give the first President Clinton some kind of official role, as he did for her when he was first sent to the White House in 1992. She had the task of passing legislation for universal health care, an effort that ended in humiliating defeat on Capitol Hill.
But while there was overt whispering of voters getting a two-for-one deal when Mr Clinton was campaigning for his first term in 1992, there has been no such talk this time. Bill remains popular with the Democratic base, but he has proven somewhat gaffe prone too on the trail.
His re-entry to the White House grounds will also evoke more sensitive memories. Gossip about interns and their proximity to Mr Clinton's new office will not be tolerated. Nor will any mention whatsoever of Monica Lewinsky, the intern whose relationship with the then president turned all of Washington upside down - and the Clinton marriage - twenty years ago. (Yes, twenty.)
Permanent passes may or may not be issued to Hugh and Tony Rodham, the two brothers of Ms Clinton, who over the years have built reputations for artful exploitation of their sister and brother-in-law's power status to leverage business dealings for themselves, sometimes of dubious nature, like the time in 1999 when they entered into a joint hazelnut growing venture with Aslan Abashidze, former strongman leader of a semiautonomous region of the Republic of Georgia. It never happened, and Mr Abashidze was later to be convicted for embezzlement.
Chelsea's husband, Marc, has some family skeletons, but the Clinton's long ago agreed never to talk about that. Specifically, his father (and the other grandfather to Aiden and Charlotte), Edward Mezvinsky, is a financier who embezzled more than $10 million dollars from people via both a Ponzi scheme and the Nigerian e-mail scams and was found guilty of fraud in 2001.
Mr Mezvinsky served five years in federal prison, and found himself divorced by his wife - now mother-in-law to Chelsea - before he regained his freedom. Before that he was in the family business, as it were - a Democrat Congressman for Iowa for two terms from 1973 to 1977.
But all these things are in the past. Ms Clinton, aside from running the country, clearly plans to focus on the future and particularly those of Charlotte, born 26 September 2014, and Aidan, born 18 June this year.
She summed up why to Hello Magazine this October. "It was just the most incredible joy," she said. "My friends who are grandparents always told me how amazing it would be. I didn't fully understand what they meant until I experienced it."
Of course, if Donald Trump wins the US election, her time with her grandchildren will be unlimited.
Register for free to continue reading
Registration is a free and easy way to support our truly independent journalism
By registering, you will also enjoy limited access to Premium articles, exclusive newsletters, commenting, and virtual events with our leading journalists
Already have an account? sign in
Join our new commenting forum
Join thought-provoking conversations, follow other Independent readers and see their replies