Racism in the US: More than 200 incidents of harassment reported since Donald Trump won presidency
The Independent is among those collecting details of racist abuse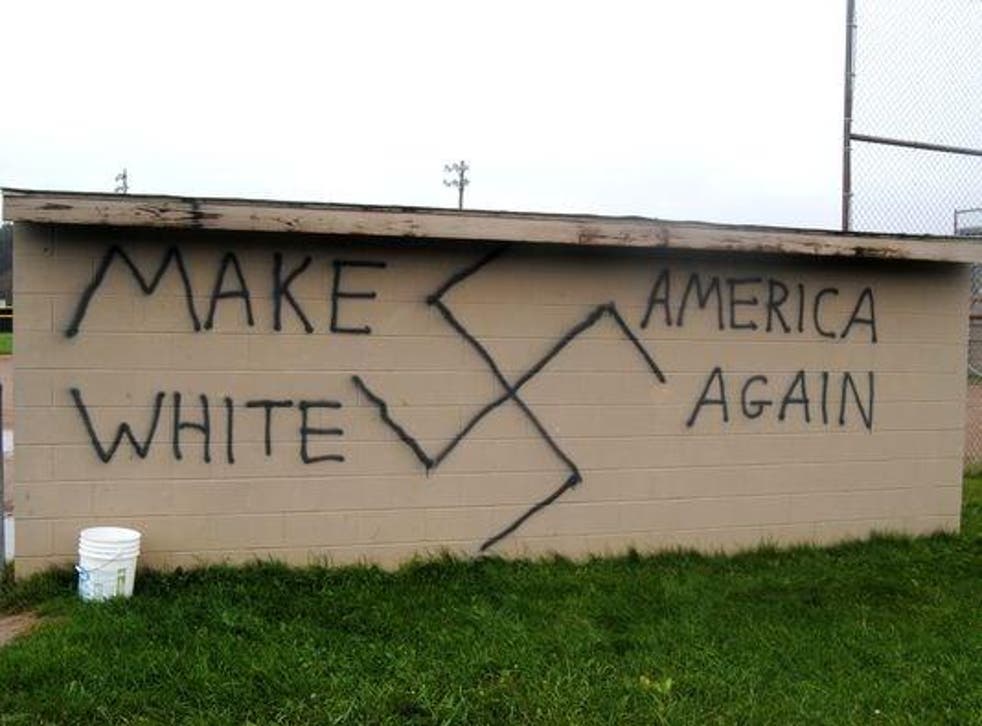 The stories have been pouring in from across America.
In Louisiana, a black woman reported by being abused by three white men as she waited to cross the street. "F**k your black life," one of them yelled.
In Boston, a black student heard a white fellow student remark: "This is their punishment for eight years of black people."
Meanwhile, in Washington state, a teacher reported how "Build a wall" was chanted in the school cafeteria on Wednesday lunchtime. The teacher said the students also chanted: "If you aren't born here, pack your bags."
As communities of colour, and others frightened by Tuesday's result, reel from the election of Mr Trump, reports suggest there have been a flood of incidents of harassment and abuse since Tuesday.
The Southern Poverty Law Centre, a watchdog group that tracks and monitors extremism in the US, said it had collated more than 200 such incidents in the three days since Mr Trump was elected. It said there also reports of misogynist incidents and abuse.
"Pulling from news reports, social media, and direct submissions at the Southern Poverty Law Centre's website, [we] counted 201 incidents of election-related harassment and intimidation across the country as of Friday 11 November at 5pm," the group said.
"These range from anti-Black to anti-woman to anti-LGBT incidents. There were many examples of vandalism and epithets directed at individuals.
Donald Trump shifts his position on Obamacare during CBS 60 minutes interview
"Often, types of harassment overlapped and many incidents, though not all, involved direct references to the Trump campaign. Every incident could not be immediately independently verified."
The group said that one of the locations where such incidents were most commonly reported were in schools for pupils up to the age of 12. At one school, in Maple Grove, Minnesota, racist and pro-Trump graffiti was found in the school lavatories.
A report from Colorado detailed how the words "Death to Diversity" was written on a banner displayed on a school library. The report said that white male students were going up to women saying it was now "legal to grab them by the pussy".
This was apparently a reference to the 2005 Access Hollywood video released shortly before the election in which Mr Trump was see bragging about sexually assaulting women and getting away with it because he was a celebrity. He later dismissed the comments as "locker rook banter".
The Independent has also been compiling lists of assaults and harassment that have taken place since election night and asked people to forward details.
One man, a photographer based in Austin, Texas, who moved to the US from El Salvador, said within 24 hours of the election result, he was refuelling his car when a white man in his 40s said to him: "I hope you are putting in enough gas to take you back to your country."
The photographer said: "It took so much self control to not jump on him and punch him."
Another person, a school student, said they witnessed several white teenagers "driving recklessly through our school parking lot. They were in a large truck that had so many Trump stickers on the bumper that you could barely see the bumper itself.
"They also had confederate flags mounted to their truck bed. They were driving in circles around the school parking lot saying things like "Deport the Muzzies","Shoot the fags!", "Hang the n**gers," the pupil said.
A Muslim woman said that two friends of Filipino descent of a family member were "screamed at on the bus in Los Angeles".
"The white man said that they had lost now that Trump's in office and now they would have to leave," she said. "We all fear that this is only the beginning. We're afraid, we're sad and highly disappointed. My family is Muslim and I fear for my mother who regularly wears head coverings."
Separately, the University of Pennsylvania has launched an investigation after black students were added to conversations on a mobile messaging app and bombarded with racial slurs and threats. Images of the chats, entitled "Nigger Lynching", "Mud Men" and "Trump is Love", began circulating on social media on Friday. Some showed a user creating a "daily lynching" calendar event alongside offensive photographs. An official at the university, which Donald Trump graduated from in 1968, said a number of black freshmen were targeted and that at least one account appeared to be based in Oklahoma.
Join our new commenting forum
Join thought-provoking conversations, follow other Independent readers and see their replies