Republican congressman suggests Jews could have saved themselves from Holocaust if they were armed
'How many Jews were put in the ovens because they were unarmed?' asks Don Young who is also a National Rifle Association board member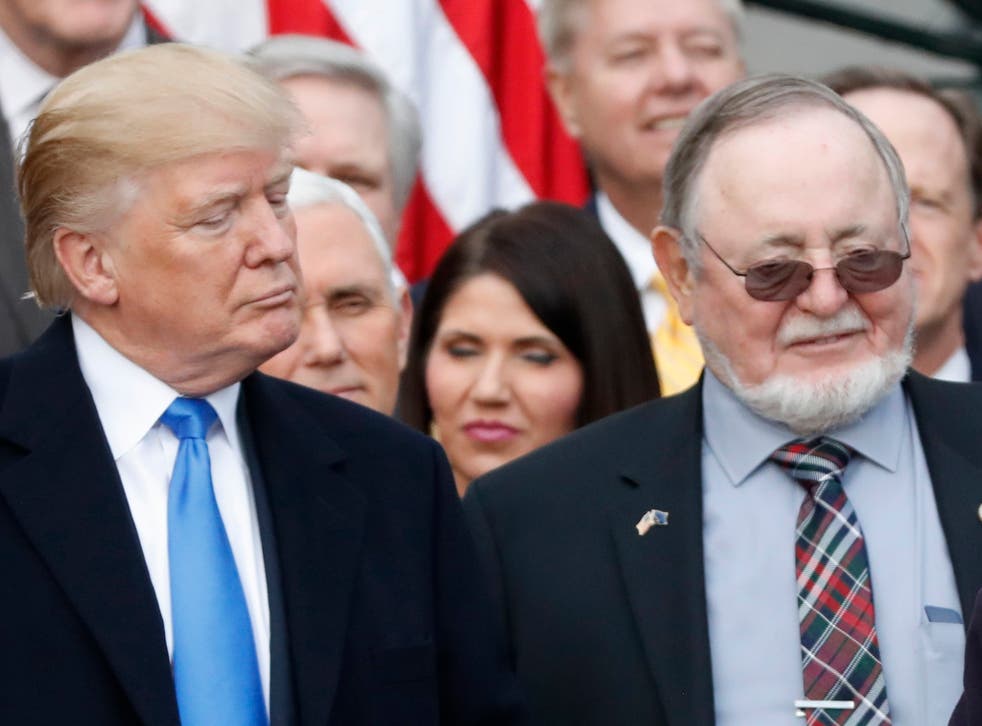 A Republican congressman has suggested Jewish people killed in the Holocaust could have saved themselves if they had been armed.
Don Young made the remarks as he attempted to argue against stricter gun control laws in the US, which he implied would make Americans less safe.
"How many millions of people were shot and killed because they were unarmed? Fifty million in Russia," he told a conference in Juneau, Alaska.
Mr Young, who is also a board member on the National Rifle Association (NRA), added: "How many Jews were put in the ovens because they were unarmed?"
A recording of his comments was passed to Alaska Public Media by his Democratic rival Dimitri Shein, who is hoping to oust Mr Young in the upcoming elections.
They have been condemned as offensive and insensitive.
He is not the first Republican politician to suggest that German citizens living under Nazi rule, would have been better off if they had been armed.
In 2015, former presidential candidate Ben Carson cited the country as one of the places where people were "disarmed" before the start of a "tyranny".
At the time CNN reporter Wolf Blitzer pulled him up on the comments, asking the neurosurgeon and current US Secretary of Housing and Urban Development: "So what is your point: If there had been guns in Germany, there might not have been a Holocaust?" asked him.
Mr Carson replied: "That was only one of the countries I mentioned. There were a number of countries where tyranny reigns and before it happened they disarmed the people."
World news in pictures

Show all 50
The Anti-Defamation League has repeatedly refuted claims that the Holocaust could have been prevented if Germans had had access to more weapons.
"We know that the national debate over gun control is one of the most divisive issues in the land, and while Americans are entitled to have strong opinions, there is also language that is inappropriate and offensive in any such discussion," Abraham H Foxman, the organisation's national director said in 2013.
A Holocaust survivor himself, he added: "The idea that supporters of gun control are doing something akin to what Hitler's Germany did to strip citizens of guns in the run-up to the Second World War is historically inaccurate and offensive, especially to Holocaust survivors and their families."
Mr Young has previously courted controversy when he suggested in 2014, that suicide was a result of government "saying you are not worth anything but you are going to get something for nothing."
Join our new commenting forum
Join thought-provoking conversations, follow other Independent readers and see their replies