Republican debate: Candidates attack 'mainstream media' and moderators as Ben Carson tries to cling on to lead
This was the third Republican deabate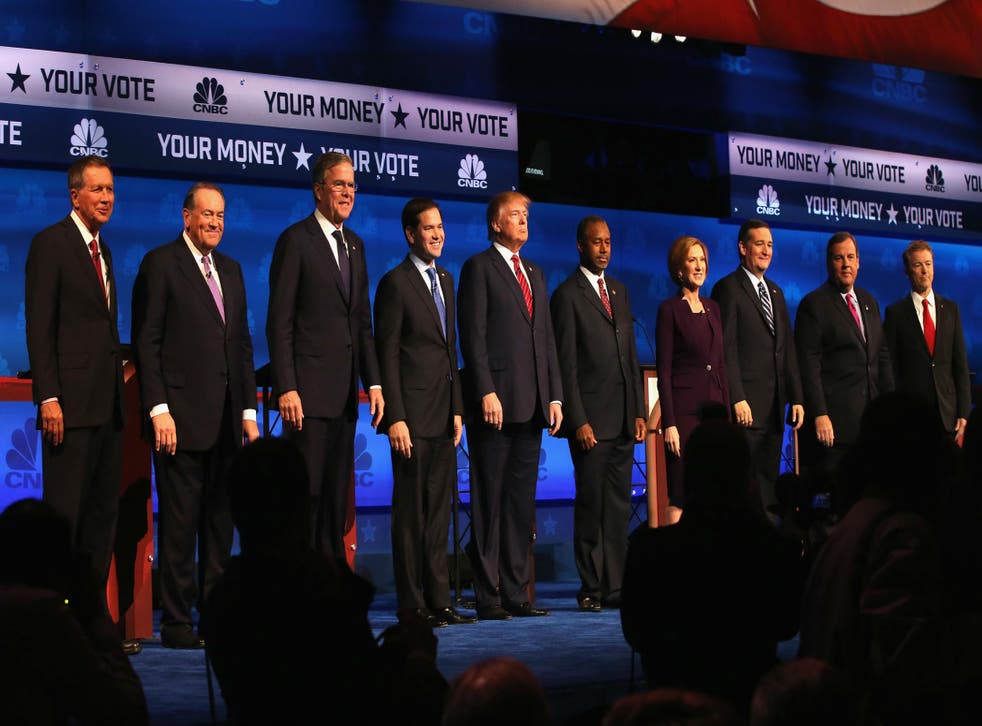 It was the night that former surgeon Ben Carson was expected to try and cement his front-runner status within the Republican field, as the presidential hopefuls held their third debate.
As it was, Mr Carson and Donald Trump, another "outsider" candidate who is second in the polls, found themselves taking something of a backseat, as other candidates sought to seize the occasion. A lot of the time they appeared to argue with the moderators and about their questions at the event at the University of Colorado in Boulder.
Florida Senator Marco Rubio, who is third in most polls among Republicans, took the opportunity to take on his rivals, landing an early jab against his fellow Floridian Jeb Bush.
Mr Bush, the state's former governor, tried to attack Mr Rubio for a poor attendance record in the senate, something that is partly the result of his presidential run.
"That's exactly what the Republican establishment says too, wait in line. Wait for what?," he said when asked by a moderator why he was in such a rush to leave his work in the Senate.
He added: "The time to act is now. The time to turn the page is now."
Mr Rubio also took a poke at Hillary Clinton, and the US media.
"You know, the Democrats have the ultimate Super PAC, it's called the mainstream media," Mr Rubio said.
He mentioned an 11-hour hearing about Benghazi on Capitol Hill last week, in which Republicans grilled Ms Clinton about her conduct as secretary of state at the time of the attacks.
"It was the week she got exposed as a liar. But she has her Super PAC helping her out, the American mainstream media," he said.
Mr Rubio spoke with passion, and a tally suggested he spoke for the longest on Wednesday night, second only to former business executive Carly Fiorina. Mr Bush spoke for the least amount of time.
As it was, before the debate got underway, Democratic front-runner Ms Clinton, had already dismissed the proceedings, telling a campaign meeting in New Hampshire that the Republican debate was "a little scary".
Buoyed by her performance in the first Democratic debate two weeks ago - a contest she is widely considered to have won - she said the debates were like a "reality TV show, but the cast of characters are out of touch with actual reality."
She said the Republican candidates "compete to insult each other."
Such a perspective was dismissed by Republican Senator Ted Cruz who claimed the ten front-runners had resisted any temptation.
"The ten people on stage tonight have far better ideas than anyone in the Democratic debate," he said.
Join our new commenting forum
Join thought-provoking conversations, follow other Independent readers and see their replies