Rex Tillerson only took Secretary of State job 'because his wife said God wanted him to'
Tillerson reveals he had never met Donald Trump prior to being offered the role
Will Worley
Wednesday 22 March 2017 09:47 Comments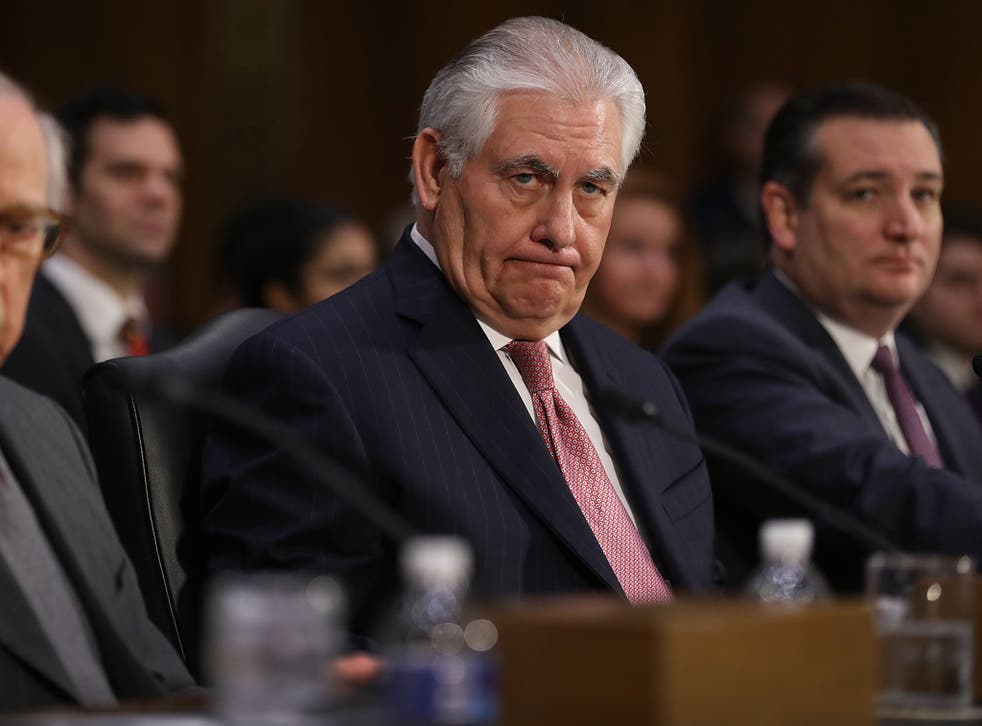 US Secretary of State Rex Tillerson has claimed he didn't want his new job, and that he only took it after some persuading from his wife.
Mr Tillerson, a former oil executive with no previous diplomatic experience, said his wife convinced him by saying God wanted him to be Secretary of State.
He admitted his surprise at being offered the job by President Donald Trump, who he had never met.
Secretary of State is one of the most senior roles in the US government, and the task involves overseeing foreign relations and diplomacy.
Rex Tillerson says 'these things happen' when asked about Russian civilians dying
In a rare interview with the conservative Independent Journal Review – the only outlet allowed to go with Mr Tillerson on his recent tour of Asia – the notoriously media shy Secretary made the frank admission.
"I didn't want this job," he told the Review. "I didn't seek this job."
Mr Tillerson, who turns 65 this week, was planning on retiring and "going to the ranch" with his grandchildren.
On being pressed as to why he accepted it, Mr Tillerson said: "My wife told me I'm supposed to do this."
His wife, Renda St Clair, reportedly wagged her finger and told him: "I told you God's not through with you."
Mr Tillerson said he had never met the President before the election. After his victory, Mr Trump called him to New York to talk "about the world", drawing on the oil man's experience as head of Exxon Mobil.
"When he asked me at the end of that conversation to be Secretary of State, I was stunned," Mr Tillerson said.
Yesterday, it was reported Mr Tillerson planned on missing a meeting with Nato ministers in April in favour of meeting Chinese President Xi Jingping, alongside Mr Trump, at the Mar-a-Lago estate. He will visit Russia soon after.
The announcement was met with concern in the alliance, amid doubts over US commitment since Mr Trump was elected.
World news in pictures

Show all 50
The former US ambassador to Nato, Ivo Daalder, told Vox the decision was "unprecedented" and a "mistake".
He said: "When it comes to meetings, which are the lifeblood of the policymaking process at Nato, showing up is 85 per cent of the job. And he's not showing up."
Representative Steny Hoyer of Maryland, the number two ranked House Democrat, said Mr Tillerson was sending a "dangerous signal to our allies and adversaries."
"Vladimir Putin's Russia has not done anything to merit such engagement," Mr Hoyer said.
Register for free to continue reading
Registration is a free and easy way to support our truly independent journalism
By registering, you will also enjoy limited access to Premium articles, exclusive newsletters, commenting, and virtual events with our leading journalists
Already have an account? sign in
Join our new commenting forum
Join thought-provoking conversations, follow other Independent readers and see their replies