RNC 2016: Mike Pence strives to hide dirty laundry of party disunity in vice presidential acceptance speech
It fell to Pence to apply some salve to a night where Ted Cruz had ensured that party disunity would be theme of the night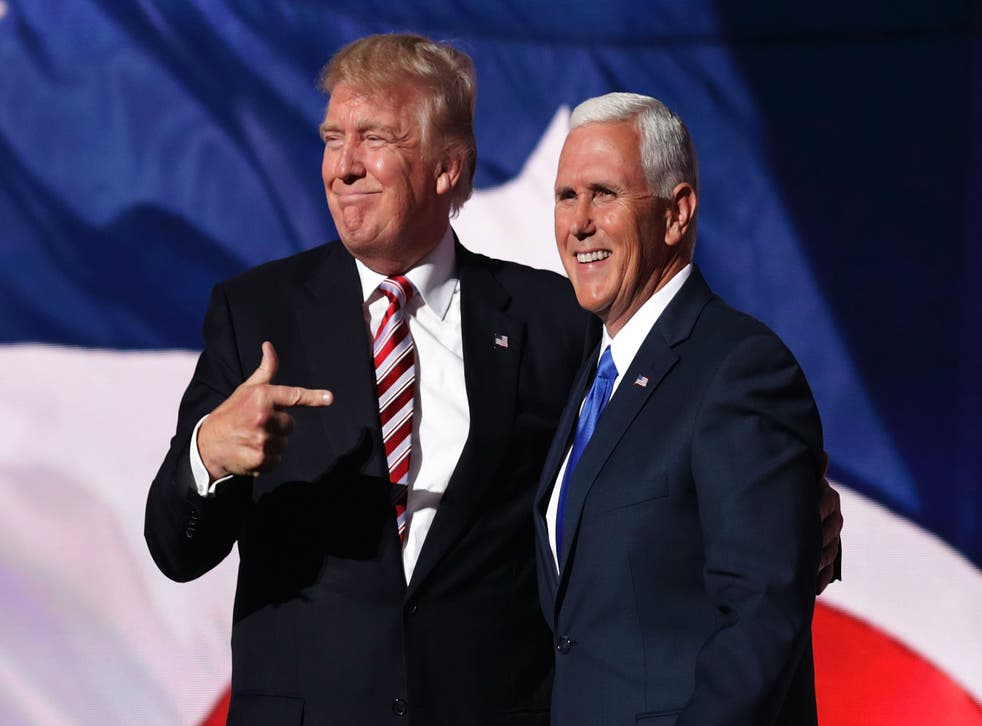 The choreography said it would be the climax of a night of swelling and harmonious praise of Donald Trump. But when Mike Pence took the stage to accept his vice presidential nomination, delegates on the floor before him were still buzzing about the discordance of Ted Cruz.
The failure of Senator Cruz to endorse Mr Trump at the Republican convention in Cleveland on Wednesday night raised the bar for Governor Pence a lot. How could he, in 30 short minutes, repair the damage inflicted just moments before? How could he forge the impression, at least, of unity, when the dirty laundry of disunity had so vividly been put on display?
Fortunately, the former US congressman and radio talkshow host, has a soothing way of talking, like a pastor at the pulpit. That description is apt, of course. "I am a Christian, a conservative and a Republican in that order," he offered, a phrase that has become almost a mantra with him.
"Until now he has had to do it all on his own but now with this united party he has back-up," Mr Pence said of the task past and future for Mr Trump, overlooking the embarrassing reality that the party is not united at all and has done a fine job this week of demonstrating it.
But in a convention short on conventional moments, Mr Pence managed to return some sense of normality to the proceedings, giving a solid, sometimes self-deprecating address with scattered policy references, on topics from Israel to Isis and the imperative of having Mr Trump choose the next justices of the Supreme Court. At its end, Mr Trump made a brief appearance on stage to congratulate him.
But most successful for Mr Pence, as for others in Cleveland, were his fusillades in the direction of the likely Democrat nominee. "Let's resolve Hillary Clinton will never become President of the United States of America," he said, later branding her the "Secretary of the Status Quo". Once more, his criticisms of Ms Clinton prompted chants from the floor of, 'Lock her up!'
Not very well known to America, Mr Pence got a loudly positive reception from the floor of the Quicken Loans Arena with millions watching on primetime TV. The delegates interrupted him with chants of 'USA, USA' and, 'We like Mike'. "When Donald Trump becomes President of the United States of America…the change will be HUGE," he declared to rapturous applause.
Applauding Mr Trump, he chastised the media. "They think they have done him in only to find the next morning when they wake up that Donald Trumps is still standing…he is tough, he perseveres." He added of the man who picked him as his running mate: "He's a doer in a game usually reserved for talkers ... He doesn't tiptoe around the rules of political correctness."
And he emphasized a point the campaign has worked hard to put front and centre. "As they say at home you can't fake good kids," he said of the nominee's offspring, three of whom had already addressed the delegates. "How about his amazing children, arent' they something?"
The man designated to warm the crowd before the Mike Pence show was New Gingrich, the former House speaker in the first Clinton era, or part of it. As he stepped out on the stage, he was met by scattered but determined boos, yet one more display of party disunity.
His first task was to repair some of the damage done by Senator Cruz and his earlier refusal to endorse Mr Trump, suggested delegates had misinterpreted the Senator's suggestion that, "You can vote for conscious for anyone who will uphold the constitution". He explained: "In this election there is only one candidate who will uphold the constitution".
"If you doubt we are at war…let me refresh your memory," he said, evoking the recent train attack on a train in Germany. He recalled the lorry massacre in Nice, which Isis claimed responsibility for, and went on to list other recent terror attacks around the world.
Mr Gingrich, one of the finalists in Mr Trump's search for a running mate before he lost out to Mr Pence, warned: "We cannot allow ourselves go numb to these accumulating atrocities". He cited one analysis that since January 2015 some 30,000 people have been killed by terrorists.
"Donald Trump is right. We are at war with radical Islamists, we are losing the war," he said. "We must change course to win the war."
.
Join our new commenting forum
Join thought-provoking conversations, follow other Independent readers and see their replies