Florida school massacre survivors plan march on US cities over gun control
'We are going to be marching together as students begging for our lives'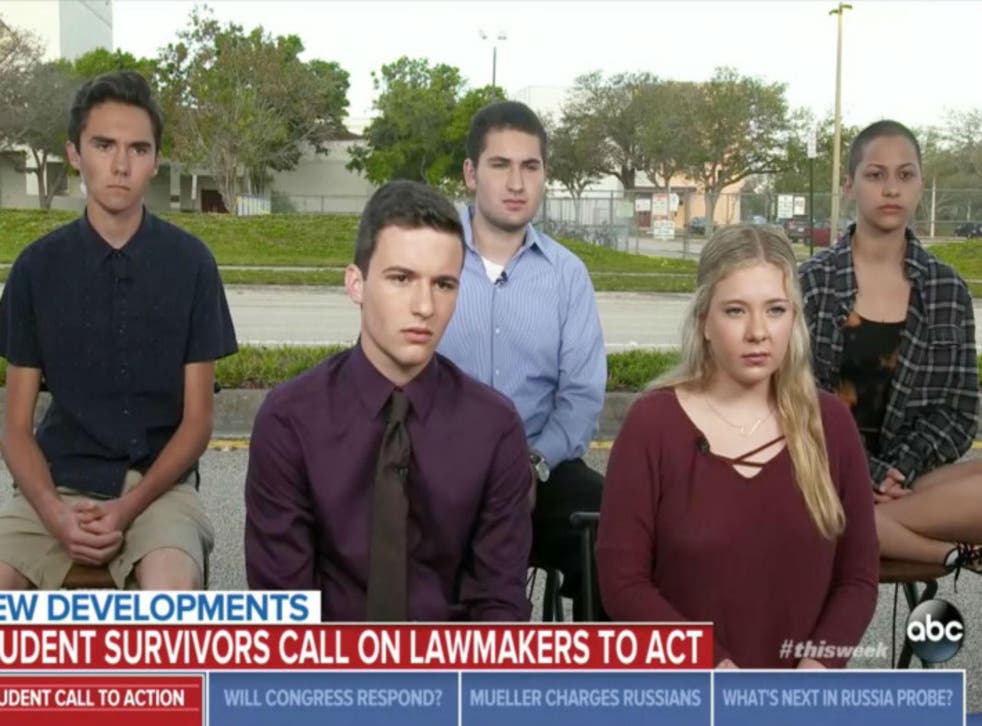 Survivors of last week's school shooting in Parkland, Florida have announced they will lead a nationwide demonstration to demand action on gun control.
"People keep asking us - what about the Stoneman Douglas shooting is going to be different, because this has happened before and change hasn't come? - This is it," explained 11th grader Cameron Kasky to ABC.
Determined to make the shooting at Marjory Stoneman Douglas High School a turning point in the US gun control debate, students told news outlets they are organising a protest called the "March For Our Lives" on March 24.
"People are saying that it's not time to talk about gun control. And we can respect that," Mr Kasky added. "Here's a time. March 24th in every single city. We are going to be marching together as students begging for our lives."
The demonstration should transcend politics, suggested Mr Kasky and four of his classmates also interviewed by ABC - Emma Gonzalez, David Hogg, Alex Wind and Jaclyn Corin.
All five survived last Wednesday's shooting at Stoneman Douglas, in which a 19-year-old gunman, armed with a legally purchased AR-15-style assault rifle, killed 17 people.
Florida shooting – in pictures

Show all 10
"This isn't about the GOP," Mr Kasky said. "This isn't about the Democrats. This is about the adults. We feel neglected and at this point, you're either with us or against us."
He said any politician on either side who is receiving money from the National Rifle Association, one of the US's most powerful gun-rights organisations, "is responsible for events like this".
"At the end of the day, the NRA is fostering and promoting this gun culture." he said. The point is to "create a new normal where there's a badge of shame on any politician who's accepting money from the NRA."
Register for free to continue reading
Registration is a free and easy way to support our truly independent journalism
By registering, you will also enjoy limited access to Premium articles, exclusive newsletters, commenting, and virtual events with our leading journalists
Already have an account? sign in
Register for free to continue reading
Registration is a free and easy way to support our truly independent journalism
By registering, you will also enjoy limited access to Premium articles, exclusive newsletters, commenting, and virtual events with our leading journalists
Already have an account? sign in
Join our new commenting forum
Join thought-provoking conversations, follow other Independent readers and see their replies