Sean Spicer says US jobs figures have been 'phoney' in the past but are 'real' under Donald Trump
Press Secretary says the President alone deserves credit for steady growth and not Barack Obama
Rachel Roberts
Saturday 11 March 2017 03:05 Comments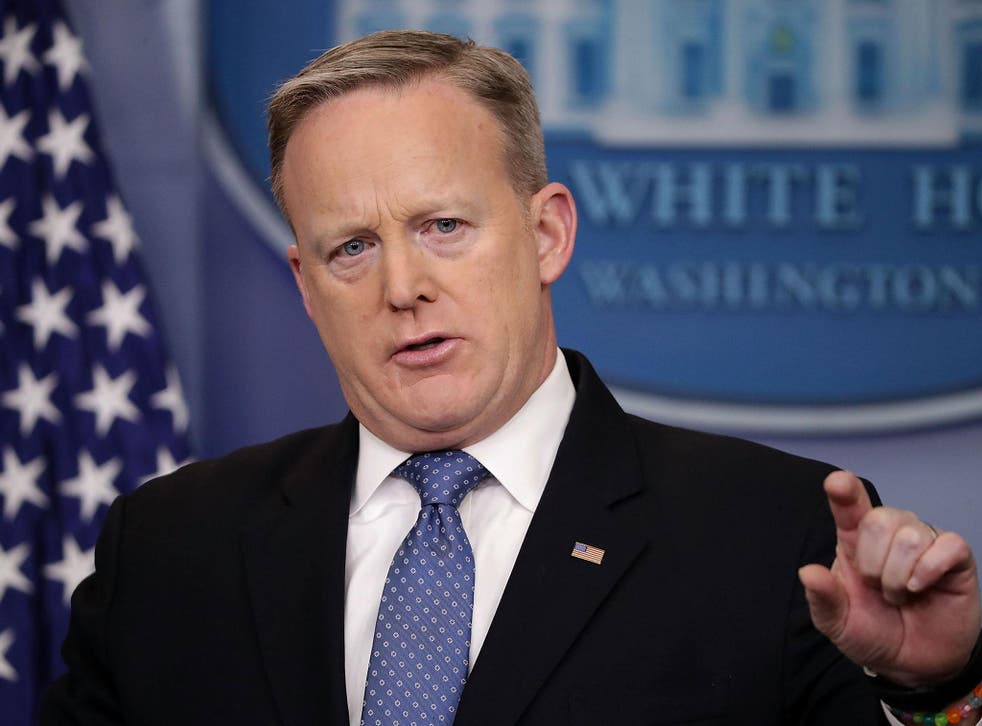 Donald Trump's chief spokesman Sean Spicer claimed that employment statistics put out by previous administrations may have been "phoney" but the latest statistics showing growth are "very real".
The President has repeatedly said employment figures are not to be trusted, but was keen to take credit for the latest positive statistic, taking to Twitter before they were officially made public.
The monthly jobs report comes courtesy of the nonpartisan federal Bureau of Labour Statistics, but as recently as December, Mr Trump described it as "total fiction".
The White House Press Secretary told journalists at his latest briefing: "The President said to quote him very clearly. They may have been phoney in the past, but it's very real now."
On Day 50 of the Trump administration, Mr Spicer drew attention to figures showing steady growth in the US jobs market.
During the first full month of the Trump presidency, 235,000 new jobs were added, following on from 238,000 in January.
Mr Spicer dismissed claims that former President Barack Obama deserves credit for the growth, saying the improved picture was entirely down to Mr Trump.
"He has jump started job creation, not only because of his executive actions, but also through the surge in economic confidence and optimism that has been inspired since his election," he said.
"President Trump knows exactly what business need to thrive and grow, therefore adding well-paying and steady jobs to the market."
The unemployment rate in the US now stands at 4.7 per cent, according to the latest statistics.
Following Mr Trump's pledge to bring jobs back to the so-called "rust belt", Mr Spicer said there had been "significant" growth in the mining, construction and manufacturing sectors of the economy.
He added that Mr Trump intends to press on with withdrawing from key trade deals: "The President looks forward to continuing his work with the private sector to clear road blocks to key infrastructure projects, withdraw from job-killing trade deals like the Trans-Pacific Partnership and slash the bureaucratic red tape that makes additional hiring difficult for American businesses."
The 12 nation Trans-Pacific partnership was Mr Obama's signature trade deal but was abandoned with a stroke of Mr Trump's pen during his first week in the Oval Office.
The agreement, which had not been approved by Congress when Mr Trump took office, would have linked a dozen nations from Canada and Chile to Australia and Japan in a complex trading bloc agreement, with the aim of competing with a buoyant Chinese economy.
But Mr Trump said the deal risked undercutting US workers by including low-wage countries like Vietnam and Malaysia in the bloc.
A breakdown of the labour market figures show that construction jobs rose by 58,000 – the best growth since March 2007 - and followed a 40,000 increase in January. Manufacturing payrolls gained 28,000, a three-year high. Meanwhile, retail positions fell by 26,000, the most since December 2012.
Some economists and commentators said that unseasonably warm weather may have aided the growth in construction jobs as last month was the second warmest February on record in the mainland US.
During his campaign, Mr Trump repeatedly pledged to "put America first" and said he aims to create 25 million jobs over 10 years, which would require additions of 208,000 a month, or 2.5 million positions a year.
Register for free to continue reading
Registration is a free and easy way to support our truly independent journalism
By registering, you will also enjoy limited access to Premium articles, exclusive newsletters, commenting, and virtual events with our leading journalists
Already have an account? sign in
Join our new commenting forum
Join thought-provoking conversations, follow other Independent readers and see their replies