Senator Kamala Harris to co-sponsor Bernie Sanders' 'Medicare-for-all' bill
'It's just the right thing to do,' Ms Harris said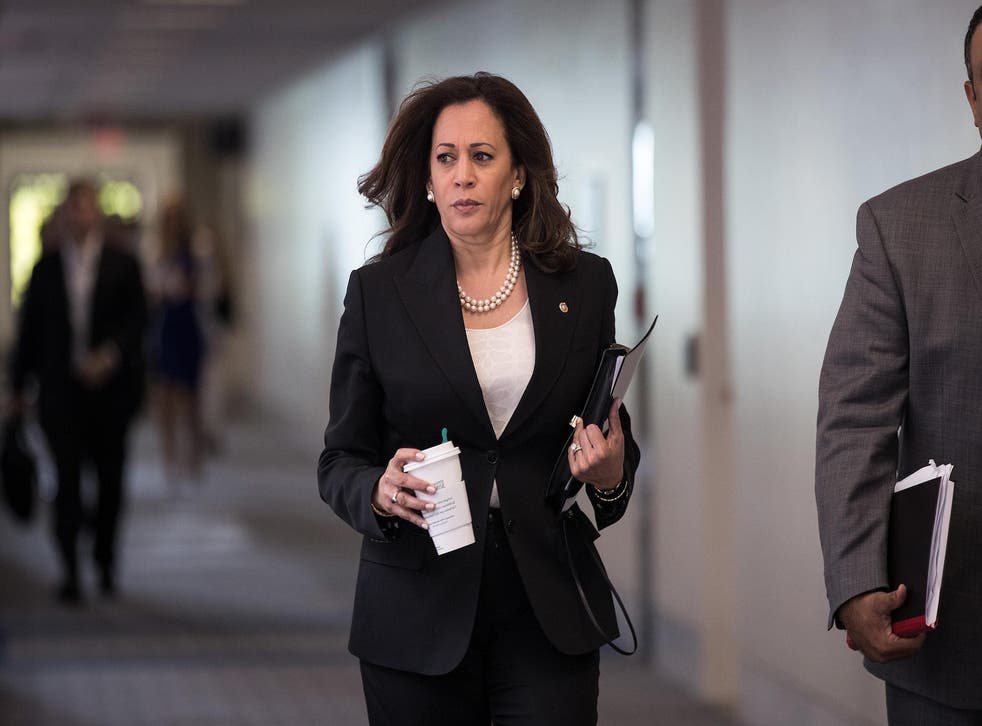 Senator Bernie Sanders, a former presidential candidate, has gained a co-sponsor for his bill that would create a "Medicare-for-all" healthcare system in the US.
Democratic Senator Kamala Harris of California announced she will co-sponsor Mr Sanders' single-payer legislation, because "health care is a right", she tweeted.
While defending the current healthcare law, the Affordable Care Act, Mr Sanders declared earlier this year that the way forward in the long-term was a "Medicare-for-all" single-payer system – a federally administered programme that would abolish the role of private insurers in basic healthcare coverage.
Republicans unsuccessfully tried to dismantle the ACA, otherwise known as Obamacare, in July.
A major plank of Mr Sanders' 2016 presidential campaign, single-payer healthcare is a system in which the government, generally through taxes, covers basic healthcare costs for all residents regardless of income, occupation or health status.
"I intend to co-sponsor the 'Medicare for All' bill because it's just the right thing to do," Ms Harris announced at a town hall in Oakland, California, according to CNN.
"This is about understanding, again, that healthcare should be a right, not a privilege. And it's also about being smart," Ms Harris added. "It is so much better that people have meaningful access to affordable health care at every stage of life, from birth on. Because the alternative is that we as taxpayers otherwise are paying huge amounts of money for them to get their health care in an emergency room.
"So it's not only about what is morally and ethically right, it also makes sense from a fiscal standpoint, or if you want to talk about it as a return on investment for taxpayers."
Mr Sanders expressed his appreciation for Ms Harris' endorsement on Twitter: "Thank you Kamala Harris for your support. Let's make health care a right, not a privilege," he wrote.
Bernie Sanders campaigns with Hillary Clinton

Show all 15
Ms Harris and Mr Sanders, an Independent who caucuses with the Democrats, are expected to introduce their legislation next month. But the move could further divide Democrats on a key issue as the party seeks to regain its footing at the state and national levels.
Even though more Democrats appear willing to embrace a shift away from the private health insurance market and toward a government-run programme, other members of the party have conveyed concerns about the costs and details associated with establishing a single-payer system in the US.
During the presidential campaign, Hillary Clinton, who Mr Sanders challenged for the Democratic nomination, called the proposal "a theoretical debate about some better idea that will never, ever come to pass."
An Urban Institute study of Mr Sanders' single-payer proposal during the campaign said implementing the plan would increase federal expenditures by $32 trillion over 10 years.
According to a blueprint of the plan on Mr Sanders' website, creating a single-payer system is estimated to cost $1.38 trillion per year. The plan will be paid for by a combination of income tax rates, a 6.2 per cent income-based premium paid by employers and a 2.2 per cent income-based premium paid by households, the website reads.
Join our new commenting forum
Join thought-provoking conversations, follow other Independent readers and see their replies