Steve Bannon threatened to quit if removed from National Security Council, say reports
It is the latest drama to beset the Trump administration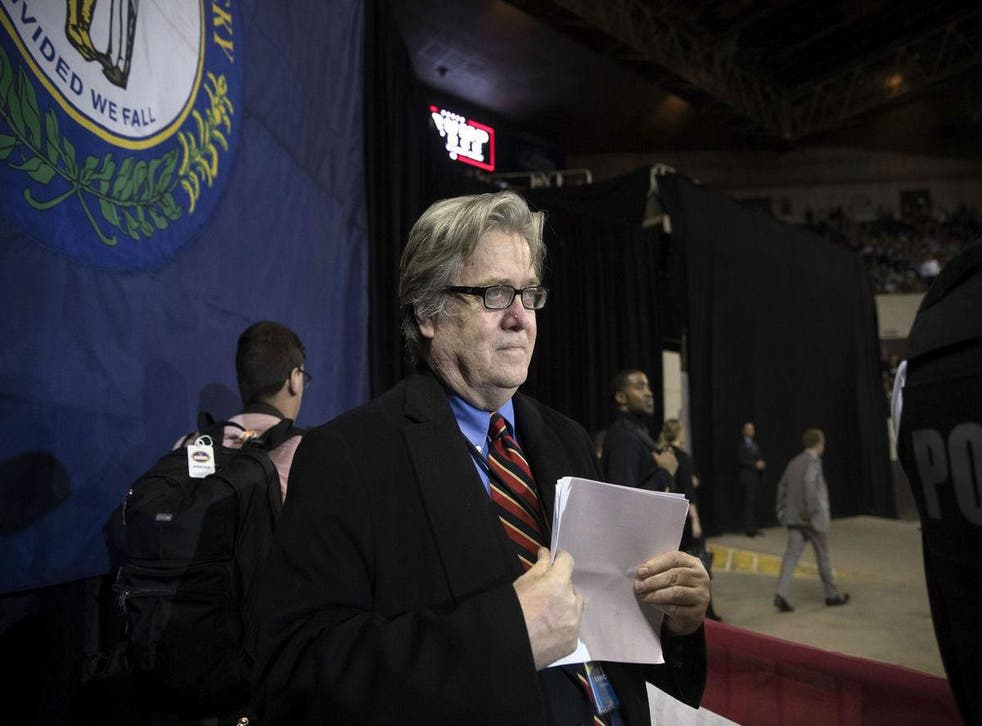 Few things give Washington pundits more pleasure than monitoring the varying fortunes of White House officials - especially when those officials are somewhat controversial.
So there was no some furore when it was revealed Steve Bannon, the far right adviser to Mr Trump, had been removed from his position on the National Security Council. It has now been reported the former Breibart publisher threatened to quit the administration as he fought to retain the role.
The New York Times said Mr Bannon's allies denied he threatened to leave, and sought instead to portray the move as a natural evolution as the government settled in.
"Susan Rice operationalised the NSC. during the last administration," Mr Bannon said in a statement, mentioning Barack Obama's national security adviser.
"I was put on the NSC with General [Michael] Flynn to ensure that it was de-operationalised. General McMaster has returned the NSC to its proper function."
Yet within Washington, the decision to remove Mr Bannon from the NSC's "principals committee" - a move that was said have been orchestrated by Lt Gen HR McMaster, Mr Trump's national security advisor - was seen as possible indication that the far right former navy officer's fortunes may be waning.
Steve Bannon being talked about will be his kiss of death
For the first weeks of the administration, Mr Bannon's hand appeared to be present at every decision of any importance. He encouraged Mr Trump to attack the media, and revelled in personally denouncing reporters as "the opposition". He pushed Mr Trump to retain the chaotic management style that had marked the election campaign.
Yet it is possible that Mr Bannon's influence may be diminishing, as Mr Trump turns increasingly to those he believes he can trust the most - family members such as Ivanka Trump and her husband, Jared Kushner.
His eldest daughter has taken a position as federal employee within the White House, as has Mr Kushner, the former real estate magnate who appears to have been given responsibility for everything from relations with China to bringing peace to the Middle East. This week, there was much scorn as Mr Kushner was photographed during a visit to Iraq to meet with US and Iraqi military officials.
The newspaper said Mr Bannon's enemies, inside and outside the White House, celebrated what they saw as a defeat for a man who has been seen as the power behind the presidency.
"He didn't belong on the principals committee to begin with - doesn't really belong in the White House at all," said Democratic Congressman Adam Schiff of California. "I hope that this is a sign that McMaster is taking control of the National Security Council."
Others speculated that Mr Trump may have acted partly out of annoyance over reports that suggested that Mr Bannon, and not he, was the person actually running the country.
Jeanne Zaino, a professor of political science at Iona College, told The Independent, she did consider the move a demotion for Mr Bannon. Yet she said it remained unclear who was behind it.
She said it may transpire that Mr Trump's chief of staff, Reince Priebus, was somehow responsible.
"A lot of people thought Priebus was losing out to Bannon. But Priebus is still there," she said. "He has kept his head down and he may be responsible of the White House acting a little more efficiently."
Join our new commenting forum
Join thought-provoking conversations, follow other Independent readers and see their replies