Supreme Court: Democrats force Republicans to take 'nuclear option' to confirm Neil Gorsuch
The development underscores the toxic atmosphere on Capitol Hill
Andrew Buncombe
New York
Monday 03 April 2017 18:50 Comments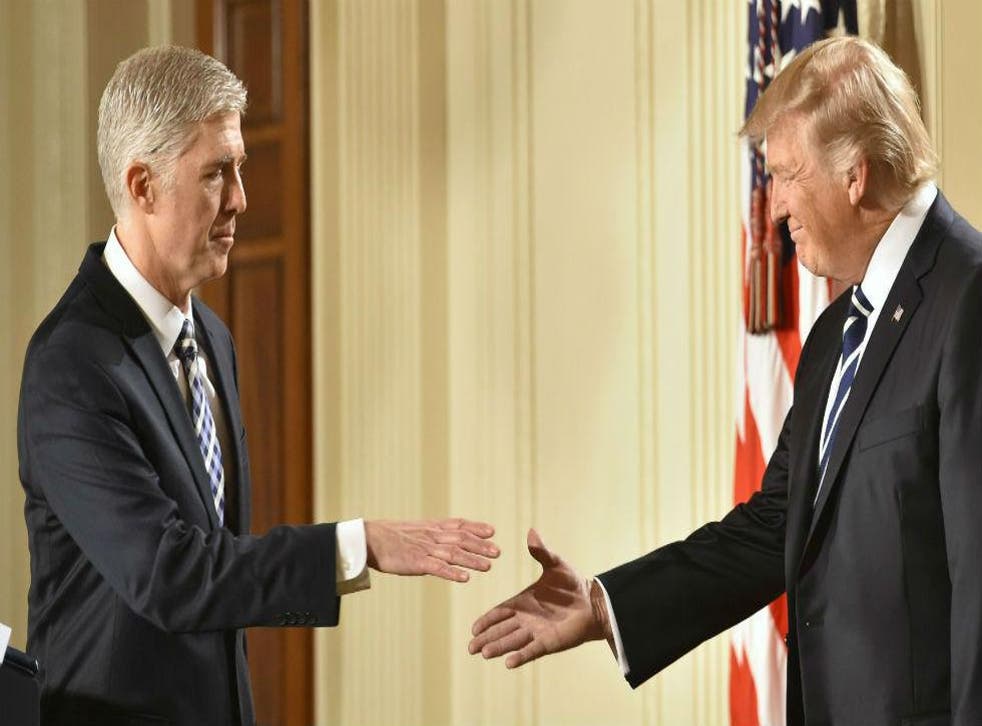 The Democrats have revealed they have enough support in the Senate to block the regular confirmation of Neil Gorsuch as a Supreme Court Justice - forcing Republicans for the first time in recent political history to trigger the so-called "nuclear option".
As the Senate Judiciary Committee approved Mr Gorsuch ahead of a vote in the Senate on Friday for his formal confirmation, Democrats said they had obtained the crucial number of 41 senators prepared to vote against him. For the first time in the modern political era, they will filibuster the top court's nominee.
Senate votes on such confirmations usually require a 60-40 majority. By announcing their plan to filibuster Mr Gorsuch, they recognised that Republicans will be forced to change the procedural rules and allow Donald Trump's pick to be confirmed by a simple majority - a rebuke to the president.
Democrats, still angry over the refusal by Republican senators to allow a confirmation hearing for Judge Merrick Garland, Barack Obama's pick for the court, feel inspired to try and undermine Republican claims that Mr Gorsuch is a mainstream candidate.
"Democrats, including me, are still furious at the way Judge Merrick Garland was treated last year. But the traditions and principles that have defined the Senate are crumbling and we are poised to hasten that destruction this week," said Senator Chris Coons, who became the 41st Democrat to oppose Mr Gorsuch.
Reuters said that Mr Coons left room for a compromise, in which Democrats would allow the vote to go ahead in return for Republicans agreeing to a 60-vote threshold for the next Supreme Court vacancy.
Supreme Court pick Neil Gorsuch says 'no man is above the law' in questioning over President Trump
"So for my part, I hope and pray that we can yet find a way together to find a solution," Mr Coons.
The toxic atmosphere on Capitol Hill was underscored by Monday's vote by the Senate Judiciary Committee, which voted 11-9 along party lines to approve Mr Gorsuch. After the vote, Republican senators vowed that the judge cogged be confirmed by the end of the week, an indication that Republicans will look to change the voting rules ahead of Friday's conformation hearing.
Senator Lindsay Graham of South Carolina, said: "Our Democratic colleagues, do not accept that President Trump, and as a result gets to select his pick for the court. Well, he has."
While Democrats admit they are angry about the way Republicans deal with Mr Obama's pick for the court, they say they are also concerned about many aspects of Mr Gorsuch's record. In particular they drawn attentions to his views on workers' rights and links to groups such as the Federalist Society.
Democratic Senators Dianne Feinstein, the committee's top Democrat, and Mark Warner, not a member of the panel, announced opposition to Mr Gorsuch on Monday and support for a filibuster.
"There was simply no reason that the nomination of Judge Garland could not proceed, other than to deny the then-president of the United States, President Barack Obama, the ability to fill the seat," Ms Feinstein said.
Ms Feinstein criticised Mr Gorsuch's rulings against a fired truck driver and an autistic child and faulted his actions as a lawyer in Republican former President George W Bush's Justice Department regarding detainee interrogation techniques critics called torture. Ms Feinstein also said she was disturbed by the millions of dollars of "dark money" from anonymous donors backing advertising and lobbying groups to help Mr Gorsuch win the confirmation.
Sean Spicer, the White House press secretary said the president was satisified if Republicans were required to use the nuclear option but accused the Democrats of "entering new territory".
Register for free to continue reading
Registration is a free and easy way to support our truly independent journalism
By registering, you will also enjoy limited access to Premium articles, exclusive newsletters, commenting, and virtual events with our leading journalists
Already have an account? sign in
Join our new commenting forum
Join thought-provoking conversations, follow other Independent readers and see their replies