Take a knee: Dozens of NFL players stage biggest protest yet in response to Donald Trump comments
The President has engaged in a weekend-long rant about players who take a knee during the American national anthem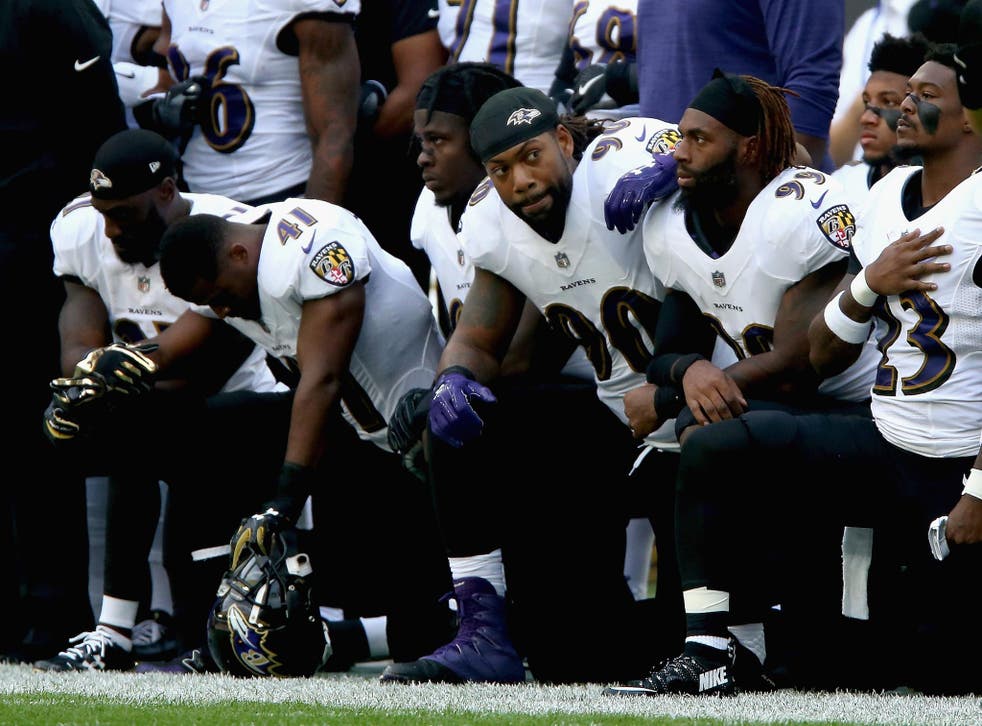 Around two dozen NFL players knelt while the American national anthem played at Wembley Stadium in London, defying Donald Trump after he suggested players who take a knee during the anthem should be fired.
Over the weekend, Mr Trump had repeatedly denounced such protests by athletes, verbally attacked one of the world's most powerful sports leagues and seemingly uninvited the NBA champion Golden State Warriors from the traditional White House visit for league victors.
NFL players across the US also demonstrated during the national anthem on Sunday, with many kneeling or standing and locking arms in a show of solidarity.
Players on both the Ravens and Jaguars who did not kneel remained locked arm in arm throughout the national anthem and "God Save the Queen". No athletes were kneeling during the British national anthem.
Terry Bradshaw, a hall-of-fame quarterback and commentator for Fox, said he does not condone protests during the anthem, but believes "every American has the right to speak out and also to protest".
"Believe me, these athletes do love this great country of ours," Mr Bradshaw added. "Personally I think our president should concentrate on serious issues like North Korea and healthcare rather than ripping into athletes and the NFL."
The football players in the US and London joined NBA stars Stephen Curry and LeBron James in the professional athletic world's strong rebuke of Mr Trump's comments on Friday in Huntsville, Alabama.
During his remarks, Mr Trump had employed an expletive to refer to athletes who sit or kneel during the anthem, a movement that began last year when Colin Kaepernick, then a quarterback for the San Francisco 49ers, began doing so to highlight, as he has said, police brutality and racial injustice.
"Wouldn't you love to see one of these NFL owners, when somebody disrespects our flag, to say, 'Get that son of a b**** off the field right now. Out! He's fired. He's fired!'" Mr Trump said at a rally for Republican senator Luther Strange, who is running in a special election next week to remain in the seat vacated by attorney general Jeff Sessions.
The controversial orders Donald Trump has already issued

Show all 9
"You know, some owner is going to do that. He's going to say, 'That guy that disrespects our flag, he's fired.' And that owner, they don't know it [but] they'll be the most popular person in this country."
In response, Golden State's all-world guard Mr Curry said he would vote against the team visiting the White House in February, with Mr James, the superstar small forward for the Cleveland Cavaliers, backing him up by declaring that "going to the White House was a great honour" for NBA champions until Mr Trump showed up. The commissioner of the NFL, Roger Goodell, also slammed the President's comments, calling them "divisive".
Along with withdrawing his offer for Mr Curry to visit the White House, Mr Trump fired back on Twitter: "Roger Goodell of NFL just put out a statement trying to justify the total disrespect certain players show to our country.Tell them to stand!"
Golden State has since announced that in lieu of a visit to 1600 Pennsylvania Avenue, the team has decided it will use its trip to Washington in February to celebrate equality and diversity.
But despite all the backlash, Mr Trump continued his attack on Sunday morning, saying that "if NFL fans refuse to go to games until players stop disrespecting our flag and country, you will see change take place fast."
"Fire or suspend!" he added, before going on to declare that NFL attendance and ratings are "WAY DOWN", suggesting that many fans don't attend games because of players' decisions to kneel during the national them.
"Boring games yes, but many stay away because they love our country. League should back US," Mr Trump said.
The President has also suggested the league's drop in TV ratings is the result of referees trying to limit rough tackles, as the NFL struggles to make the game safer in light of reports that players have been found to have severe brain injuries following numerous hard hits.
"Today if you hit too hard – 15 yards! Throw him out of the game!" he said on Friday, adding: "They're ruining the game! That's what they want to do. They want to hit. They want to hit! It is hurting the game."
Join our new commenting forum
Join thought-provoking conversations, follow other Independent readers and see their replies