Ted Cruz thanks God and claims his win is victory for 'Judeo-Christian values'
The strongly conservative Texas senator built win on courting the support of evangelical Christians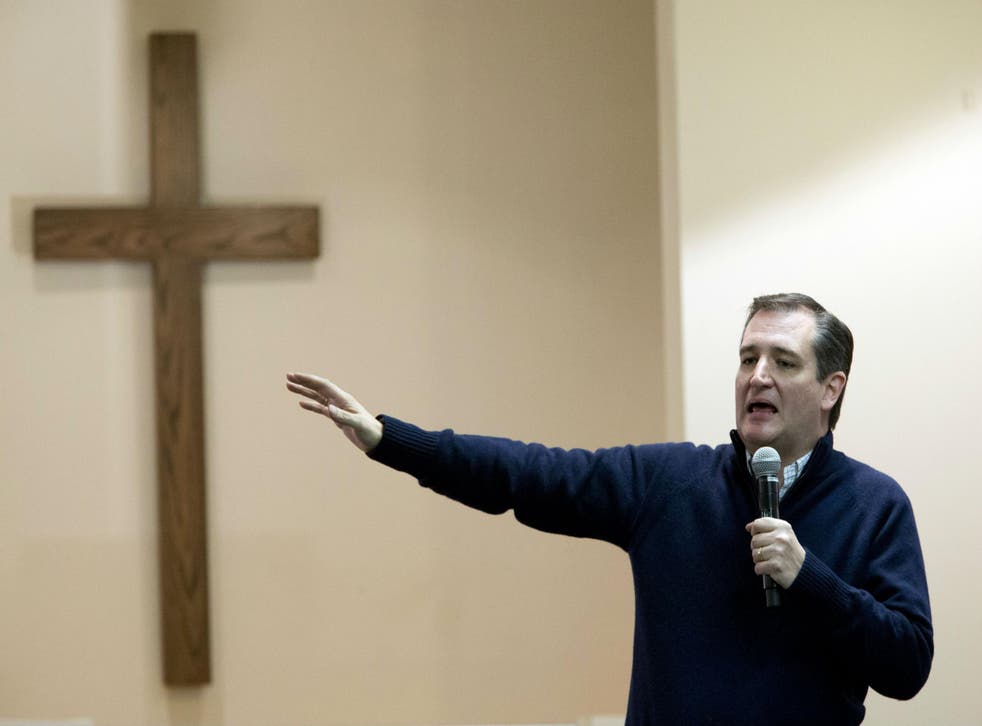 On Monday night, Ted Cruz thanked God his victory in a speech that went on for almost half and hour.
And on Tuesday morning, the Texas Senator, by then already in New Hampshire, claimed his win was a victory for "Judeo-Christian values" and for the "conservative grass roots".
"To God be the glory," he said on Monday evening, as he supporters cheered and waved. "Tonight is a victory for the grass roots. Tonight is a victory for courageous conservatives across Iowa and all across this great nation."
Mr Cruz, a staunch social conservative who opposes same-sex marriage and is opposed to abortion except in cases where a women's life in danger, secured his victory by courting Iowa's evangelical Christians, who are numerous, especially in the state's rural areas. Around 56 per cent of Iowans consider themselves "strong protestants" and almost two-thirds of those who voted on Monday described themselves as evangelicals.
Donald Trump secured the backing of Jerry Falwell Jr, the president of the Christian Liberty University, the son of the late activist and preacher Jerry Falwell Sr, but many found the tycoon's seemingly sudden embrace of faith inauthentic.
When he spoke at Mr Falwell's campus last month in an attempt to burnish his religious credentials, he fluffed a bible reference, and over the weekend he mistook a Communion plate for a collection bowl when he attended a church service and reached into his pocket to get out his wallet.
Yet Mr Cruz, who once declared 'Any president who doesn't begin every day on his knees isn't fit to be commander-in-chief of this country', has faced no such issues of authenticity. The son of a pastor speaks a language and vocabulary that startles and unsettles liberals.
And in January, his campaign started a "national prayer team" to "establish a direct line of communication between our campaign and the thousands of Americans who are lifting us up before the Lord."
Ted Cruz celebrates Iowa win after Trump defeat
His campaign in Iowa focussed on what he considered threat to religious freedom and attacks on Christianity around the world. In addition to usual political rallies, in Iowa and South Carolina he has appeared regularly at churches
Indeed, results from Monday night's vote show that while Mr Cruz secured the support of 33 per cent of evangelicals, Mr Trump won just 21.
Whether Mr Cruz's social conservatism goes down as well in New Hampshire as it did in Iowa, remains to be seen. But on Tuesday, the man who build a very strong ground organisation with more than 12,000 volunteers, was relishing his victory, he was relishing his victory.
"This is the power of the conservative grass roots," he told CNN.
"One of the greatest lies that gets told on the airwaves over and over again is that this country has somehow embraced Barack Obama's big government." He added: "That's not true. This is a centre-right country. This is a country built on Judeo-Christian values."
Mr Cruz won with 28 percent of the vote compared with 24 per cent for Mr Trump, whose aggressive and unorthodox campaign has been marked by controversies ranging from his calls to ban Muslims temporarily from entering the United States.
Another winner on Monday night was Marco Rubio, a senator from Florida, who is also a social conservative, and will likely emerge as the candidate of the Republican establishment, which dislikes Mr Trump and loathes Mr Cruz.
Join our new commenting forum
Join thought-provoking conversations, follow other Independent readers and see their replies