In Texas, Donald Trump lays claim to the voters of Bernie Sanders
Giving his best pantomime performance, Trump goads supporters to boo Barack Obama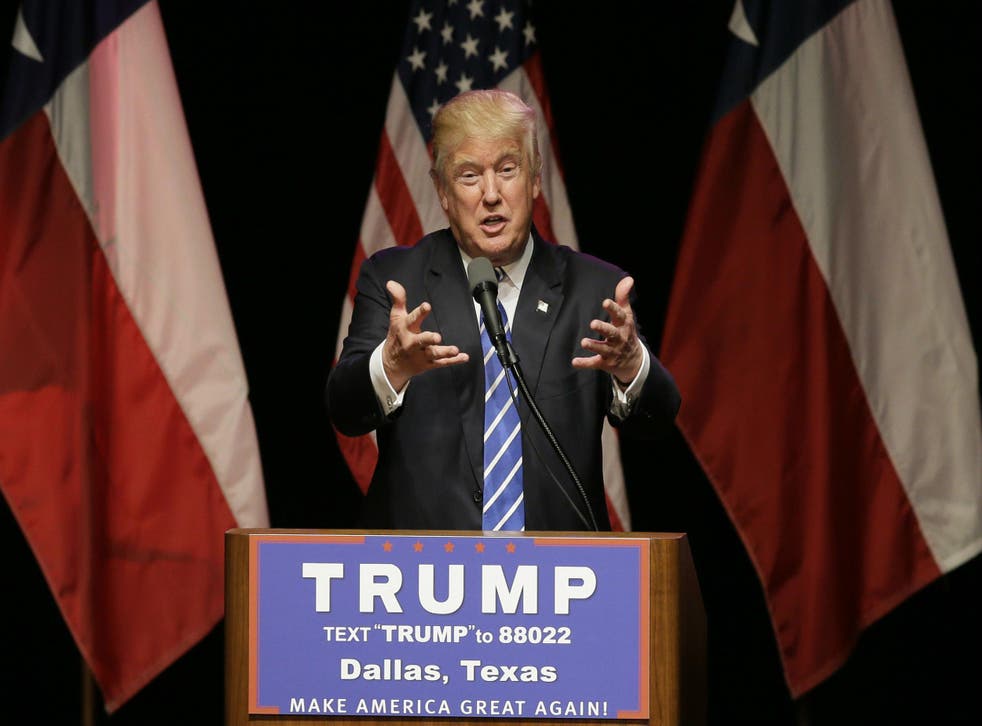 One year after the launch of his campaign, Donald Trump is attempting to broaden the base of his appeal, paying extravagant tribute to Senator Bernie Sanders and arguing he is better placed than Hillary Clinton to champion gays and lesbians and women voters.
"I think I am going to pick up a lot of Bernie supporters," he boasted to a ballroom of fans in a famous vintage Dallas honky tonk ballroom, Gilley's, still remembered as the main filming location for the 1980 cult hit Urban Cowboy that featured John Travolta and his ride on a mechanical bull.
"Where's that horse? Let's get that horse, I'll ride the horse," a clearly ebullient Mr Trump declared rhetorically midway through the rally (and mixing his equine and his bovine.) "The trouble is, even if I make it, they (the press) will say I fell off that horse."
At his first public event in a two-day swing through Texas that also includes three fund-raising private events, the presumptive Republican nominee lamented last weekend's Orlando mass shooting . "Look what one sleaze-bag can do," he said of the Orlando murderer. "The horror that he wreaked on us, on us as a nation, laughing as he is shooting, doing Facebook as he is shooting."
Reporting having watched Barack Obama visiting Orlando earlier on Thursday he elicited instant boos from the audience at the mere mention of the president. "To a large extent he is blaming guns," he went on before vowing to protect the second amendment of the Constitution that includes the right to bear arms.
As he had earlier in the week, he sought to use the tragedy to bolster his calls for a tougher stance on immigration and withdrawing the welcome mat for political refugees from Syria and elsewhere.
"We are letting thousands and thousands of people to come into our country from countries that are terrorist countries," he argued. "We have to stop people with hate in their hearts from coming into our country." It wasn't clear whether this was a variation on his 6-month-old call for barring all Muslims from entering the United States or some kind of addition to it.
But while the mega-mogul can be entirely vague on points of policy, he can also bombard his fans with minutiae when it comes to his progress - and success - through the primaries. For more than ten minutes he took the Dallas crowd through every state he had won since declaring on 16 June 2015, replete with margins of victory and sometimes tallies of individual counties he won.
Nothing, though, bothers die-hard Trump supporters, who revel in his pantomime performance. Many in the signature red caps emblazoned with his campaign slogan, 'Make America Great Again', they gleefully chanted his name when protestors one by one revealed themselves. "Trump, Trump, Trump", they squealed, as one young man yelled out from the back, "You're being fooled, he doesn't care about you," before being summarily escorted out by security.
Trump supporter - 'I love everything about him'
"Who is going to build the wall for us?" he asked. "Mexico," the room returned as one. "Do we have a great time at a Trump rally? Unbelievable." Then to a women near the stage who was inaudible to reporters in the press pen: "She likes my hair. Let me tell you. It's all my hair, I can tell you."
As a candidate who will only beat Ms Clinton if he broadens his base of support, Mr Trump went further than before to suggest he could offer a home to supporters of Senator Sanders, who is still vowing to take his campaign to the party convention even if the Democratic nomination is beyond his grasp.The overlap between them, he said, was their disdain for current US trade policies.
"He understands that our country is being totally ripped off like never in history, and I understand it," Mr Trump said. "You've got to give him credit, he doesn't give up." And in a jibe at the 2012 nominee, Mitt Romney, he added "We could have used a guy like that four years ago, one that didn't give up."
But it isn't just Sanders supporters Mr Trump has his eyes on. He suggested that Ms Clinton has no right to lay claim on either the "L-G-B-T community" - he spelled it out with great deliberation - or women, because her and her husband's foundation accept money from "Saudi Arabia another countries" which, he said, "throw gays from buildings" and "enslave women".
"So tell me, who is better for gays and lesbians and for women than Donald Trump?" he asked.
Mr Trump's assertion that calls in the wake of the Orlando tragedy for more gun control were misplaced was always going to resonate in Texas perhaps more than anywhere else.
"In Texas we love our guns," said Patrick Laird, 45, an oil and gas engineer, who had come to cheer on Mr Trump. "I have a ton of assault weapons. None of them have shot anyone, because I don't want to do that. The shooter in Orlando had proclaimed his support for Isis. The first instinct of Democrats is to take away our guns, but we are ordinary Americans, we are not terrorists."
Nor is there going to much love lost with the leadership of the Republican Party, including House speaker Paul Ryan, if it can't bring itself fully to embrace their candidate.
"My concern is Paul Ryan and the other Republicans and not Hillary are going to have him assassinated before he can even get to November," averred Mr Laird. "He is a huge threat to Hillary but he is an even bigger threat to the Republican Party". He meant assassinate in the literal sense.
An overwhelming police presence and searing heat met a modest phalanx of protestors who were fenced off from the event venue but still brandished signs declaring their disgust at Mr Trump, "Dump Trump's racist, sexist, homophobic, Islamaphobic, xenophobic, toxic ideology," one said while another declared, "Respect women, unlearn racism."
Join our new commenting forum
Join thought-provoking conversations, follow other Independent readers and see their replies