Senator provokes outrage by saying US has an 'under-incarceration problem' with 2.1 million imprisoned
The US has world's largest incarceration rate at 724 people per 100,000
Stuti Mishra
Wednesday 07 April 2021 15:43 Comments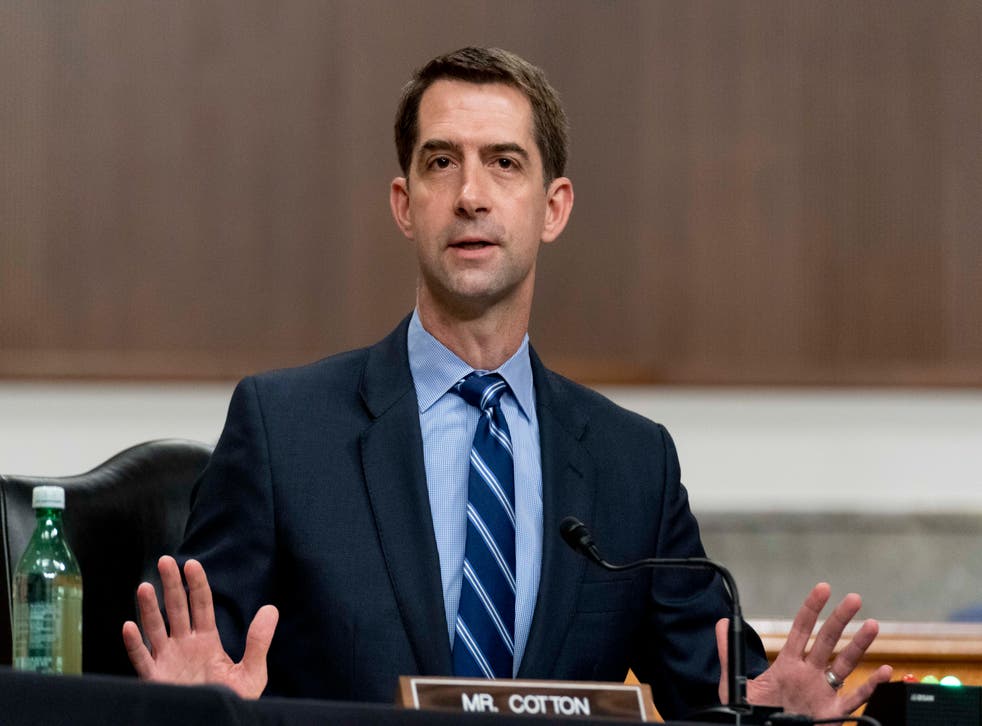 Leer en Español
Republican senator Tom Cotton is facing a backlash for suggesting the US, which imprisons more people per capita than any other country, has an "under-incarceration" problem.
The Arkansas senator was responding to a CNN report about crime rises in major urban districts in 2020.
"We have a major under-incarceration problem in America," the 2024 presidential hopeful wrote. "And it's only getting worse."
The CNN article reported a 33 per cent increase in the murder rate in the year 2020, while saying that a number of factors could have contributed to this including the turmoil created by the pandemic and subsequent economic crisis. The US, like many other countries, also had high unemployment last year.
After Mr Cotton tried to suggest that jailing people was the solution, many Twitter users were angered by his comments and responded by quoting the actual statistics behind the CNN headline, as well as pointing to better alternates to reduce crime.
Read more:
"If Tom Cotton is trending, you know it's because he said another racist, ignorant or false thing," Twitter user Rochelle Cortez wrote. "In this case, all three. The idea that people like him walk the halls of Congress every day — tells us exactly why this country is in shambles. He's a despicable person." 
"I mean, we all know that Tom Cotton is a blood-thirsty fascist," journalist Erik Fernandez wrote. "But to say that we have an 'under-incarceration problem' is absolutely deranged even by his usual sociopathic standards."
Max Berger, a writer, tweeted: "America has 25% of the world's prisoners, but only 5% of the world's population."
Scott Dworkin, co-founder of the Democratic Coalition Against Trump, wrote: "The only 'under-incarcerated' in America are GOP traitors like Tom Cotton, who should be in prison right now."
"That must be it," screenwriter Bob Schooley wrote tweeting a chart that shows the high numbers of incarceration in the US. "Couldn't be policing is broken or gun policy is insane or anything."
"We can easily solve Tom Cotton's 'under-incarceration' problem by locking up those responsible for the January 6th insurrection," political commentator Christopher Hahn said. "Start with the Former Guy and others that spread the Big Lie then add Republican Senators and Members of the House that inspired the revolt." 
According to a report by the International Centre for Prison Studies, half of the world's prison population of about nine million is believed to be held in the US, China or Russia with prison rates in the US being as high as 724 people per 100,000. In Russia, the rate is 581.
Register for free to continue reading
Registration is a free and easy way to support our truly independent journalism
By registering, you will also enjoy limited access to Premium articles, exclusive newsletters, commenting, and virtual events with our leading journalists
Already have an account? sign in
Join our new commenting forum
Join thought-provoking conversations, follow other Independent readers and see their replies